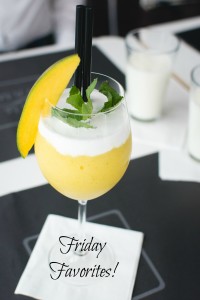 Happy Friday!  See that cocktail pictured above?  I'm not even sure what it is, but I could sure use one right about now!  I feel like a broken record around here but we are still battling a stomach virus two weeks later.  The latest victim was my husband who succumbed to the stomach bug Wednesday night.  So, this week was shadowed by sickness.  I am exhausted and just hoping I come out of this unscathed.  There have been some positives of the week though:
1. Bend & Snapware Yoga Event with Kristin McGee – On Saturday morning I attended a Yoga class and breakfast with Health magazine contributing editor and celebrity yoga and Pilates instructor, Kristin McGee. The event was sponsored by World Market and Snapware.  It was such a great blogger experience!  I love doing yoga and it was a great class and that yogurt bar pictured above was delicious!
2. Walking – Besides the 30 day yoga camp I am working on, I also started walking the neighborhood for the first time this week.  (Okay, maybe second time). Last Sunday, my husband and I took a leisurely stroll around the block since both kids were with friends.  Wednesday though I walked up a giant hill in our neighborhood and was less leisurely about it.  I plugged in my earbuds and listened to some podcasts and the time seemed to fly.  I got a half hour of walking in and lots of steps on my Fitbit.
3.  My daughter's favorites is her bed canopy – She got this canopy from us for Christmas.  Buying the hooks and installing it was something that just kept getting pushed off.  My husband surprised her by installing it while she was at her friend's on Sunday. (One of our cats wanted in the pic!)
4. Pinewood Derby Time – Despite being sick in the beginning of the week, my son and husband were able to complete his Pinewood Derby car in time for the Derby being held tonight.  They went with a donut theme as seen pictured.  We will see how it does in the races tonight.
5. Art Wall – For years now, I have been saving some of my kids' favorite art projects from school, with the intention of hanging them up.  Last weekend when my husband hung my daughter's canopy hook, he also finally got around to hanging up the wires in our kitchen for my art wall.  The kids love seeing their work hanging, as do we.  I also like seeing their different styles and interpretations of the same project.
ICYMI on the blog this week:
Monday – I shared my review of The Happiness Project by Gretchen Rubin.
Wednesday – I posted and joined Anne and Jenna's March Currently linkup.
Thursday – I wrote Tasting Menu 101.
Linking up with Tif, Amanda and Andrea.  Have a great weekend!