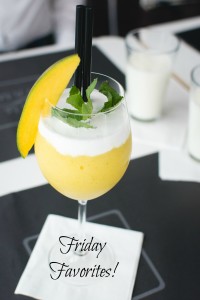 Happy Friday!  What a fun week it's been.  This week was the kids' spring break.  We decided to take a quick mini-vacation to Philadelphia for a couple of days.  Look for some upcoming posts on our travel.  The week ended with my daughter going with her friend's family up to their cabin for an overnight.  We are looking forward to celebrating Easter on Sunday at my parents and hopefully having a relaxing Monday before the kids head back to school and the scheduled craziness resumes!  Here are some of our favorites from this week:
1. The Liberty Bell – The last time I visited the Liberty Bell I was in elementary school on a Brownie girl scout trip. I'm glad that we were able to bring the kids to see this national symbol of freedom. 
2.  The Science Behind Pixar Exhibit at the Franklin Institute – We (more like I) was disappointed that the Philadelphia Museum of Art is closed on Mondays.  We of course went and took the requisite tourist pictures and ran the "Rocky" steps, but ended up spending the day at the Franklin Institute.  This was a perfect museum for our kids and both my husband and I agreed that the special, The Science Behind Pixar Exhibit was our favorite.  We have a better appreciation of all of the hard work and many hands that go into creating all of the Pixar movies that we love.
3. Dinic's Roast Pork Sandwich – We visited Reading Terminal Market which was foodie heaven!  We ate our way through the market, but our favorite was the roast pork sandwich from Dinic's.  Juicy pork, covered in provolone and broccoli rabe = deliciousness!!  The kids were excited that Adam Richman from Man Vs. Food had visited there (his picture was hanging up). 
4. All-you-can-eat Korean BBQ – Yes, we of course ate a mandatory cheesesteak, because, c'mon, Philly.  But, we also ate a ton of other food.  I discovered Nine Ting via Instagram, which has all-you can-eat Korean BBQ for $27.99.  Incredible!  Here in Westchester County, NY, you cannot find Korean BBQ for such a great price.  This was an "all the meats" type of meal and it was so good!
5. Sahara Sam's Oasis – I won tickets to Sahara Sam's months ago.  It worked out that it was on our way home from Philadelphia, so we scheduled a visit on our way home.  We surprised the kids, who were soooo excited!  They had such great time playing in the water and going down the slides.
ICYMI this week on the blog:
Monday I shared our weekly meal plan.
Wednesday I shared how to make the most of family meal time.
Linking up with Tif, Amanda and Andrea.  Have a great weekend and a Happy Easter!