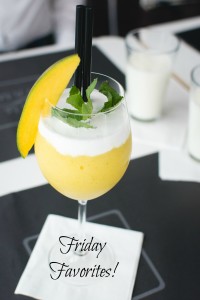 The past week we were vacationing in Rhode Island, at my parents' beach house.  This week's Friday Favorites is Rhode Island themed!  If you have never been, I highly recommend.  While Rhode Island is the smallest state it's nicknamed "The Ocean State" for a reason.  There are a ton of beaches and lots of things to do!  So on to this week's favorites!
1.  Aunt Carrie's – While not necessarily the BEST seafood restaurant in Narragansett, Rhode Island it's one of the oldest and well-known.  The Weekend Chef recalls dining here with his family while vacationing in RI when he was a child and we have eaten here numerous times on our various trips to RI.  We ate here for lunch on the 4th of July where I had a hot lobster roll that was pretty tasty! The restaurant was even featured on an episode of Food Network's "Diners, Drive-Ins and Dives" where Guy Fieri sampled the clam cakes and recommended the strawberry shortcake for dessert.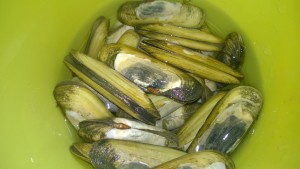 2.  Clamming – Driving into Point Judith there's a marsh where we always see people clamming.  I have wanted to try clamming FORVER!  I thought that I needed to buy a rake but discovered that it's not necessary.  This trip we finally went clamming.  We ended up collecting over 30 clams, as seen above.  We only found one littleneck clam but found a ton of these what we think are razor clams.  The Weekend Chef steamed them in some wine, butter and garlic.  Unfortunately, we didn't rinse them enough and they were pretty sandy/gritty so most went uneaten.
3.  Fishing – Almost every trip we make to Rhode Island, where my parents are around to watch the kids,  the Weekend Chef and I take a fishing charter.  This trip we went with my sister, her husband and the Weekend Chef's brother.  Between the five of us, I caught a fluke and two of the guys caught some sea bass.  We breaded and fried them up for some tasty dinner!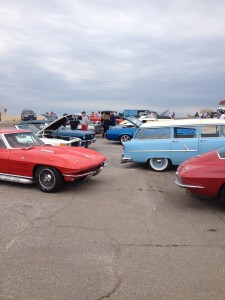 4.  Classic Car Show – I saw an ad for a classic car show in Misquamicut.  We got to the show a little early so we decided to take a walk on the beach.  It was chilly and we were in sweatshirts but the kids still had a blast getting their feet wet in the ocean.  While this wasn't a huge car show, we did walk around and were able to cross of the Weekend Chef's summer bucket list item.  We had never been to Misquamicut before.  It is filled with lots of family-friendly entertainment with rides, mini-golf, some water slides, a drive-in movie theater (which I would have liked to go to if they weren't showing Jaws that night – not exactly "family-friendly!!") though everything is a bit run-down.  Our kids accompanied their little cousins on their first "roller coaster" ride (one of those mini-dragon types).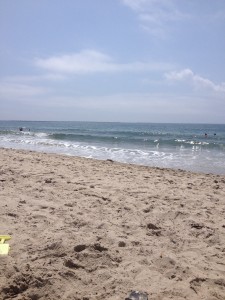 5.  The Beach – Last but not least!  East Matunuck State Beach is down the road from my parents' house and was our beach of choice this past week.  The kids would spend all day, every day at the beach if they could. They are old enough where they enjoy boogie boarding or just jumping in the waves.  When they tire of that they love collecting rocks and shells, digging in the sand or building sandcastles.  My idea of a good beach day is sitting in a beach chair with a book!
Hope everyone has a great weekend!
Linking up with Amanda from Meet @ The Barre, Andrea @ Momfessionals, Tif @ Bright on a Budget and Jennie @ The Diary of a Real Housewife.