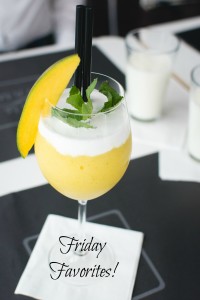 Happy Friday!  I cannot believe that I have been writing Friday Favorites posts for a year now!  Normally, our weeks are pretty routine around here.  However, this past week was surprisingly filled with lots of favorites!
1. Supper Club – Due to everyone's busy schedules, our supper club ended up meeting back-to-back weeks.  Even though I couldn't make last month's New Orleans/Mardi Gras themed supper I was happy that I could make March's peanut butter themed dinner.  I made bunless Thai Veggie Burgers with Peanut Sauce from Annie's Eats. They were actually tasty even though I'm not the biggest fan of quinoa! 
2.  Hudson Valley Restaurant Week and a prize – The next two weeks are Hudson Valley Restaurant Week, where over 200 local restaurants offer 3 course lunches for $20.95 and 3 course dinners for $29.95.  My husband and I were able to sneak in a delicious lunch date at Tarry Tavern, a restaurant in Tarrytown, NY that we enjoy.  Even better?  I found out that by posting the above photo and tagging the appropriate parties I won a HVRW prize!  I just found out I am getting a gift certificate for a dinner at Chef Antonio Restaurant in Mamaroneck and a bag of Irving Farm Coffee!
3.  Walking – I know that this made my favorites last week, but two mornings this week my neighbor friend and I went walking after the kids got on the school bus.  It's definitely more fun exercising with a friend!  I hit my 10,000+ steps goal three times this week!
4. Shoes – I just commented to my husband the other day that I needed to try to get some boots for next year if I could find them on sale.  I am in desperate need of fall/winter shoes and boots.  I popped into Kohl's to look for a suit for my son for his upcoming Communion.  While that was a fail, I did find six pairs of shoes (yes 6!) for $73.05.  They were having an additional 40% off clearance prices, plus, I had a 20% off coupon and a $10 and a $5 coupon.  Add to that I got $20 Kohls cash since I purchased some other stuff too. I am all set for next fall and I got such a bargain!
5. Amazon Prime – We FINALLY bit the bullet and joined Amazon Prime.  Now that they've hiked the free shipping minimum to a $50 purchase, we thought it was worth it to get the free 2-day shipping.  This was especially beneficial since we just found out that my daughter needs to dress up for Colonial Day and purchased a colonial costume via Amazon.  We are also enjoying having Amazon Prime streaming to expand our television viewing options!  Please share any recommendations of shows worth watching on Prime!
ICYMI this week on the blog:
Tuesday I shared the books that I read in February with Steph and Jana's link-up.
Wednesday I linked up with Stephanie's the Kids Behind the Blog.
Thursday I shared New York State Maple Weekends.
Linking up with Tif, Andrea and Amanda!  Have a great weekend!