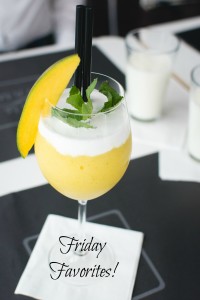 Happy Friday everyone!  I am so glad that the week is over.  This past week has been a crazy busy one.  Spring break starts tomorrow and we are in desperate need of a break!  The Annie Kids musical performance, 4th grade science fair, Colonial Day, 2nd grade game night…..phew!  It's been NON-STOP this week!  We've been loving the warmer weather…..but now there's talk of 3-5 inches of snow Sunday night.  What?!!!  Here are some of our favorites of this busy week:
1. Annie Kids – Last weekend was my daughter's performance in the 3rd and 4th grade musical production.  She has been practicing since December with the last few weeks having practice EVERY day until 5:30/6 PM!  But she did it with no complaints and her and her classmates put on an amazing performance both Friday and Saturday evening.
2.  The Good Wife – Now that we have Amazon Prime I've just started watching The Good Wife.  I know I'm seven seasons behind and may never catch up with all the other shows that I've started.  However, I'm about eight episodes in to the first season and I'm really liking it! 
3. Local coffee and a coffee grinder – I won this locally roasted bag of coffee and a gift certificate to a local restaurant through a Hudson Valley Restaurant Week local social media contest.  Unfortunately, we didn't have a coffee grinder.  Well, thanks to our recently purchased Amazon Prime membership I bought this Krups coffee grinder Friday evening and it arrived Sunday afternoon.  We have now been enjoying freshly ground, locally roasted coffee each morning.
4. Card Making – Pre-marriage and kids (12 years ago!) some of my friends and I got into stamping and card making. With my husband's recent new job, I volunteered to make homemade cards for his clients.   I had to literally dust off my Stampin' Up supplies and have slowly gotten back into card making.
5. Favorite bookmarked recipe of the week – This 20-Minute Moo Shu Pork (or Chicken).  This is a dish that I'll sometimes order when we do Chinese takeout and I've never thought to make it myself.  This recipe looks quick, easy and tasty!
ICYMI this week:
Monday I shared our weekly meal plan.
Wednesday I wrote about our decision to join a CSA.
Linking up with Tif, Amanda and Andrea.  Have a great weekend!