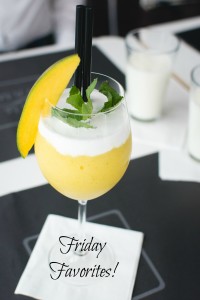 Happy Friday!  I am so glad that this week is over.  Last weekend started off well, with a visit from my sister and nieces.  However, they passed their recent sick germs to my daughter who ended up with a bad, luckily only 24 hour, stomach bug.  Luckily, we are all well now and are looking forward to a busy weekend.  I am going to my first blogging event tomorrow and I am so nervous!  I am going to a Snapware and yoga event with Kristin McGee down in NYC in the morning!  Eek!  I will of course write a post all about it!  This week, I am sharing some of my kids' recent favorites.
1. Feeling better – My daughter's number one favorite of the week was not being sick anymore.  My kids have been lucky enough to not have a stomach virus prior to this past week.  My daughter hates throwing up and reminded me that she hadn't done so since she was about five years old (she's almost 10!).  So she was pretty miserable on Sunday/Monday when she was pretty much vomiting all day. She's now back to her usual self and eating a normal diet and she's so happy!
2. Origami Yoda series books – My son has just gotten into reading this series of books and then making the origami characters, from the directions at the end of the books.  The series follows middle school student Dwight and a cast of classmates who create origami Star Wars characters which change their lives.
3. Hotel Transylvania 2 – The kids had an early dismissal Tuesday due to inclement weather.  My daughter was already home sick, so after lunch we watched this movie together, which I wrote about in yesterday's post.
4. Friendly's Limited Edition Royal Banana Split Ice Cream Bars – I like to buy ice cream bars since they are individually packaged and great for treats for the kids.  I prefer my ice cream out of a pint container, so buying these also limits my ice cream eating!  The last time the kids and I went grocery shopping together, they couldn't decide between these bars and the Orange Cream Fruit Swirl Bars, which they ultimately ended up choosing.  So, I recently picked these up on a shopping trip as a surprise for them.  It's banana ice cream and strawberry ice cream with pineapple pieces covered in a chocolate shell.  I had no desire to try these but they ate these bars all week and liked them a lot.
5.  February Nerd Block Jr. Boys – This box came in the mail the other day and we haven't had time to open it.  The kids are bursting with excitement and it WILL be opened sometime this weekend!
ICYMI this week on the blog:
Monday I shared 5 Slow Cooker Recipes Worth Making.
Tuesday I shared Tips & Try-Its.
Thursday I shared what we've been Watching Lately.
I'm linking up with Tif, Amanda and Andrea!  Have a great weekend!