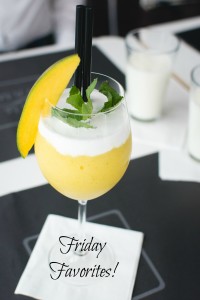 Happy Friday everyone!  It's been pretty quiet around the blog here as I've recently been experiencing the blogger blahs.  I have tons of blog post ideas but just have been unmotivated to sit and write them.  I am hoping to be more present around here in the upcoming week!  We are approaching the last two months of school and things are getting super busy around here.   Lots of fun things are going on, but it's also a bit stressful trying to stay on top of everything.  This weekend my son makes his First Communion and Sunday, my husband and daughter will be participating in their first 5K.  There have been lots of favorites around here though.
1. Somewhere In America – This poem performed by teenage girls, Belissa Escobedo, Rhiannon McGavin and Zariya Allen is so powerful and yet sad, that this is the reality for so many of today's youth.
2. Cub Scout Camping – My husband and son spent last Saturday camping at Herkimer Diamond Mines in upstate New York with the Cub Scouts.  They spent hours mining and came home with several Herkimer diamonds.  While the rest of the scouts and their families stayed in cabins, my husband and son and my son's friend and father braved the night camping in a tent.  While it was a bit chilly at night, they had a great time.
3.  Mother/Daughter Day – While the boys were on their camping trip, my daughter and I had a special Mother/Daughter Day.  We went to the Palisades Mall and did some shopping.  We had lunch at the Cheesecake Factory and then had some Yogen Fruz.  Before we left, we spent some time at Dave & Busters and did a little gaming.  When we got home we watched Troop Beverly Hills before bed.  It was nice to be able to spend some quality alone time with her!
4. Family Time and Beautiful Weather – Sunday was a beautiful day!  After the guys got home, unpacked and showered from their camping trip, we went down to the riverfront and walked the new Westchester River Walk.  We are lucky to live right near the beautiful Hudson River.  The weather was gorgeous and we got to take a nice walk together and then sat along the river eating an ice cream treat after!
5. Harry Potter and the Sorcerer's Stone – My son and I have started reading the Harry Potter series together.  I have only read up to the fifth book, so this will be a good way for me to eventually finish the series!  We are reading it together and listening to it on CD in the car, to help speed the process up.   We recently finished the first book in the series, Harry Potter and the Sorcerer's Stone and watched the movie this past weekend.  I've told the kids that once we finish the series we can then make a trip to Universal Studios and visit The Wizarding World of Harry Potter!
Hope you have a great weekend!  Linking up with Tif, Andrea and Amanda!