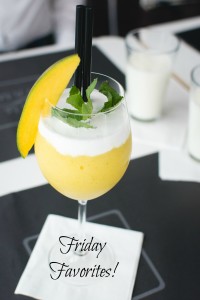 Happy Friday and April Fool's Day!  Hopefully, no jokes will be played on you today! I've been feeling "off" schedule all week, since the kids had off from school Monday and have a half day of school today.  We were teased yesterday with a beautiful day and are expecting the possible chance of snow Sunday and Monday night……crazy!  My son is going to a birthday sleepover party tonight, we are hosting our monthly supper club Saturday night and my daughter and husband are going to her Girl Scout Father/Daughter dance on Sunday.  Lots of fun stuff going on this weekend!  Here are some of this week's favorites:
1. Last Sunday we celebrated Easter with my parents.  My mom made lamb and ham as well as homemade bread, asparagus and twice-baked potatoes.  It was a delicious dinner and it was so nice not having to worry about cooking!  I was put in charge of bringing dessert.  If you follow me on Instagram, you saw this carrot cake roll that my daughter and I made. 
2.  Saturday, my husband and son went down to NYC to the NY International Auto Show at the Jacob Javits Center.   This has been a yearly tradition for the two of them to get in some quality time together and look at cars…..which doesn't really interest my daughter and me.
3.  While the guys were at the car show, my daughter was helping me with the Easter baking.  It was my first time making a "roll" cake and I don't have a jelly roll pan.  I ended up using a high edged cookie pan that I have, but it was bigger in size than the pan that the recipe called for.  I wasn't sure how (or even if) it was going to turn out, so we took a baking break and drove to a local bakery to pick up some "just in case" pastries.  The carrot cake roll cracked a little, but still tasted good.  These pastries were really good as well though!  This trip reminded me that we need to visit this bakery more often.
4. My favorite bookmarked recipe of the week are these Meatloaf Sliders with Bacon, Pepper Jack and Frizzled Onions.   Yum!!!
5. My daughter has been begging me to take her to Five Below and I finally took the kids on Monday when they were off from school.  I ended up picking up this new cover for my kindle fire as well as a matching iPhone case.  I love the floral design and for just $5 each, I couldn't resist. #itsthelittlethings
ICYMI on the blog this week:
Monday I posted about what I've read recently in the blogosphere.
Wednesday I posted about our Reading Terminal Market Eats on our recent Philadelphia trip.
Thursday I posted about why you don't see pictures of my kids on the blog.
Linking up with Tif, Amanda and Andrea.  Have a great weekend!