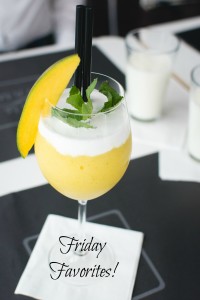 Not much exciting happened this week.  The kids finally had a full week of school.  With work and the kids' activities, it was another busy week around here.  Here are some of this week's favorites.  Most of them this week are food-related, but some aren't.
1.  Favorite Book –  If you liked Gone Girl, you will probably enjoy this book.  I read this book in two days and then gave it to the Mr. to read.  It's a page-turner!  The Mr. was a bit disappointed with the ending but he, who rarely reads, also finished the book in two days.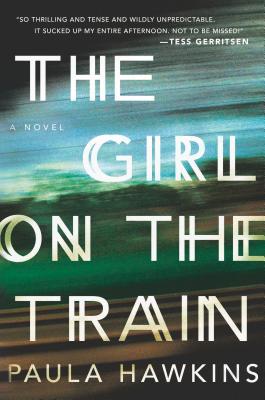 2.  Family Favorite Show – We don't have cable anymore, which I'm starting to miss, since I'm not able to get my fill of trashy reality television from Netflix!  Does Hulu air the Real Housewives and The Bachelor?!!!  So only having Netflix, there's not a lot of shows that we can all watch and enjoy together as a family.  I don't really enjoy watching Pokémon and Good Luck Charlie.  We've all been happy watching episodes from the Man v. Food collection on Netflix though!
3.  Favorite Bookmarked Recipe of the Week – This Shrimp and Scallop Stroganoff from blog Penny's Passion.  I've made the traditional beef stroganoff and even chicken stroganoff.  But shrimp and scallop stroganoff is different! Looking forward to cooking this soon!
4.   We love Jimmy Fallon!  Check out this ice cream prank he pulled in honor of the debut of Ben & Jerry's Tonight Dough.

5.   These Chicken Avocado Enchiladas that I made for dinner this week.  I adapted the recipe from Dinners Dishes & Dessert, which had used leftover turkey.   I ended up snapping this photo before cooking.  Lighting was so bad when they were ready and I was planning to take a pic of leftovers the next day…..but leftovers do not photo well!  They were really good though and highly recommend.  The kids ate them even after telling me that they don't like avocados (they didn't even taste them, since they get blended in the sauce!).  The Mr. commented that these tasted like something you'd get in a restaurant!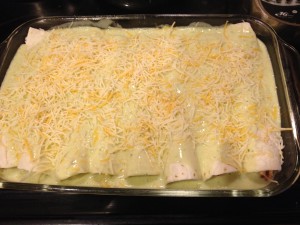 Linking up with Andrea @ Momfessionals, Jennie @ The Diary of a Real Housewife, Tif @ Bright on a Budget and Michael @ Rattlebridge Farm.
Have a great weekend everyone!