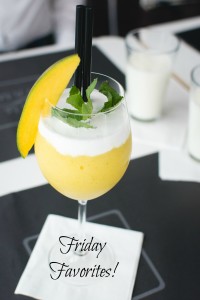 Did everyone have a great week?!  The kids spent the week with their grandparents in Rhode Island, while the Mr. and I were working.  We managed to get in a couple of date night dinners in their absence.  I'm tired of complaining about the weather but first there was all the snow and now it's been absolutely freezing!  The poor kids couldn't even play outside in the snow while up in RI it was so cold!  Here are some of this week's favorites!
1.   Beard Papa Cream Puffs – It was Japan Week at Grand Central Terminal in NYC this week.  On my way into the city to meet the Mr. for dinner I stopped to check it out.  The line at the Beard Papa stand was crazy long.  I didn't even know what I was getting in line for, but if everyone was waiting in line, it had to be good, right?!!!  I ordered the Doraemon (named after the popular, blue Japanese character) "Yummy Bun" and yes I was embarrassed ordering it by that name.  But for $3.25, this was one of the best cream puffs I've had.  They fill the cream puff when you order, so you know you're getting a fresh pastry.  The Doreamon "Yummy Bun" was filled with the original custard cream mixed with red bean and chestnuts.  This cream puff made its debut this week and is allegedly going to be offered at Beard Papa stores.  Check out the official Beard Papa site here for more information.
2. Free Chipotle Burrito – The Mr. tried the Sofritas burrito bowl during Chipotle's promotion and thus earned a free item with the receipt.  Over the weekend we took a trip to the Palisades mall and got our free burrito.  We ended up splitting a chicken burrito…..and then a Yogen Fruz frozen yogurt!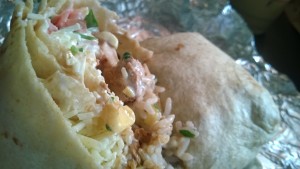 3.  Favorite Bookmarked Recipe of the Week – This Banana Stuffed French Toast from blog Damn Delicious.  I'm always looking for recipes to use up the ripened bananas that we always seem to have.  Plus, this is a no-brainer, the kids will love it, breakfast for dinner!
4.  This video of American kids trying breakfast foods from around the world!

5. This Goat Cheese Cheesecake – We ate dinner this week at a new, local restaurant Hopscotch.  The food was delicious and this goat cheese cheesecake was so memorable!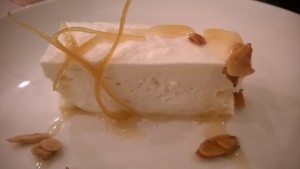 Linking up with Andrea @ Momfessionals, Jennie @ The Diary of a Real Housewife, Tif @ Bright on a Budget and Michael @ Rattlebridge Farm.
Have a great weekend!