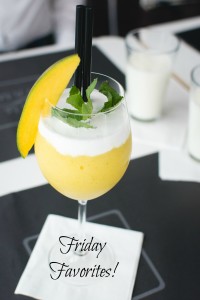 It's Friday and what a cold one it is.  The temperature this morning was 1 degree F!!  Spring cannot come soon enough.  Tomorrow is Valentine's Day.  We are expecting a few snow showers….again.  The kids will be leaving to spend a few days with their grandparents in Rhode Island, which means the Mr. and I will have a few days to spend some quality time together.  Minus getting our taxes done and that thing called work that we have to do, of course!  Now, on to our favorites of the week!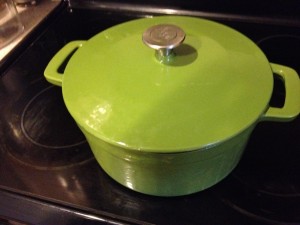 1.  Food Network 5 1/2 quart enamel Dutch Oven – We had requested and received a Dutch Oven a couple of years ago for Christmas.  If you do not own one, we highly recommend getting one.  We use this to cook at least once a week, but usually more. You get a lot of the benefits of a cast iron skillet such a durability, heat retention, and frying ability. You also get a vessel that's much easier to clean with the enameling, higher side walls to cook large batches, and a lid to hold all the moisture in.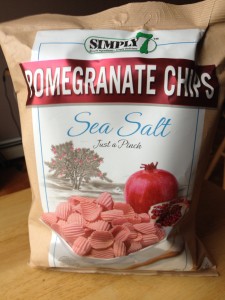 2. Simply 7 Pomegranate Chips – Sea Salt flavored.  We found these at Marshalls. They satisfy my salty, crunchy snack requirements and have no artificial flavors or preservatives.  I like the slightly sweet pomegranate flavor that the chips had.
3.  Favorite Bookmarked Recipe of The Week:   Not a recipe per se, but Girl Scout cookie season is quickly approaching.  Our daughter is a Brownie girl scout and we will be stocking up on cookies soon.  Megan from The Housewife in Training Files posted "36 Drool Worthy Girl Scout Cookie Inspired Desserts."  I haven't had a chance yet to check out most of the recipes, since it's a compilation of recipes from around the web.  However, it looks like some use actual girl scout cookies and others are meant to mimic the flavors of your favorite cookies.  Regardless, some of these recipes will be made in our kitchen!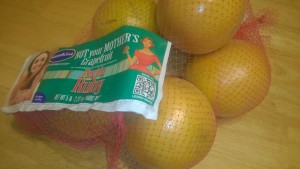 4.  Grapefruit Season! There are very few things that make NY winters less awful, but cheap and plentiful grapefruit helps during the chilly season. They're sweet and tart and juicy. And despite the cold outside, they're great right out of the fridge.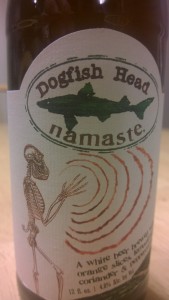 5. Dogfish Head Craft Brewery –Namaste beer. We've been trying new beers this year to expand our beer repertoire. Namaste is described as a white beer brewed with orange slices, lemongrass, coriander & peppercorns. There's a lot of flavors there that we didn't associate with beer, but the overall taste was not overwhelming. It has a light and refreshing flavor that goes well with many foods.
This post contains affiliate links.  By making purchases through these links you help support this blog.
We are linking up with Amanda from Meet @ the Barre, Andrea from Momfessionals, Tif from Bright on a Budget and Michael from Rattlebridge Farm.