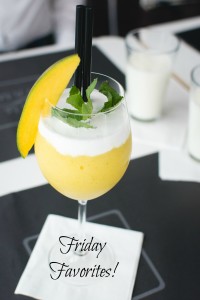 This week has been a week of trying to relax and recover.  It's been a little over a week since my surgery.  The doctor told me to take a two-week recovery from work, heavy-lifting, etc.  While I thought I was starting to feel better, I felt bad about being so useless.  The other day I decided to organize and clean out my bedroom closet and my nightstand and I ended up in a lot of pain that night.  Guess I over did it!  This Memorial Day weekend should be a pretty quiet one.  Knowing I was having my surgery and would be in recovery period, we didn't plan anything major.  We will be watching my nieces this weekend while my sister and brother-in-law go to a wedding.  I haven't seen the girls in ages so I'm really looking forward to getting in some quality time with them!  Here are some of my favorites this week: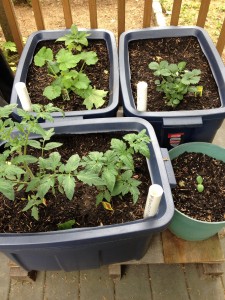 1.  My gardening boxes!  The past couple of years my dad has made these garden boxes up at my parent's house in Rhode Island.  He gets amazing vegetable yields of tomatoes and peppers.  This year, I was determined for us to make some, since I have had minimal to no luck container gardening.  The Weekend Chef finally completed the boxes last weekend and they are out on the deck!  Look for an upcoming post on how he made these boxes!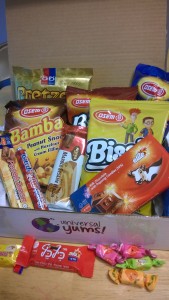 2.   Universal Yums! Snack Subscription Box – The whole family is loving this box!  Each month, a new box is shipped filled with snacks from one country.  This was our first box and the snacks were from Israel.  Look for an upcoming review post on our snack box and how we are using the box as for additional cultural enrichment!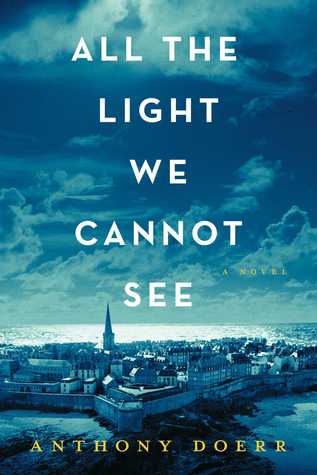 3.  Currently reading:  Since I've had a lot of rest and relaxation time I am in the midst of two books which I hope to finish this weekend.   Her by Harriet Lane was recommended on some site or list for those who enjoyed The Girl on The Train.   I can't say this has the same suspense and draw as The Girl on The Train.  I'm feeling pretty "eh" about it but I'm more than half-way through so going to finish it.  I'm also reading All The Light We Cannot See by Anthony Doerr.  This book has gotten tons of positive reviews and I am enjoying it.   It takes place during WWII and is a bit of a heavy topic, thus me reading two books simultaneously.   I'd love some recommendations for some other books to read!  So, if you've read anything lately that you'd recommend, please share!
4.  Favorite bookmarked recipe of the week:  These Buffalo Chicken & Blue Cheese Waffle Sliders from blog No Spoon Necessary.   Umm, what's not to like about these…you have your traditional chicken and waffles kicked up with buffalo flavor and blue cheese?!!!! Thinking I may be able to adapt these to make some for the kids with regular chicken…….
5.  Netflix:  I recently saw a list on Netflix Life of what shows and movies were going to be leaving Netflix in June.  I highly recommend checking lists like these out, because I didn't even realize some of the shows that were even on Netflix!  Well, we started watching Cirque Su Soleil Worlds Away and my kids are mesmerized!  We only got through half of it before we had to put them to bed, but this weekend we will definitely be finishing it up.  The Weekend Chef and I actually saw a Cirque Du Soleil show pre-kids and it was amazing!  I also saw that The Baby Sitters Club was leaving in June.  I watched the first two episodes with my nine year-old daughter.  As soon as it started she commented, "This is so old!"  Yes, it actually is…the show was originally aired in 1990.  I grew up reading and loving The Baby Sitters Club book series.  I'm not sure that I ever saw the show when it was on television.  However, all of the clothes and hairstyles from the show sure did bring back flashbacks of my youth!  I do have to note that compared to television shows today that are aired at girls between 9-13, this show is so much more "clean." The girls in the show are actually really nice to one another and overall, it's very positive.  And even though she thought the show was "old" and "the sound is cloudy!" my daughter got hooked.  I think she'll be watching the rest of the first season……probably without me!  So, check out that list to see what shows and movies that you might want to watch ASAP before they leave Netflix in June!
Have a great weekend!
Linking up with Andrea @ Momfessionals, Amanda from Meet @ The Barre, Tif @ Bright on a Budget and Jennie from The Diary of a Real Housewife!