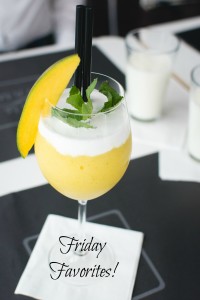 Happy Friday!  What a fun week it has been!  Yesterday, my "baby" girl turned 10. I cannot believe how quickly time has flown by and am still trying to accept that I have a ten year old!  Yesterday was filled with lots of birthday festivities!
I had a busy week on the blog and posted everyday this week!  Monday I shared our weekly meal plan, Tuesday I shared my March reads and joined the Show Us Your Books linkup, Wednesday I joined the Kids Behind the Blog linkup and Thursday I shared some more Philly Food Finds from our recent trip.  Now, on to the favorites!
1. Birthday dinner  at the Melting Pot – This restaurant has become my kids' favorite since we went for my birthday several years ago.  It feels like we were just here celebrating her 9th birthday, but last night we were back celebrating her 10th birthday!  Fondue fun!
2. Dinner with a friend – I went out to dinner Wednesday night with a friend I haven't seen in YEARS.  She was my teaching assistant her first year at my school and has referred to me as her "mentor."  She has been teaching her own class in the city for three years now.  It was soooo good to catch up with her!  Our BBQ dinner at Brother Jimmy's was pretty tasty too.
3. Gilmore Girls – Somehow, I never got into watching the Gilmore Girls when it was on television.  I have just started season 2 and will hopefully make my way through all the episodes before the Netflix revival airs!
4. The Charm Bracelet by Viola Shipman – I am almost finished reading this book and have been really enjoying it. I really love the meanings of the charms on the bracelets and the stories behind them.    It's a really good mother/daughter generational story.
5.  Fun Mail – This week my first issue of US Weekly subscription and my Walmart Spring Beauty Box came.  It's so nice to find something other than bills in the mailbox!  Oh how I've missed my celebrity gossip.
Have a great weekend!  Linking up with Tif, Amanda and Andrea!