We are always on the look-out for and love trying new food products.  Whether it's a new flavor of an old favorite or a brand new food product, we are always game for trying and thought we'd share some of our recent eats and reviews!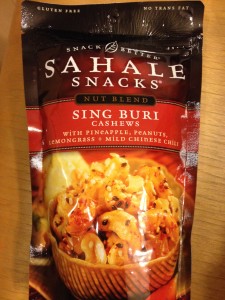 Sahale Snacks:  Sing Buri Cashews – I found these at Home Goods and was so intrigued I had to buy them!  These came in a 5 ounce bag and cost $2.99.  From the Sahale Snacks website you can purchase a 6 pack of these cashews for $29.65.   The Sahale website describes these snacks as "Lemongrass, soy-glazed cashews, pineapple, peanuts, and sesame seeds, lightly dusted with mild Chinese chili, in an aromatic blend, reminiscent of a great Thai dish."  With a description like that how could I pass these up?  The cashews were lightly glazed and came in small clusters of cashews, dried pineapple and peanuts.  They had a hint of spice that wasn't too strong, as both kids ate these.  Each bite packed a mouthful of flavor.  While I'm not a huge fan of lemongrass, the flavor was evident, but not overwhelming.  Our family practically devoured this bag after first opening.  We recommend this snack if you are a cashew lover who enjoys big flavors!  This is one of the more interesting flavors of snacks that we've seen and tried.  These cashews are certified gluten-free, kosher and non GMO verified.  For more information, check out the Sahale Snacks site here.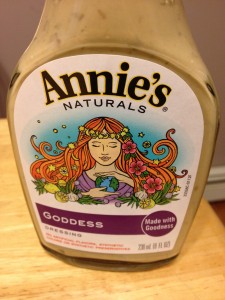 Annie's Naturals:  Goddess dressing – The Weekend Chef picked this salad dressing up at our local Shoprite.  The description from the Annie's Naturals websites notes "In the 1920's, the Palace Hotel in San Francisco honored actor George Arliss, who was opening in a play called "The Green Goddess," with a salad dressing. But Annie's Goddess dressing – a creamy tahini and lemon dressing with chives and parsley – is the real showstopper."  This was not a favorite of mine or the kids, but the Weekend Chef likes it.  It is thick and the tahini flavor is strong, which would probably make for a good dip, as well as a salad dressing.  He likes the short and sweet list of all natural ingredients.  He also thinks it has an Asian flavor to it, which I disagree with.  There are no artificial flavors, no synthetic colors or preservatives and Annie's Naturals only sources ingredients stated to be GMO free.   For more information, check out the Annie's Naturals site here.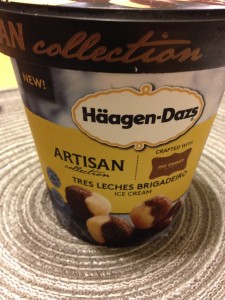 Haagen-Dazs Artisan Collection:  Tres Leches Brigadeiro – You will see a LOT of ice cream reviews here.  We LOVE the stuff and are always on the look out for new brands and flavors!  While Haagen-Dazs is definitely not a new ice cream brand, their artisan collection is fairly new.   The Weekend Chef picked out the Tres Leches Brigadeiro flavor.  We both found this flavor to be extremely sweet with only a hint of tres leches flavor and didn't care for it as much as we had hoped.  While we applaud Haagen-Dazs' attempt at collaboration with Paula Barbosa for this artisan collection flavor, for us, this one sounded much better on the package.  For additional information, check out the official Haagen-Dazs site.
Snyder's of Hanover:  Parmesan and Garlic Bowties –  These new Bowties from Snyder's of Hanover come in three flavors – Parmesan and Garlic, which we tried, Original and Everything.  These are flat, crispy pretzels, which are perfect for dipping into hummus or your favorite dip.  Unfortunately, we didn't have dip or hummus and ate these as is.  The parmesan and garlic flavor was evident but not overpowering.  While the rest of us enjoyed them, our daughter wasn't a fan.  I think it was the flavoring and if I end up buying these again, I'll probably buy the original flavor to have with hummus or dip.  These are comparable to Snack Factory's Pretzel Crisps, though these bowties are thicker and crunchier.  While these retail for $3.49 at our Shoprite, I bought them on sale for $2.50.  Check out the Snyder's official site for more information.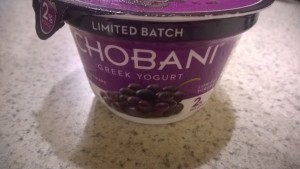 Chobani Greek Yogurt:  Limited Batch Blended Concord Grape –  You will also be seeing a lot of yogurt reviews here as well.  While I'm not a big yogurt eater, the Weekend Chef and the kids love the stuff!  They are always trying out new yogurts and flavors.  Blended Concord Grape is a limited batch flavor.  Overall, the Weekend Chef enjoys most Chobani yogurts.  However, he was not a fan of this flavor.  He compared the taste of this grape yogurt to sweet Passover wine.  He understands why there has been no marketed grape yogurt to this point.  While the yogurt itself was smooth and creamy, the Grape flavor was a fail.  For more information on this yogurt, check out the official Chobani site.
*Please note, all products mentioned above were purchased by NY Foodie Family.
Stay tuned for next week's review of other foodie finds!