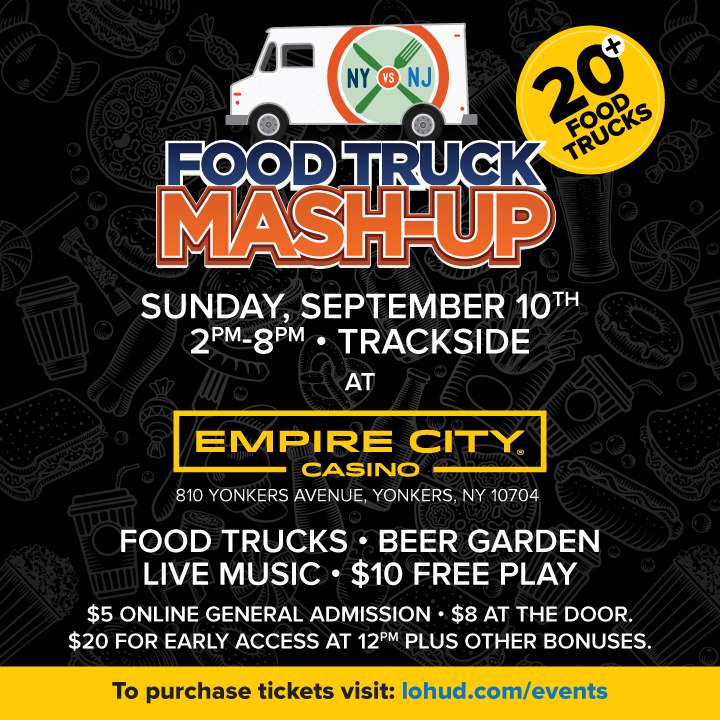 Sponsored Post
Where are all my fellow food truck fans?  On Sunday, September 10, come join me and fellow foodies at Empire City Casino at Yonkers Raceway in Yonkers, New York.  The Journal News Media Group is pitting the best food trucks from New York against the best of New Jersey in a Food Truck Mash-Up.  Your vote will help determine who wins bragging rights!
The current food truck line-up includes Carnivale Donut Bar ("over the top"shakes, ice cream donut sandwiches and stuffed mini donuts), Dough Nation (pizza), Farmers and Chefs (Hudson Valley, farm fresh, local, in-season dishes), Frites of NY (different kinds of street fries), Glazed and Confused Donuts (mini donuts), HAPA Truck (Asian Fusion- tacos, burgers, sides), Kona Ice (shaved ice), Los Viajeros (tacos, burritos, quesadillas),  Meatoss Food Truck (Brazilian churrasco),  Bacon Me Crazy ("hand wrap, roll & sprinkle your favorite foods with mmmm…..bacon!"), Empanada Guy (empanadas and traditional Latin dishes), Callahan's Hot Dogs (hot dogs, burgers, fries), Walter's Hot Dogs (hot dogs and fries), Three Little Pigs BBQ (BBQ meat, sandwiches, chicken), The Souvlaki Truck (Greek), Stuf'd Truck (gourmet sandwiches and sweet bites), Luke's Lobster (seafood), Waffle de Lys (Belgian and savory waffles), CheezeN (gourmet grilled cheese), The Guac Spot (avocado-inspired eats), Jimmy Dawn's Cheesesteaks (cheesesteaks and fries), Angry Archie's (seafood) and Aroy'd Thai Elephant (Thai food)!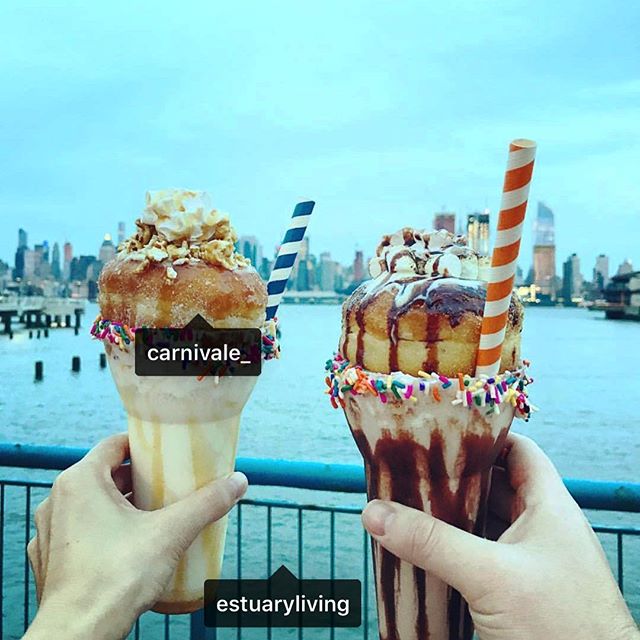 (Carnivale Donut Bar's "Over the Top" shakes – photo courtesy of T.H. Waldman)

I've perused the menus and the hardest decision you'll have to make is which trucks to try!  These are not your average food trucks, with most of them having accumulated multiple awards in the food truck circuit. The trucks will be offering their regular event menus at the Mash-Up.  Prices for food items vary with each food truck.  After taking a quick look at some of the menus online, many of the burgers, sandwiches, tacos, "mains" etc. average $6-$12 per item.  The trucks take both credit cards and cash. If needed, ATMs are available inside the casino.  After you've eaten your fill, don't forget to vote for your favorite truck! At the end of the event, a winner will be crowned.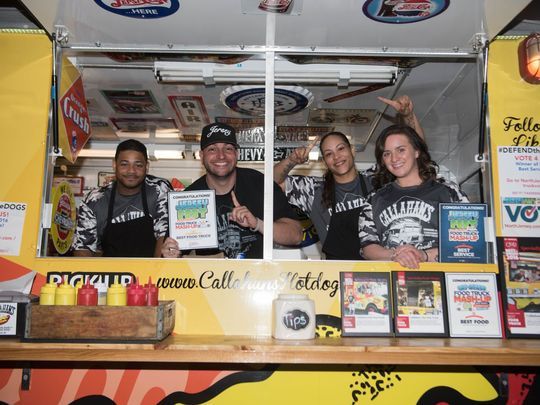 (Callahan's Hot Dogs – photo courtesy of T.H. Waldman)
Are you ready to get your tickets to the Food Truck Mash-Up?  Tickets are available on lohud.com for pre-purchase.  Early admission tickets are available for $20 (online only).  This enables you to access the event at 12 PM and get $5 in Food Truck Mash-Up Cash.  Plus, there will be drink specials during these two hours.
General admission tickets can be purchased online for $5 or at the event for $8, with admission beginning at 2 PM. Kids under 5 are admitted free.  All pre-purchased admissions include $10 of free play at the casino.
Plenty of free parking is available at Empire City Casino.  The Casino also provides free shuttle service from the Mount Vernon West Metro-North train station. During the event, Rockland Nissan, sponsor of the Food Truck Mash-Up, will be giving away a 2 year lease on a new Nissan Sentra.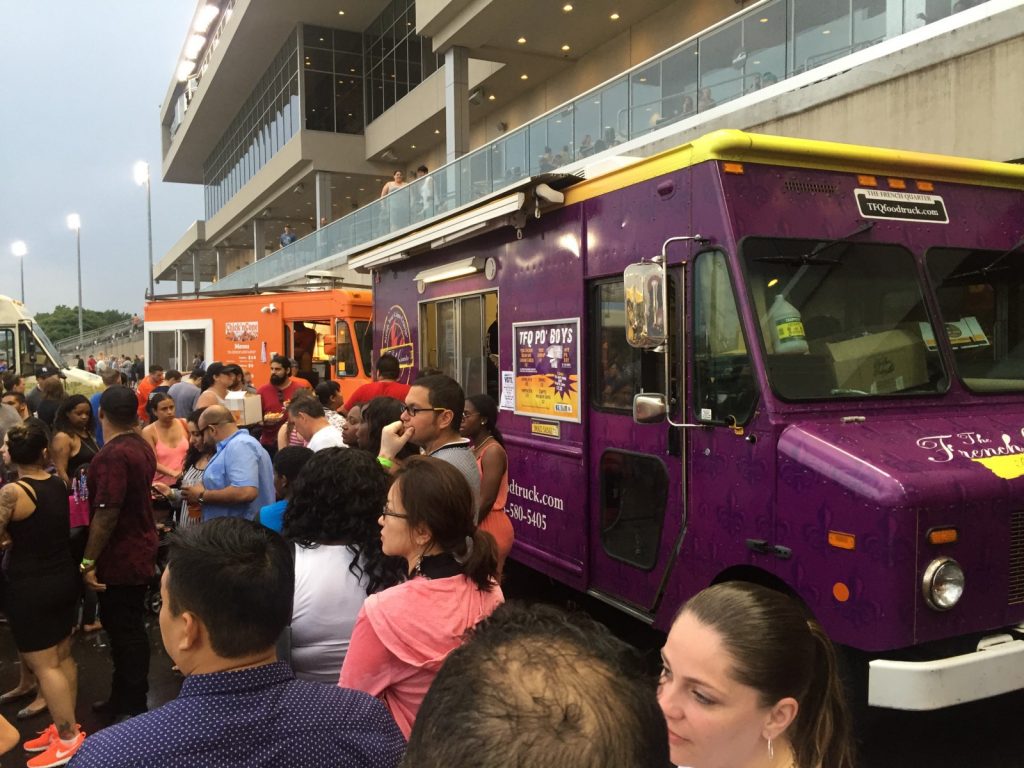 (photo courtesy of T.H. Waldman)
This is going to be a fun-filled family event! Daddy Pop and DJ Lax will be playing live music throughout the day and their will be carnival games and activities for the kids.  Bring a blanket or foldable chair so you can sit back, relax and enjoy a day of foodie family fun.
For tickets, directions, and additional info, check out the lohud.com site.