I cannot believe that it is the last day of September already!  It's hard to believe that the kids have been in school for a month now and that fall is here.  Weekdays are now filled with after school activities and homework.  We have to squeeze in as much fun and family time on the weekends now as we can!  The kids have a four day weekend because of Rosh Hashanah.  Here are five things from this week:
Reading:  All The Ugly and Wonderful Things by Bryn Greenwood.  From Goodreads:  "As the daughter of a meth dealer, Wavy knows not to trust people, not even her own parents. Struggling to raise her little brother, eight-year-old Wavy is the only responsible "adult" around. She finds peace in the starry Midwestern night sky above the fields behind her house. One night everything changes when she witnesses one of her father's thugs, Kellen, a tattooed ex-con with a heart of gold, wreck his motorcycle. What follows is a powerful and shocking love story between two unlikely people that asks tough questions, reminding us of all the ugly and wonderful things that life has to offer."  This book is so horrifying and disturbing in so many ways but has me wanting to finish reading it to see how it all ends.
Watching: This Is Us – This is a new fall show that airs Tuesday nights on NBC.  So I've watched the first episode and it's definitely an interesting premise.  The first episode follows several characters who all are celebrating their 36th birthday.  Part of the show takes place in the past, which I didn't fully realize until the end of the episode and it appears that the different characters are connected.  I will be continuing to watch this show.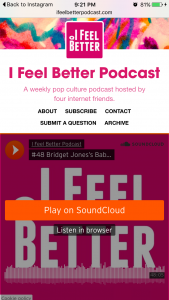 Listening:  I have my regular weekly podcasts that I listen to, but I am always on the lookout for new ones.  I've been listening to them in the car or while cleaning.  They definitely make the time go by faster.  A newish podcast that I've been listening to is the I Feel Better podcast. Each week four friends discuss pop culture including television, movies, books and more.  I feel like I have similar entertainment tastes and like getting new recommendations.
Baking:  Yesterday I made Ina Garten's Corn Muffins.  If I'm going to bake I'm usually making muffins.  They are usually quick and easy to make (which these were!).  Plus, they make easy breakfasts or lunches for the kids when I pair them with yogurt and fruit.  These muffins were a hit (because of course we had to do some sampling!) and were breakfast this morning.
In the Blogosphere:  I'm a big quote lover and I enjoyed reading Tanya's post "Inspirational Quotes to Help Shift to Joyful Thinking."  As a mom of a new middle schooler I could really relate to Shell's post "The Weirdest Thing about Middle School."  I'm a contributor to the Westchester County Moms Blog.  Priscilla recently posted "To Breastfeed…or to be a "Bad Mom"?"  As a mom I think it's a personal decision that we all have to make and she wrote about her personal struggle with the decision.
ICYMI this week on the blog:
Monday I shared our weekly meal plan.
Wednesday I reviewed six ciders/beers in the September Six-Pack.
Thursday I shared my kids' September Favorites.
Linking up with Tif, Andrea and April.  Have a great weekend!