Hooray for Friday!  Are your kids as excited as mine are for Halloween?!  Tonight my daughter goes to her first middle school dance. It's a Halloween-themed dance with costume contests and treat wars.  She is super excited!  I can't believe that she's old enough to go to a dance!  Sunday we plan on going to our local trunk-or-treat event and then of course Monday is Halloween. So lots of fun Halloween stuff going on.  I just need to finish stocking up on candy.
Here are five from this week:
1.Date Night– Date nights are few and far between for my husband and I.  Last Saturday, Nicole, owner of Westchester County Mom's Blog (the local blog that I am a contributor for) gave me two tickets to see Yesterday, a Beatles tribute band.  We shipped the kids to my in-laws for the night and my husband and I got to enjoy dinner out and the show.  It was a lot of fun and the seats were great!  We've dubbed ourselves Beatles tribute band groupies, since this is now the second Beatles tribute band that we've seen.
2. Watching – Besides the usual Grey's Anatomy, This Is Us and the Real Housewives, I also watched Audrie & Daisy on Netflix.  It's a documentary that focuses on the story of two different high school teenagers who were sexually assaulted and the effects that the assaults had on them.  In the age of social media, online bullying is real and can have drastic effects, as this documentary shows.  As the mom of a tween, this really makes me fearful of her getting older.
3. Eating – Besides cooking dinner every night, this week I also made Banana Sour Cream Chocolate Chip Muffins.  These muffins are super moist and tasty!  We've been enjoying them for breakfast and snacks.  The recipe made twenty muffins so I was able to freeze some of them to have on hand for an easy breakfast on busy mornings!
4. Reading –  I'm in the end of participating in a team reading challenge on goodreads and need to read a bunch of series books.  So, I'm trying to catch up on some of the series that I haven't finished.  I somehow missed reading a couple of the books in the Alex Cross series. I am currently finishing up James Patterson's London Bridges.  It's one of his usual quick, suspenseful reads.
5.  Just For Fun – The World Series is going on, as if you didn't know!  I know this is a big achievement for the Cubs and thought that this Halloween light show was fun and full of team and Halloween spirit!
ICYMI on the blog this week:
Monday I shared our weekly meal plan.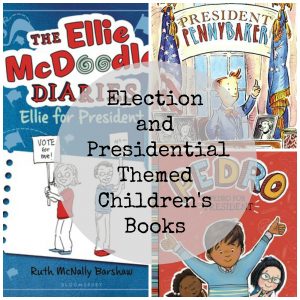 Tuesday I shared a roundup review of some Election-themed children's books.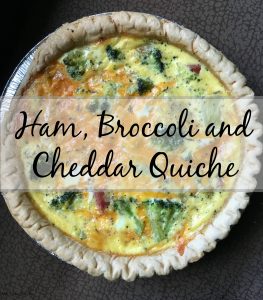 Thursday I posted a recipe for Ham, Broccoli and Cheddar Quiche.
Linking up with Tif, Andrea and April!  Have a great weekend!