Happy Friday and Happy New Year!  I hope everyone has adjusted to 2017.  It's been a bit of an adjustment for the kids (and myself!) adapting to earlier bedtimes and earlier mornings!  But we are back into our routine and ready for all that 2017 brings!  This weekend my son has a basketball game and we are going to a neighbor's birthday party.  We will also be taking down our tree and Christmas decorations.  Here are five from this week: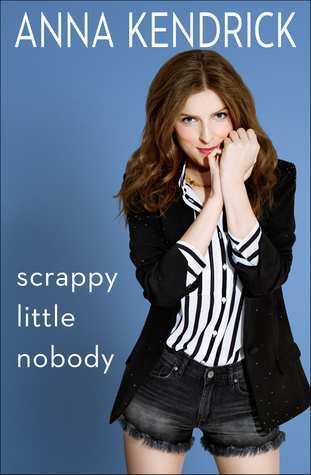 1. Reading –  I am currently reading Scrappy Little Nobody by Anna Kendrick.  I love her and am enjoying this book.
2. Watching –  The Bachelor.  I'm not a regular watcher of this show.  I watched the season of the Bachelorette with Andi and Nick, but I didn't see Kaitlyn's season or when Nick was on Bachelor in Paradise.  However, I'm all in for this season!
3. Listening –  Since I'm watching The Bachelor, I thought it might be fun to listen to an episode recap on a Bachelor podcast.  Well, who knew that there are so many different podcasts?!!!  Here to Make Friends, Rose Buddies, Rose Pricks, Bachelor RHAPups…..does anyone listen to any of these and/or have a favorite to recommend? There's no way I can or want to listen to them all!
4. Eating –  All the comfort foods.  I hated being sick all week and thankfully, my husband stepped in and took care of dinner most evenings.  I felt so out of practice cooking dinner this week!  The weather is cold and although I want to eat healthy, I've been all about the comfort food.  Look for this Cheesy Turkey Tortilla Soup and the rest of our comfort food eats this week in Monday's weekly meal plan post.
5. Family Fun –  My son had been wanting to see Star Wars:  Rogue One since it came out December 16.  Neither my daughter or I are huge Star Wars fans, although we surprisingly both enjoyed The Force Awakens.  So last weekend my husband and son went to see Rogue One and my daughter and I went to see Sing.  Everyone was happy and both movies were really good!
Bonus:  New Year's Eve –  My husband and I haven't gone out on New Year's Eve since having kids.  Honestly, I'm not all that into the holiday and the thought of getting on the road when so many people have been drinking kind of scares me.  The kids are getting older and for the second year have stayed awake to see the ball drop.  So we had our second annual family game night.  Each member picked a game for us to play.  My son just got Star Wars CLUE for Christmas and this was my pick.  We also played a Jelly Belly guessing game that my daughter made up, Are You Smarter Than a 5th Grader?  and Wits & Wagers.
ICYMI this week on the blog:
Monday I shared our November & December Six-Pack.
Tuesday I posted Podcast Episodes for the New Year.
Wednesday I shared my January Currently in the monthly linkup.
Thursday I reviewed the Empire Crate subscription box.
Have a great weekend!  Linking up with Tif, Andrea and April.