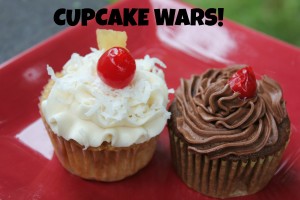 I've mentioned that our family enjoys watching Cupcake Wars together on Netflix.  I rarely if ever make cupcakes because of the quantity a recipe makes.  We never end up eating them all and honestly, I don't need a bunch of cupcakes sitting around the house or I WILL eat them! A couple of weekends ago my son requested that we make cupcakes together.  Somehow this suggestion evolved into a family version of cupcake wars.  I write this post today since today is my little guy's birthday and not only was this his idea but it's appropriately themed for his birthday!  He is now 7 years old and not-so-little anymore (insert sad face here).   We celebrated his birthday several days early while we were in Rhode Island since my parents and both my siblings were up for the holiday weekend.
(This is what happens when I let my sister help "decorate" the birthday brownies for my son's requested brownie ice cream sundaes!)
So, back to our cupcakes!  My son and I first thought we'd make a S'mores type cupcake.  However, the Weekend Chef and my daughter decided they were making a chocolate cherry cupcake.  Since we were going to end up with a gazillion cupcakes my son and I ended up changing our cupcake to a Pina Colada cupcake.  While I'm not the biggest coconut fan, we all love pineapple.  Between the shopping for ingredients, baking homemade cupcakes, letting the cupcakes cool and making and frosting icing, this was pretty close to an all-day affair.  We had lots of fun spending quality family-time together and eating tasty cupcakes!  My daughter now wants the family to have a Cookie War.  So, which cupcake won after all was said and done?  I thought the Pina Colada cupcake was better….but I'm not a huge chocolate lover.  If you so choose, you can make both cupcakes and let us know which one you prefer!
Pina Colada Cupcakes
Recipe from Sally's Baking Addiction
Ingredients:
1 and 2/3 cups all-purpose flour
1/2 teaspoon baking powder
1/4 teaspoon baking soda
1/2 teaspoon salt
3/4 cup dark brown sugar
1/4 cup granulated sugar
1/2 cup unsalted butter, melted
1 large egg, room temperature
1/2 cup pineapple juice
1/2 cup full fat coconut milk
2 teaspoons vanilla extract
Coconut Frosting (slightly adapted):
3/4 cup unsalted butter, softened to room temperature
3 cups confectioners' sugar
1/4 cup heavy cream
2 teaspoons vanilla extract
For garnish:
12 maraschino cherries
12 mini pineapple wedges
Directions:
1. Preheat oven to 350°F. Line a 12-count muffin pan with cupcake liners.
2. Make the cupcakes: In a medium bowl, mix together the flour, baking powder, baking soda, and salt. Set aside. In a large microwave-safe bowl, melt butter in the microwave. Whisk in the brown sugar and granulated sugar.  Once combined, whisk in the egg, pineapple juice, coconut milk, and vanilla extract.
3. Slowly mix the dry ingredients into the wet ingredients stirring until smooth. Fill cupcake liners 2/3 of the way full. Bake for 20 minutes or until a toothpick inserted in the center comes out clean. Allow to cool completely before frosting.
4. Make the frosting: In a medium bowl, beat the softened butter on medium speed with an electric or stand mixer fitted with a paddle attachment. Beat for about 3 minutes until smooth and creamy. Turn mixer off and add confectioners' sugar, cream and vanilla. Mix on low for 1 minute then increase to high speed and beat for 3-4 full minutes. Add more confectioners' sugar if frosting is too thin or more cream if frosting is too thick. Add salt if frosting is too sweet (I usually add 1/4 teaspoon). Frost cooled cupcakes. There may be leftover frosting depending how much you use on each cupcake. Decorate cupcakes with coconut, pineapple slices, and/or a cherry.
*Leftover cupcakes can be stored in an airtight container at room temperature for up to 3 days and in the refrigerator up to 4.
Chocolate Cherry Ganache Cupcakes
Recipe slightly adapted from Life, Love, and Sugar
Ingredients:
1 1/3 cups all purpose flour
1/4 cup cocoa powder
1 cup sugar
1/4 tsp baking soda
1 tsp baking powder
3/4 cup salted butter, softened but not fully melted
1 egg white
1 egg
1 tsp vanilla extract
1/2 cup sour cream
1/2 cup milk
6 oz semi-sweet chocolate chips
1/4 cup heavy whipping cream
3 tbsp salted butter
1/2 cup cherry pie filling cherries, rinsed and roughly chopped
1/2 cup shortening
1/2 cup salted butter
4 cups powdered sugar
1/4 cup + 2 tbsp cocoa
5-6 tbsp water or milk
12 cherry pie filling cherries, rinsed, for the topping
Directions:
1. Preheat oven to 350 degrees.  Line a 12-count muffin tin with cupcake liners.
2. Whisk together flour, cocoa, sugar, baking soda and baking powder in a large mixing bowl.
3. Add butter, egg white, egg, vanilla, sour cream and milk and mix on medium speed just until smooth. Do not over mix.
4. Fill cupcake liners a little more than half way.
5. Bake 18-20 minutes.
6. Allow to cool for 1-2 minutes, then remove to cooling rack to finish cooling.
1. Put the chocolate chips into a microwave safe bowl.
2. Add heavy whipping cream and butter to bowl with chocolate chips. Heavy cream should mostly cover the chocolate chips.
3. Microwave mixture until cream begins to boil, about 1-2 minutes.
4. Whisk mixture until chocolate is completely melted. Set aside to cool for about 5 minutes, until the chocolate begins to thicken.
5. When thickened, cut out a hole in the center of the cupcakes. I used a melon baller. Pour ganache into hole, filling it.
1. Combine butter and shortening and mix until smooth.
2. Add 2 cups of powdered sugar and mix until smooth.
3. Add cocoa and 3-4 tbsp of water or milk and mix until smooth.
4. Add remaining powdered sugar and mix until smooth.
5. Add more water or milk until desired consistency is reached.
6. Top cupcakes with icing and one cherry.