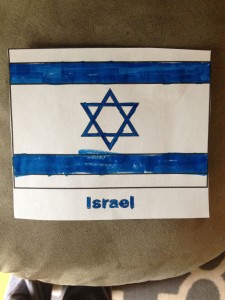 As mentioned yesterday, our subscription to International snack box Universal Yums!  sparked the idea of our family to armchair travel to the featured country each month.  May's snack box featured country was Israel, so off we went!
Prior to receiving the box, I knew that the featured country was Israel.  I printed up a blank flag of Israel found at Coloring Castle and using an online picture I had my son color the flag (see picture above).   We have a children's atlas and the kids found Israel.
We watched volume 1 of Shalom Sesame: Welcome to Israel.  This is a 12-DVD series that includes episodes on Passover, Purim, Shabbat and more.  My children are almost seven and nine years old.  I figured that this DVD was going to be too babyish for them.  Although Sesame Street characters like Grover and some new characters from Israel are featured, this DVD was surprisingly informative and engaging for even my older children.  Viewers accompany Anneliese as she goes to Israel to visit a relative.  You get to see the sights and food of Israel and meet children from the country.  Hebrew words and numbers are also introduced.  There's a special appearance by actress Christina Applegate who teaches viewers the different meanings of "Shalom."  (We borrowed this DVD from the library.)
We read the following books:

Count Your Way Through Israel by Jim Haskins
Rating:  3 out of 5 stars
This book was published in 1990 and has a dated look and feel to it.  There's an informative introductory note that gives a little background information on Israel and the alphabet and pronunciation of some of the letters.  The book counts from 1 through 10 showing the Hebrew word and pronunciation for each number.  It also connects each number to information about the country.  While the Four Questions is appropriate for number 4, for the number 5 Haskins writes about five agricultural products that Israel is known for.  The book also shows illustrations, whereas I think photographs would be much more engaging.  This book had difficulty holding the interest of my six year-old son.  (We borrowed this book from the library.)
Exploring Countries: Israel by Joy Gregory
Rating:  4 out of 5 stars
This book is part of the Exploring Countries series AV2 Media Enhanced Books collection.  There's a special code in the beginning of the book that when input into the AV2 website makes a variety of additional resources available to the reader.  This is one of the most recently published children's books about Israel.  It includes information about the land and climate, plants and animals, goods and services and much more.  The supplemental online media includes videos, quizzes and activities.  Each set of pages includes a "By The Numbers" feature, with factual information relating to the particular topic.  For example, under Politics and Government, the "By The Numbers" feature notes that Israeli citizens can vote at the age of 18 and that there are 15 judges on Israel's Supreme Court.  The book is colorful and includes lots of photographs.  The text on each page is semi-lengthy and the book is geared towards older elementary students.  (We borrowed this book from the library.)
The Remarkable Journey of Josh's Kippah by Barbara Elissa
Rating:  2 out of 5 stars
In this picture book, we follow a kippah from Joshua Jacob's Bar Mitzvah as it travels around the world.  From Rosh Hashanah to Yom Kippur the kippah travels from New York to places like Israel, Argentina and Miami before making its way back to New York.  Unfortunately, we were not big fans of this book.  There were lots of words that many readers may be unfamiliar with.  While there's a glossary in the back of the book, the number of words that are unfamiliar, and not defined in the story, disrupt the flow of the book.  While many Jewish holidays and special days are identified in the story, there's little to no description as to what the day is about. This was not a favorite book of ours. (We borrowed this book from the library.)
Welcome to Israel by Elma Schemenauer
Rating:  3 out of 5 stars
This book is part of the Welcome to the World! series from They Child's World.  This book is a little older, but still very informative.  Again, the amount of info and detail in this book makes it geared toward middle to upper elementary students.  It covers information about the land of Israel as well as its people, food, holidays, school and work.  At the back of the book there's a list of famous people from Israel as well as a glossary and pronunciation guide for some basic Hebrew words.  This book was informative but did not keep my six year-old son's interest.  (We borrowed this book from the library.)
To finish up our Armchair Travel we ate some Israel-themed dinners. 
The Weekend Chef's family is part Jewish, so we celebrate Passover and Hanukkah with them.  Our kids are familiar with latkes, gefilte fish, matzo ball soup, matzo and haroset.  I wanted to make some dishes that were new to us.
I made Fresh Mozzarella, Mushroom and Eggplant Shakshuka from blog May I Have That Recipe?  Although, my shakshuka didn't come out quite as pretty as theirs!  I served this with some Italian bread which we used to scoop up the sauce and veggies.  I was pleasantly surprised that both kids ate this, eggplant, mushrooms and all.
I made a whole roast chicken in the slow cooker and made Noodle Kugel from the Food Network to go with it.  The kids loved this sweet noodle dish!
The last dish I made was Baked Falafel, adapted from allrecipes.com with a Tomato and Cucumber Salad.  This wasn't a new dish for us, but I hadn't made it in a long time.  I love falafel  but the kids aren't the biggest fans.  They ate theirs mixed with the tomato and cucumber salad inside their pita.  I wanted to have them try it again before we had the falafel-flavored snacks in the Universal Yums! snack box.
We are looking forward to see where we will be traveling next month!  Stay tuned so you can travel along with us!