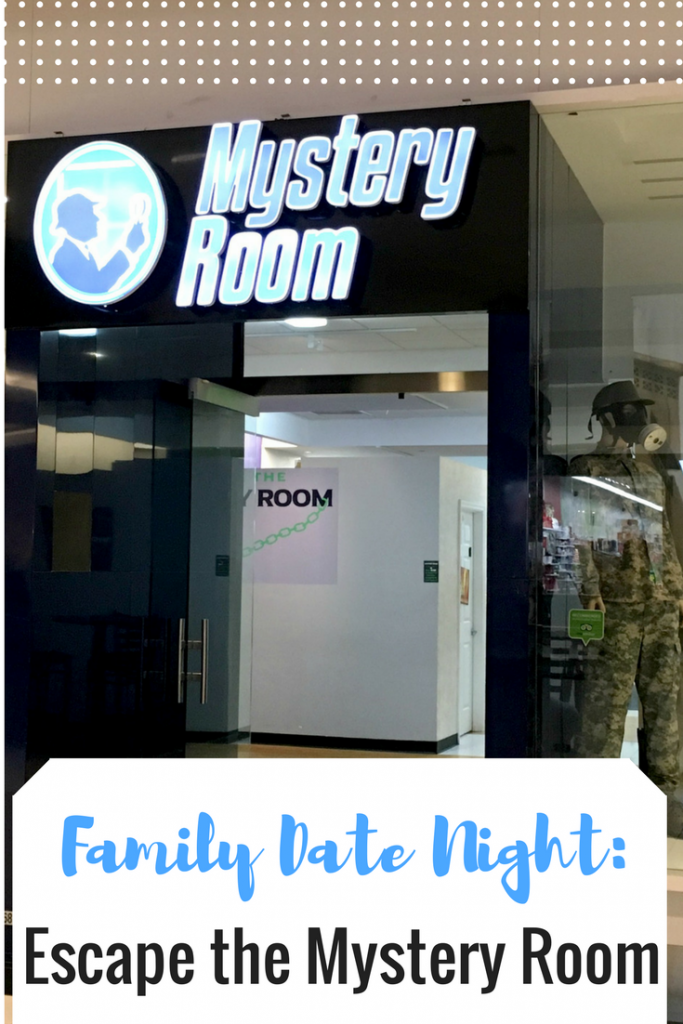 We recently celebrated my husband's birthday.  When asked what he wanted to do, he requested we visit Escape the Mystery Room at the Palisades Mall.  This is one of those places where they lock you in a room and you must solve a series of clues to escape before time runs out.  My children are 9 and 11 and we thought this sounded like a fun family date night.
Escape the Mystery Room has locations throughout the Eastern part of the United States and one location in Austin, Texas.  There are several different themed rooms to choose from with a variety of difficulty levels (1 through 5).  During our visit themed rooms included Black Ops, Escape from Alcatraz, Treasure Island, Superhero's Adventure, Houdini's Magic Cell, Sherlock's Library, Special Agent, Zombie Apocalypse and Hollywood Premier.  The room themes change approximately every twelve weeks.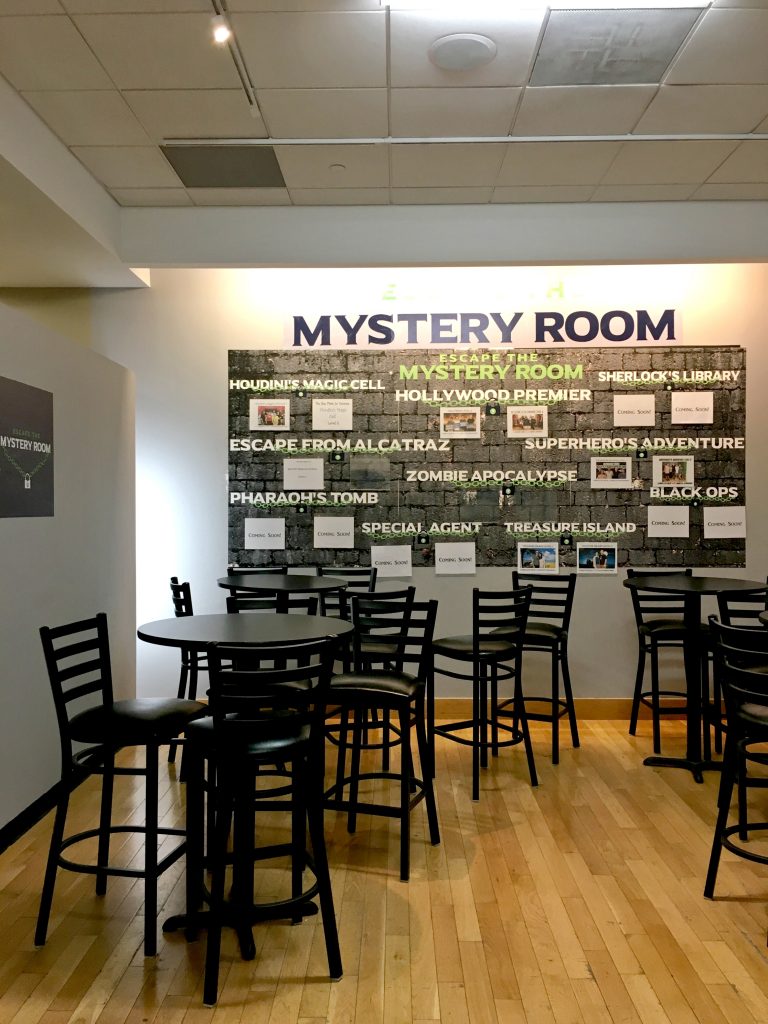 We arrived at the Palisades location around 3:3o PM.  When we arrived we went to the desk and asked for suggestions of themed-rooms appropriate for families.  The girls at the desk noted that their most popular room is Escape Alcatraz.  However, they had no more reservations for the evening.  The other two rooms they recommend for beginners are Superhero's Adventure and Treasure Island.  They did note that only 50% of visitors are able to escape the room on their first visit. We let the kids choose and they voted for Treasure Island.  However, the next reservation available wasn't until 7:05 PM.
Escape the Mystery Room costs $20 a person, regardless of age.  The experience for the four of us cost $80 plus tax. They accept credit cards and once we paid and reserved our spot, we were told to come back at 7 PM.  Luckily, the place is located in a large shopping mall, so we shopped and ate dinner before our reserved time.
We arrived back at Escape the Mystery Room at 7 PM.  We were given a sheet of rules and instructions to read over before our experience.  There was also a list of charges if you broke locks, keys, or other items in the room.  Phones had to be turned off and pictures are not allowed to be taken.  Although you can be grouped with others, fortunately, it was just the four of us in our room.
We were escorted to the Treasure Island room, given a super brief overview and locked in. We were allowed to call for assistance two times, if needed. We had 50 minutes to figure out the 4 digit code that would unlock the door and set us free. There was very little direction given as to what you were supposed to do and it took a good 10-15 minutes before our daughter found our first clue!  We were on our last clue when we needed to request a clue.  Honestly, we didn't find the info given very helpful, but we were at the last clue.
This was a Level One (beginner) room and we escaped with 6 minutes to spare!  We were told we could use the extra minutes to continue on and try to figure out the Level Three puzzle.  Unfortunately, there was not enough time for us to complete it.  But we were super excited that we were able to complete Level One!
I thought that there would be a fun photo op at the end or some recognition for escaping the room, but there wasn't.  So we had to take our own picture in the lobby as a souvenir!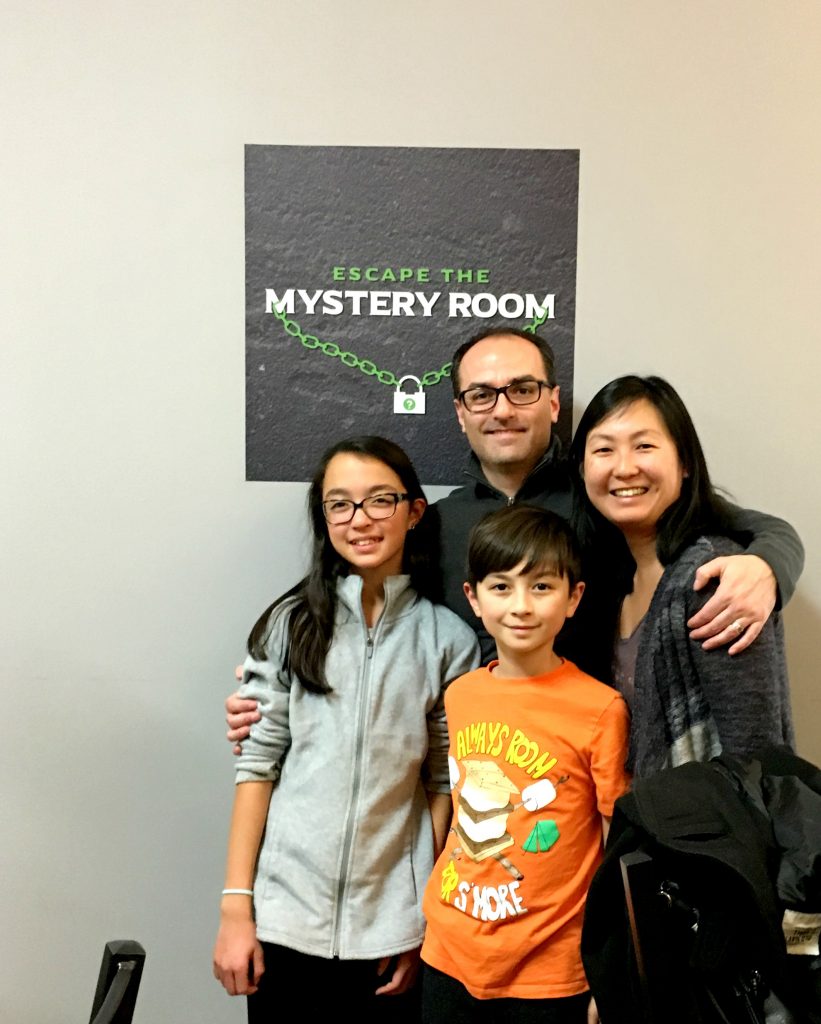 I think my 9 and 11-year-old were at a perfect age to do Escape the Mystery Room.  The Level one room was challenging, even for us adults.  If your children have short attention spans, are easily frustrated, or are not interested in puzzles, then I don't recommend this experience.  My kids enjoy these types of challenges so this was right up their alley.  As soon as we left, my daughter wanted to try another room!
The Details:

Escape the Mystery Room
Palisades Center (this was the location that we visited, but check the map for the nearest location to you!)
3681 Palisades Center Drive
West Nyack, NY 10994
(845) 358-1978
Hours:  Sunday – Thursday: 10 AM – 9:30 PM, Friday & Saturday: 10 AM – midnight
Cost:  $20/person
Parking:  Plenty of free parking
Tips:
*Reservations are highly recommended.  You can call or book online. If you want to make a reservation while at the mall, arrive several hours before your targeted time.
*If you want to make this a couples only date, I recommend gathering up some friends to make it a group date.  Otherwise you may be grouped with other people.
*If this is your first time doing an Escape the Mystery Room try a Level One room.  My husband and I found this room challenging for our first experience.