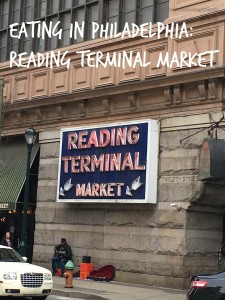 We recently visited Philadelphia over Spring Break.  Of course we saw the sights but as food lovers, we also ate our way through Philadelphia.  As self-declared foodies, there is no way that we'd take a vacation without scoping out the food scene.  We knew we had to have at least one cheese steak, because, c'mon, it's Philly!  We also made sure we made a visit to Reading Terminal Market.
Reading Terminal Market, located between 12th & Arch Streets, is one of the oldest and largest public markets in the country.  The market is several blocks away from the historic district, but definitely walkable, which we did.  Unfortunately, we visited on a Sunday when the Pennsylvania Dutch merchants are not open.  So, no donut from Beiler's, hot pretzels or Dutch pancakes for us.  However, we ate our fill from other stands.  Every stand that we ate at accepted credit cards, most with no minimums.  We visited the market around 12:30 PM on a Sunday and it was super packed.  My husband ended up taking our son and finding a table for us while I waited on line at our first stop, Dinic's with my daughter.  There is a decent sized seating area down the middle and back area of the market, but empty seats are hard to come by.  I recommend grabbing a map of the market at the desk when you first enter, which we failed to do until our way out!  Please note, the four of us shared all of the food below.
Dinic's: Roast Pork Sandwich with Provolone and Broccoli Rabe– The line for Dinic's was crazy long but moves really quick.  For those lucky enough to find an empty seat, there is counter seating.  While you can choose from roast beef, roast pork or Italian sausage sandwiches, we ordered a roast pork sandwich with provolone cheese and broccoli rabe.  From what I've read, this is THE sandwich to have as noted by television food celebrity Adam Richman, who named it best sandwich in the country in 2012, and was also recommended by our hotel shuttle driver (but we had already eaten it prior to his recommendation!).  The sandwich and a large soda cost us $13.00.
Valley Shepherd Creamery: Fresh Mozzarella – The kids and I stayed at the table while my husband took a turn to find something good to eat.  He came back a few minutes later with this tub of fresh mozzarella from the Valley Shepherd Creamery.  According to my husband, you can watch them making the homemade mozzarella that they sell.  The cheese sells for $9.99 a pound and he bought a little less than a half pound.  This was a perfectly salted and creamy piece of mozzarella.  It would have been even better with some bread or fresh slices of tomato and basil……next time!
Beck's Cajun Cafe:  Fried Mac and Cheese – This food stand serves all your New Orleans food cravings including jambalaya, po'boys, red beans and rice and muffalettas.  I opted for just a side of their fried mac & cheese, which I had read was good.  It included two fried balls of yumminess with a hot pepper like dipping sauce for $4.50.
Wursthaus Schmitz – The Lyoner:  This stand was located at the end of the seating area where we were sitting and eating.  We stopped on our way out and decided we had to share a sandwich.  We went with The Lyoner, which is a fried bologna sandwich with muenster cheese, pickle, onion and horseradish sauce.  As you can tell from the pic above, these were thick slices of bologna.  This was a tasty sandwich for $8.
Famous 4th St. Cookie Company:  Peanut Butter Chocolate Chip cookie and Black and White Cookie – We were getting pretty full from all the food that we ate but we had to have a little something sweet.  On the way out we picked up a Peanut Butter Chocolate Chip cookie and a Black and White Cookie.  The line here was also pretty long, but moved quickly.  The cookies were both really good.  However, we were disappointed that the peanut butter chocolate chip cookie was a regular chocolate chip cookie with peanut butter chips.  They sell the cookies for $12.99 a pound and the two cookies cost us $5.85.
What is your favorite food at Reading Terminal Market?