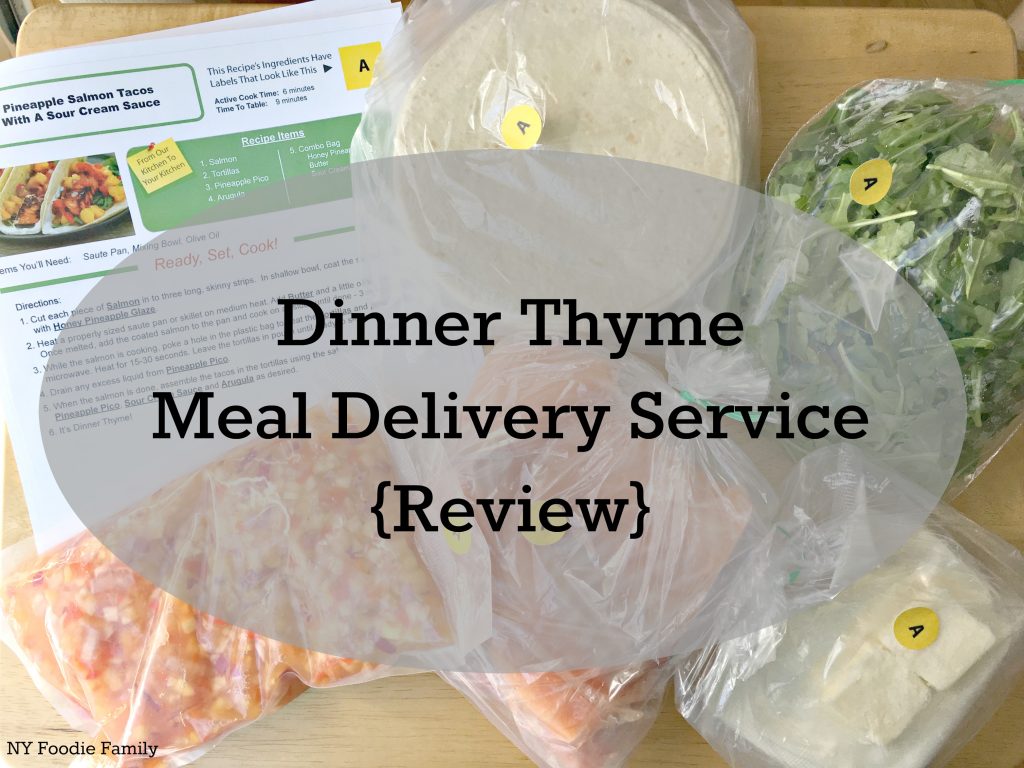 I received product samples to facilitate this review.  However, all thoughts and opinions are my own.
I was very excited when Dinner Thyme reached out to me and asked if I'd like to try their meal delivery service.  As a reader of the blog, you know that cooking dinner for my family every night is important to me.  When searching for recipes to make, quick and easy are my top priorities.  If you've tried other meal delivery services before, you know that although all the ingredients are delivered to you, you still end up cooking the recipe, which often takes at least 30-45 minutes to do.  Dinner Thyme is different from most other meal delivery services in that each meal can be cooked in approximately 10-15 minutes!
Most entrees cost $11.95 – $12.95 per serving.  One of the benefits of Dinner Thyme is that you can choose exactly which menu items you'd like and select the number of portions of each item that you want.  This is great for example if you want a home cooked meal but you know your spouse is going to be away.  You can peruse the menu and pick one portion of a meal that you'd like that maybe he or she probably wouldn't enjoy.  Then you can pick two portions of another dish that you both like that you can cook another evening. Or, if you are inexperienced in the kitchen but want to impress your significant other with a home-cooked meal, Dinner Thyme is perfect!  Easy to follow directions are provided with quick cooking times!
If you're looking for something sweet to end your meal with, Dinner Thyme also has dessert add-on options each week.  From cookies for $1.65 to a cheesecake for $3.95 a slice, there are four dessert offerings.
So how exactly does the Dinner Thyme meal delivery work?
Each Monday, the upcoming week's menu is e-mailed to you.  There are nine menu choices each week, including at least one chicken dish, a fish and/or seafood choice, a pork selection, a pasta, and a vegetarian dish.  Each choice lists the price and the estimated cooking time.  You can decide if you'd like to order any of the meals and in what quantities.
If you don't want to order anything that week you can choose the "skip this week" option.   Depending on where you live, you may also have the option to choose a delivery day.   Approximately five days before your order is shipped you will receive an e-mail receipt confirming the meals ordered.  The e-mail also notes any ingredients that you may have to have on hand (olive oil, for example).
The order is shipped via FedEx and you receive an e-mail with the tracking number.  You do not need to be home when the package is delivered.  Insulation and ice packs are used to keep the ingredients cold.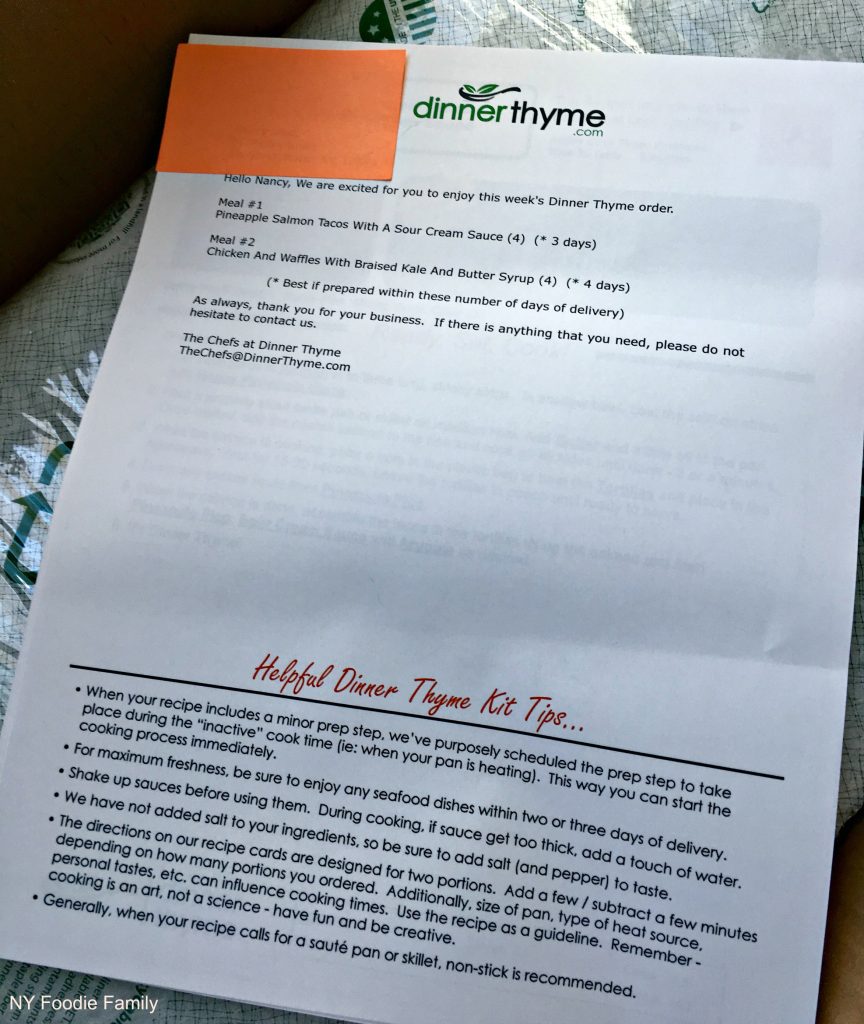 A letter is attached to your recipe cards noting the meals you ordered.  It also notes within how many days each recipe should be prepared as well as general recipe tips.  For example, shaking the sauces before using and non-stick pans are usually recommended for cooking.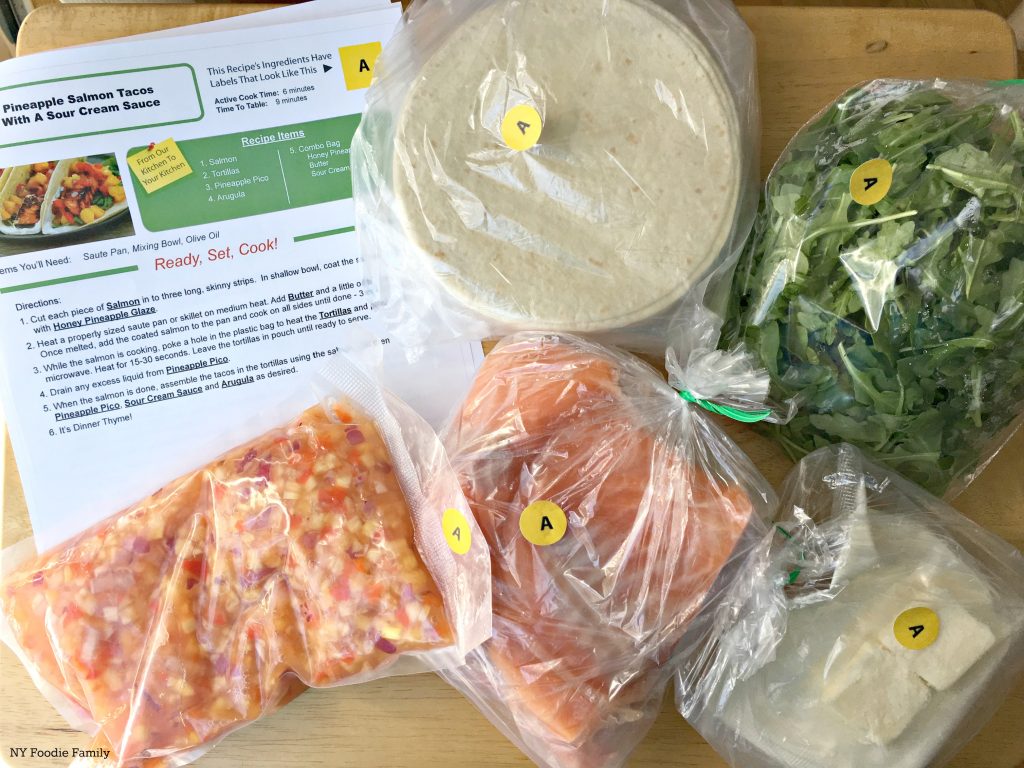 The ingredients in the box are labeled with letters to indicate which items go with the corresponding recipe.  Everything is pre-portioned so you have the exact amounts to cook the recipe.  Recipe cards include nutritional information as well as easy to follow, step-by-step instructions.
Dinner Thyme is currently available in the eastern region of the United States.  The delivery area includes Maine down to parts of Georgia, Alabama and Mississippi and as far west as parts of Wisconsin, Illinois, Arkansas and Missouri!
For you lucky readers, Dinner Thyme is offering $20 off your first order with coupon code: READYSETCOOK!
Now, on to my review!
Review:
I tested out two Dinner Thyme meals.  I chose four portions of Pineapple Salmon Tacos with a Sour Cream Sauce priced at $11.95 for each portion.  I also chose four portions of Chicken and Waffles with Braised Kale and Butter Syrup priced at $12.95 per portion.
For my zip code delivery is available only on Tuesdays.  Last week, this happened to be Valentine's Day.  My recipe card noted that the salmon tacos were best prepared within 3 days of delivery and the chicken and waffles  best within 4 days, so I decided to make the salmon tacos first.
Pineapple Salmon Tacos with a Sour Cream Sauce:
My kids wanted to help cook me dinner so I had them make the Pineapple Salmon Tacos.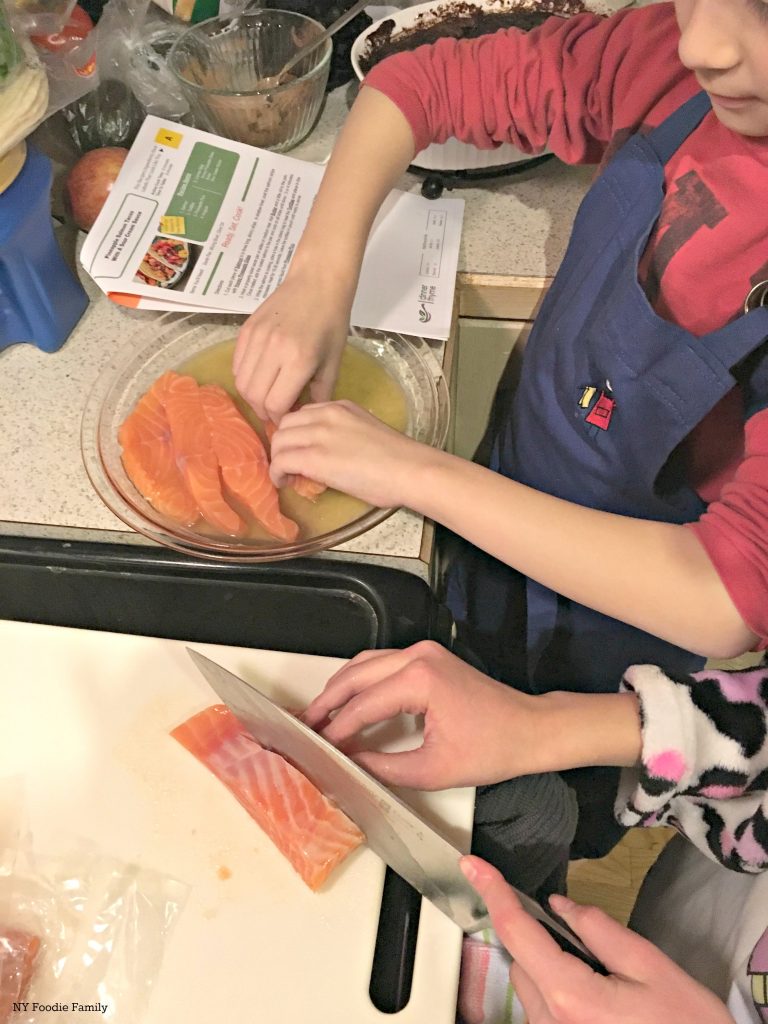 With supervision, the kids were able to put this meal together on their own.  My daughter cut the salmon into strips and cooked them in the pan while my son coated the salmon in the pineapple glaze and prepped the tortillas.  They both helped drain the pineapple pico and put the arugula and sour cream in bowls.  While the "time to table" for this recipe was estimated at 9 minutes, with the kids cooking, it took almost 25 minutes.  This was with several pauses to reread instructions, find proper dishes, etc.  The directions and execution of the dish was super easy, even for an almost 11 and 8 1/2-year-old.  If I made this dish on my own, I think I could have had it made in the estimated 9 minutes.
A serving size for this meal was three tacos a person.  I was a bit skeptical that just the tacos would be enough food to make a meal.  When I make tacos I usually serve a salad or rice as a side dish.  I was surprised to find that three tacos was perfect for my husband and I.  Taste-wise, this meal was a winner!  Both kids loved the tacos.  I set out all the ingredients separately so they could add what they wanted, but they both put everything on their tacos. The kids each had two tacos each, which left some ingredients left over.  There was actually a lot of arugula left over, but my husband made a salad for lunch the next day.  He topped the arugula with the leftover salmon and pineapple pico.  I used the leftover tortillas the next morning to make myself scrambled egg breakfast tacos.  So, nothing was wasted.
Chicken and Waffles with Braised Kale and Buttered Syrup:
We love chicken and waffles!  It's a perfect comfort food, especially with this cold weather.  It's definitely not a dish that I think of as a quick, weeknight meal though.  I decided to test this recipe out on my own, without the assistance from the kids to get a more accurate idea of timing.  This dish required a bit more in the prep department, since the chicken had to be floured, dipped in the buttermilk mixture and then covered in the corn flake mixture. It then had to be cooked in a pan for 1-2 minutes per side.  Unfortunately, I could not fit all four chicken breasts in my skillet, so this prolonged the overall "time to table."  I also found that the 8-10 minutes that I had while the chicken was cooking in the oven was not enough time to get the bacon crispy.  So, I cooked it for a bit longer and still did not get the bacon crispy in that extra time.
Although the "Time To Table" for this recipe says 15 minutes, for the reasons I mentioned above, it actually took me closer to 25 minutes.  For a weeknight meal, I don't think that's bad at all.
The chicken breasts were decently sized.  The kids ended up splitting one and then my daughter came back for a second half.  This was plenty of food for both my husband and I.  Taste-wise, this meal was another winner.  Everyone enjoyed it…..especially the kids!  Braised kale and all!
I recommend making sure you have a pair of sharp kitchen scissors handy.  As seen in the above pictures, almost all the ingredients are sent in vacuum-sealed packages.
Overall, I enjoyed and would recommend this meal delivery service.  The stand-out benefits were definitely the speed in cooking and having the exact amount of ingredients needed to make the dishes.  Not having to measure out ingredients and not having all the prep work cut down on clean up as well, with fewer dirty dishes!  As an experienced home cook, I found most of the weekly recipe selections to be dishes that I have made or can easily make on my own.  Having a family of four, paying $11.95-$12.95 per serving can quickly add up.  My kids loved the recipes (and cooking the meal!) and have already asked when we are getting it again! While I wouldn't rule out using Dinner Thyme meal service again, at this point, it's more of a use if/when needed type of service for us.  However, for couples, especially those who would like to cook more at home, this is a great service!
Remember to use coupon code READYSETCOOK for $20 off your first order!  I'd love to hear your experience with Dinner Thyme meal delivery service!