I am linking up once again with Anne and Jenna for their monthly "Currently" link-up.  I am currently…..
Wishing: that I don't get too stressed out this month!  Our December calendar is already getting jam packed with lots of holiday fun.  Mix in all the preparations for the holidays themselves, including shopping, gift wrapping and menu planning, things can get a bit hectic.  I need to remind myself to step back and enjoy everything and not to "sweat the small stuff."
Remembering:  Loved ones who have passed away.  The holidays are all about family and their presence is especially missed this time of year.
Wrapping:  Nothing yet!  I have JUST started working on the Christmas shopping!  My daughter is super excited to help wrap presents, so I need to get more shopping done!
Baking:  I will be baking cookies this weekend for our Supper Club's annual cookie exchange and dinner out!  I have some ideas in mind but still haven't finalized what cookie I'll be making.  If you have a favorite holiday cookie, please let me know – I'm always looking for suggestions!  Pictured are the cookies I made last year, Cranberry Orange Pinwheels from Lady Behind The Curtain.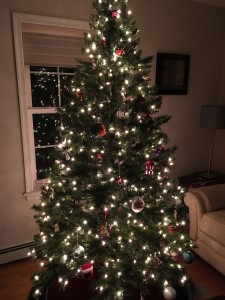 Decorating: I'm sure, like everyone else, I have been decorating the house.  Last weekend we got the outside lights up and the tree decorated.  It's beginning to feel lot like Christmas!