I cannot believe that it is September.  The kids are back in school and the weather is already starting to feel a bit cooler.  It's been a few months since I've linked up with Anne and Beth for the monthly Currently linkup, but I'm glad to be back this month.  Here is what I am currently: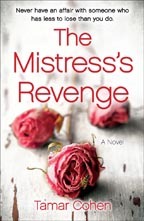 Reading:  I am currently reading The Mistress's Revenge by Tamar Cohen.  It's only an "eh" read for me so I don't recommend.  However, I recently finished reading The Choices We Make by Karma Brown which I really enjoyed and highly recommend.  Be forewarned, have tissues on hand while reading!
Trying:  to remain calm as I see the calendar starting to fill up.  Back-to-school also means back to all the activities that everyone is involved in.  I already miss the lazy, schedule free days of summer!
Hoping:  for nice weather this upcoming weekend.  For an early birthday celebration we bought tickets to the Hudson Valley Wine and Food Festival.  So far, the weather forecast looks good!  The kids are only into day 4 of the new school year, but I'm also hoping that they have great years in 3rd and 5th grade.  In our district, 5th grade is at the middle school.  I was a bit nervous but my daughter so far has been loving it!
Decorating:  I'm not a big decorator.   My fall decorating consists of picking up some flowers (like these from last year) to put on the front porch and putting out the few Halloween decorations I have!
To-do Listing:  There are lots of little house projects that I keep adding to my poor husband's to-do list (because he's not busy enough as it is)!  My husband and I also need to book our excursions when we visit Halifax and Saint John, New Brunswick on our family cruise in October.  We just finalized our check in a couple of nights ago and this vacation is starting to feel real!