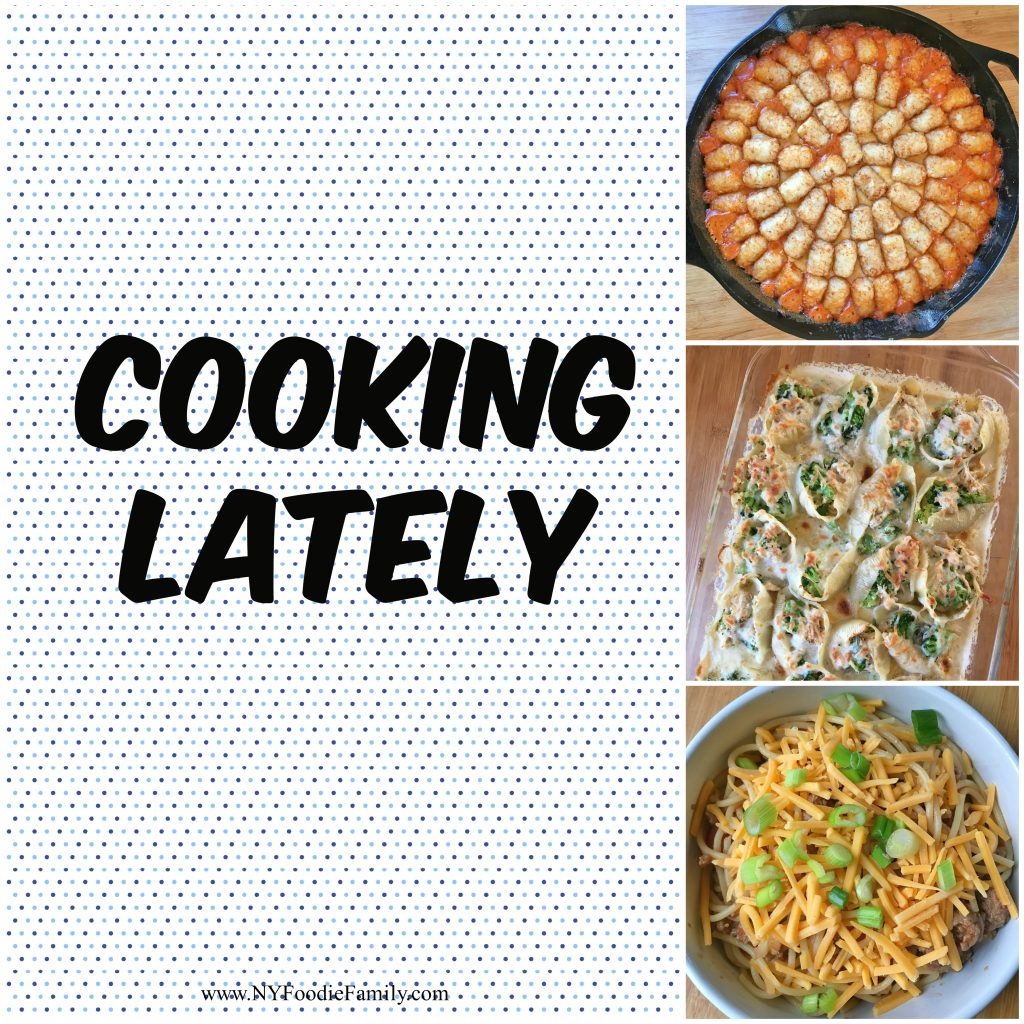 If you're a regular blog reader you may have noticed that I haven't posted a weekly meal plan for the past two weeks.  Believe me, I've still been cooking up a storm during the week.  I just haven't had time to post our meal plan here.  So today, I'm sharing some of the meals that I've cooked over the past two weeks.  Again, I hope this post helps you find something new to make for dinner.  Mix up your weekly dinners and try a new recipe!  You and your family might like it!  So on to what's been cooking lately: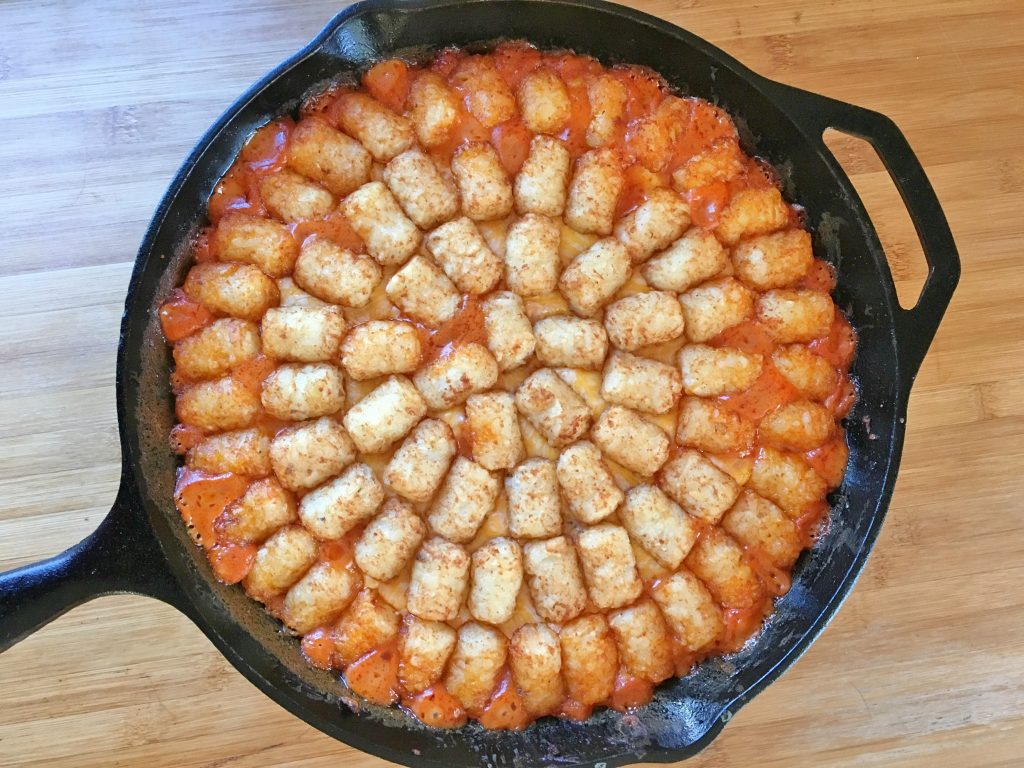 Cheeseburger Tater Tot Casserole from Broma Bakery – This was a family favorite and my daughter already asked me to make this again.  My only criticism of this recipe is that it should be called Taco Tater Tot Casserole.  After looking at some other "cheeseburger" tater tot casserole recipes, I noticed that the others had mustard, ketchup and pickles.  This recipe had none of that but does have taco seasoning.  I forgot to serve this with sour cream and it was still tasty.  This is a hearty, comfort dish that I'll save to make again in the fall once the weather gets cool again.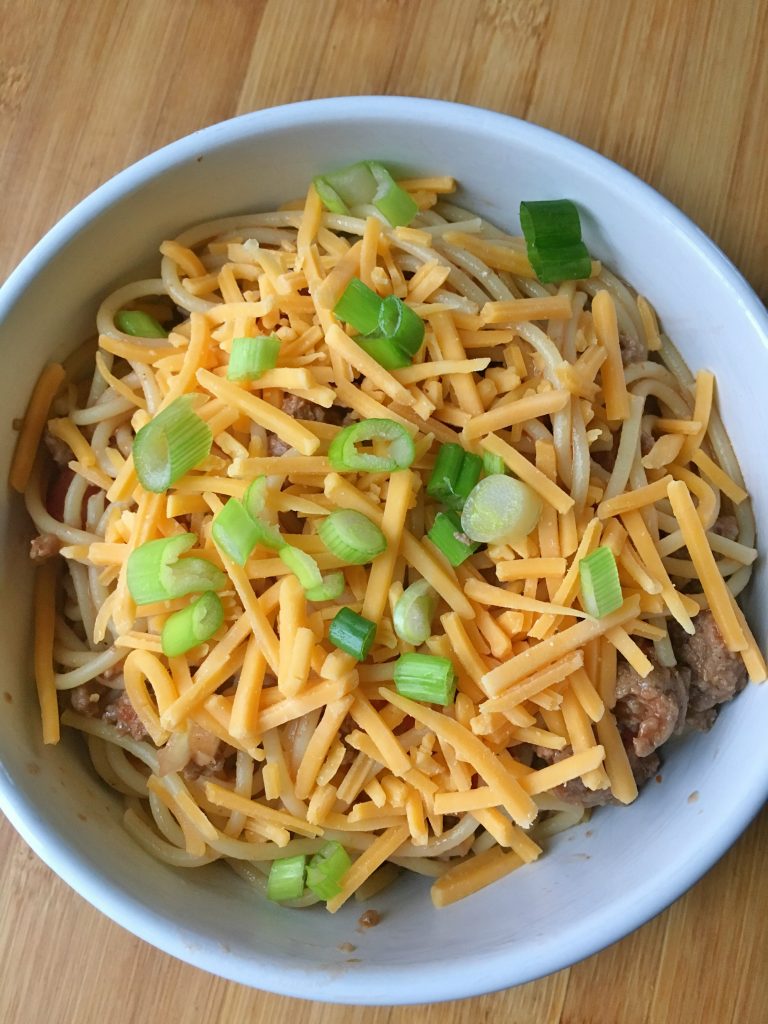 Cowboy Spaghetti from Rachael Ray Express Lane Meals – I've made this recipe before many years ago.  Although it sounds like a weird combination of ingredients, somehow it works.  I did not use beer in my recipe.  The family enjoyed this meal and this is another recipe that I'll likely make again, come fall or winter.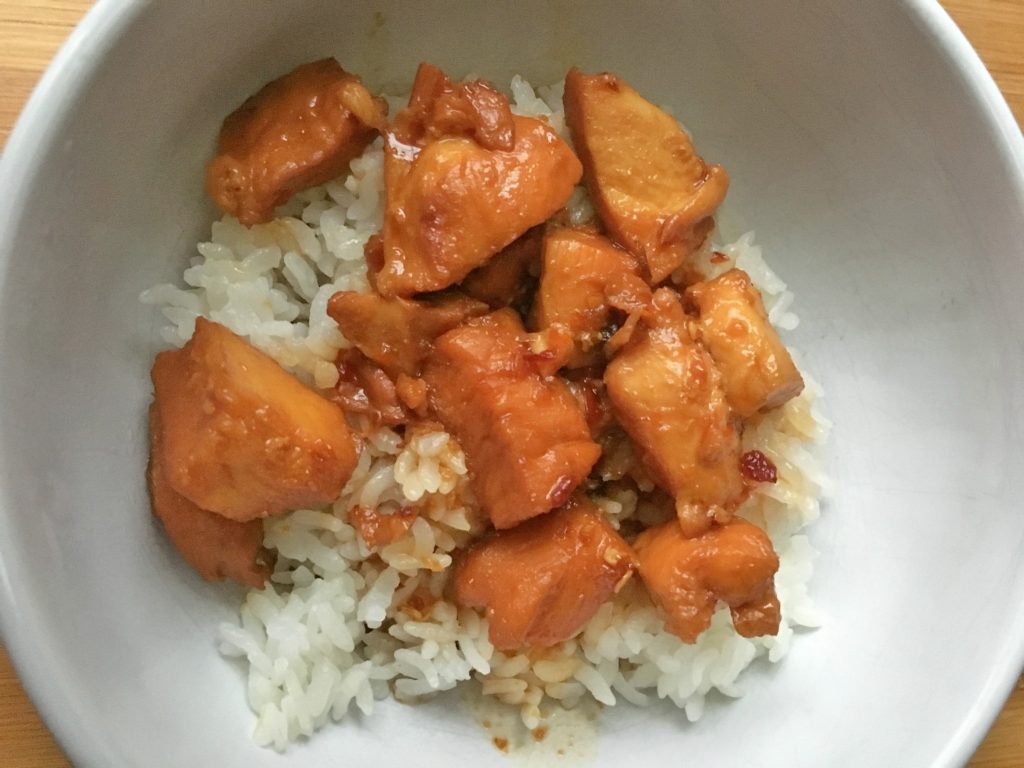 Instant Pot Sticky Korean Chicken from Half Baked Harvest –  This was a quick and easy chicken dish.  Instead of the gochugang sauce the recipe called for, I used a tablespoon of chili garlic sauce.  Even that was probably a bit much, since the chicken turned out pretty spicy.  My chicken ended up pretty saucy, which I didn't mind because I spooned it over the rice.  However, I used a pound of chicken and there was no leftovers and not even enough for seconds.  Next time, I'll reduce the amount of chili garlic sauce and double the amount of chicken.  I served this with rice and veggies.  This will be made again!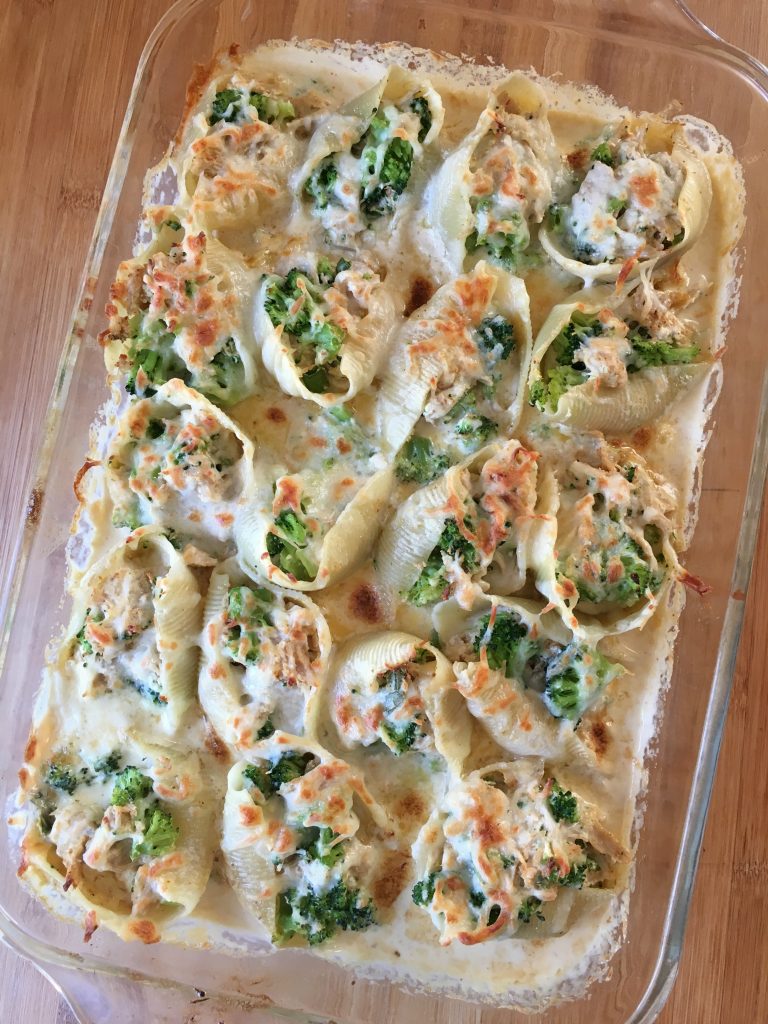 Cajun Chicken Alfredo Shells from Closet Cooking – This was probably one of the more time consuming meals to make over the past two weeks.  The night before I was going to make these my husband pre-cooked the chicken for me in the Instant Pot.  While the shells cooked, I made the sauce and got the chicken and broccoli mixture together.  These were pretty tasty, but I think more work than it was worth.  Luckily, there were leftovers which my daughter and I took for lunch the next day.  I served these shells with a Caesar salad.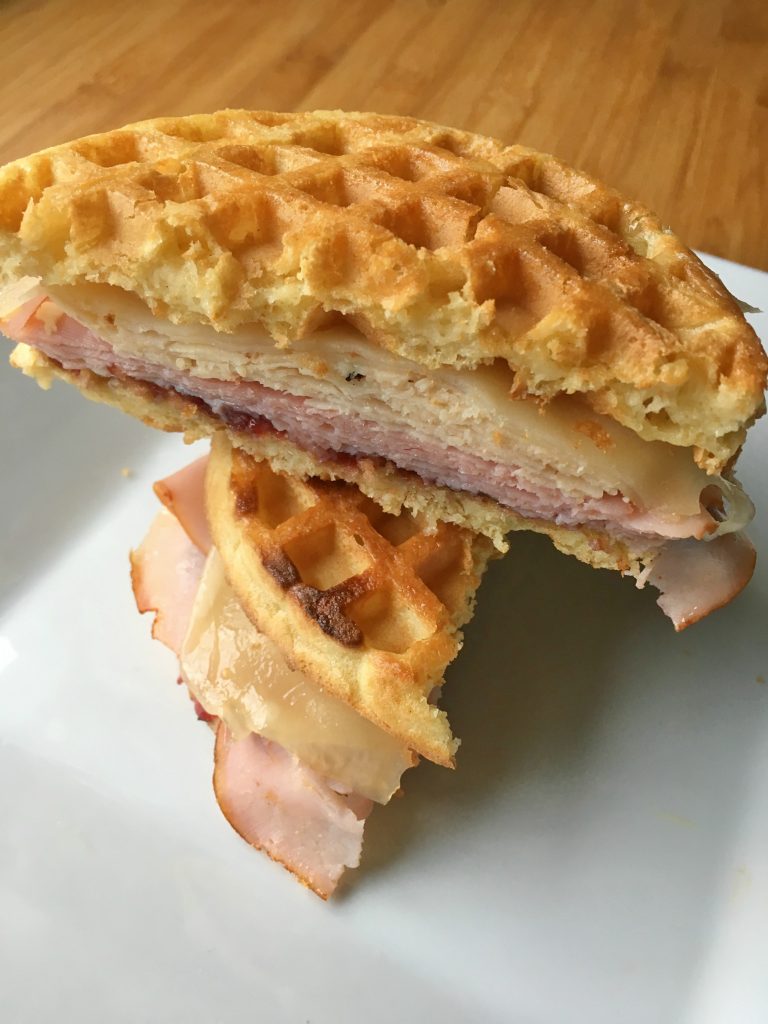 Wafflewiches from Rachael Ray Express Lane Meals – If you are looking for a super quick and easy meal, these Wafflewiches are it!  It's a different take on the Monte Cristo, using waffles instead of French Toast.  My kids rarely eat a cold cut sandwich, but both enjoyed these wafflewiches.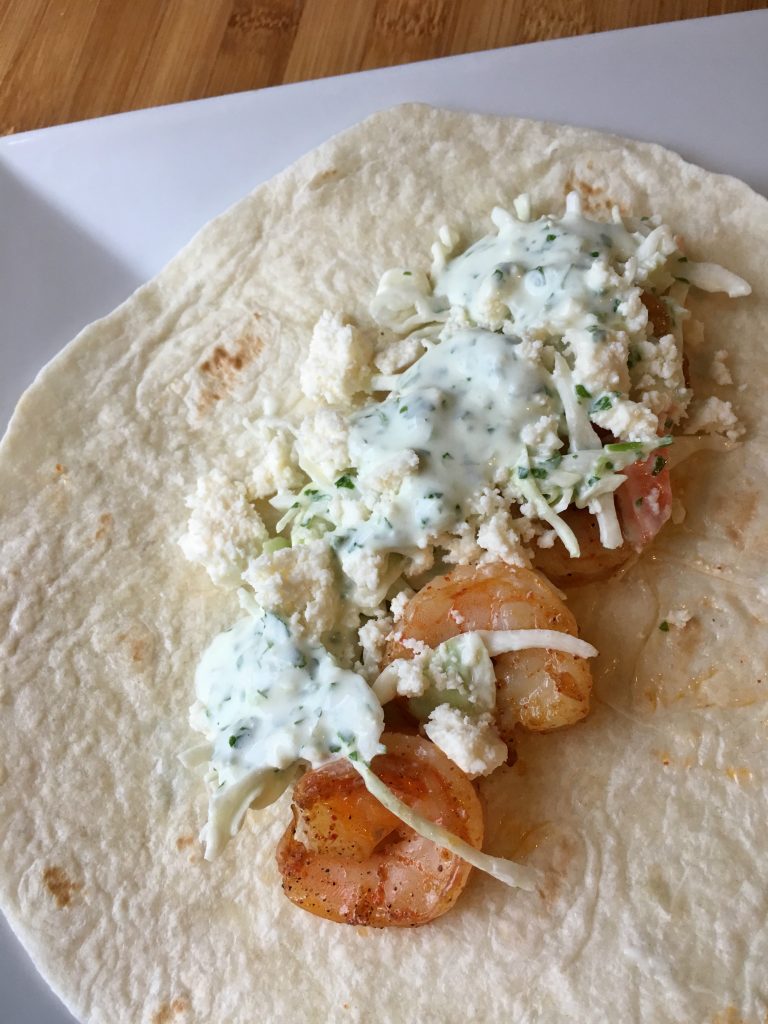 Spicy Shrimp Tacos with Garlic Cilantro Lime Slaw from Pinch of Yum –  Shrimp are quick and easy to cook.  The sauce and slaw was easy to throw together and it packed a lot of flavor!  There was a bunch of slaw and sauce leftover, which we are using in fish tacos!
What have you been cooking lately?