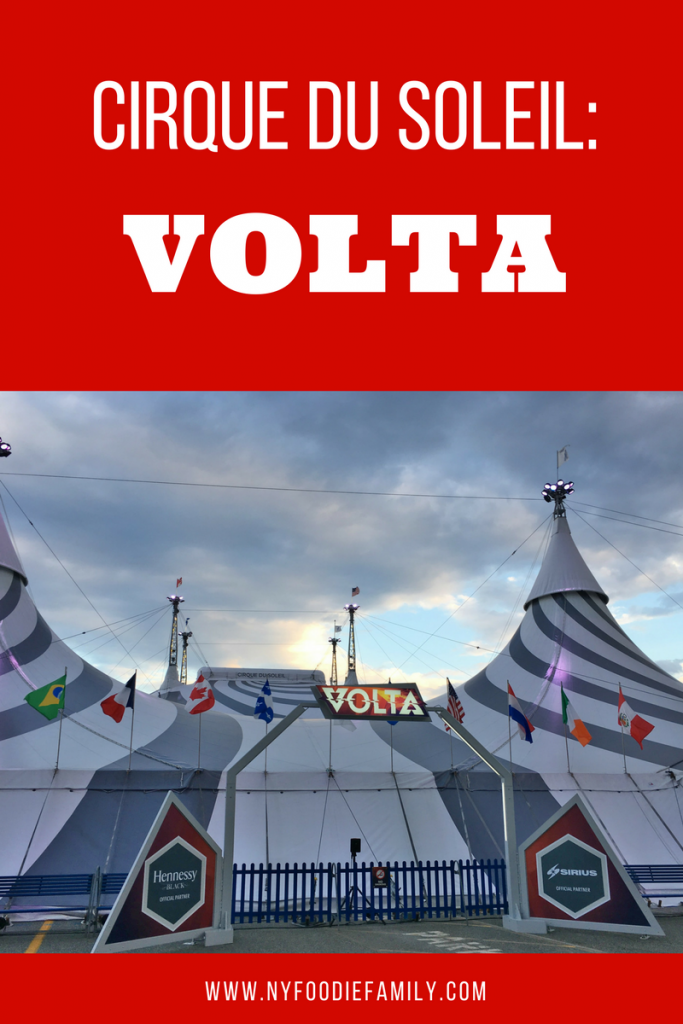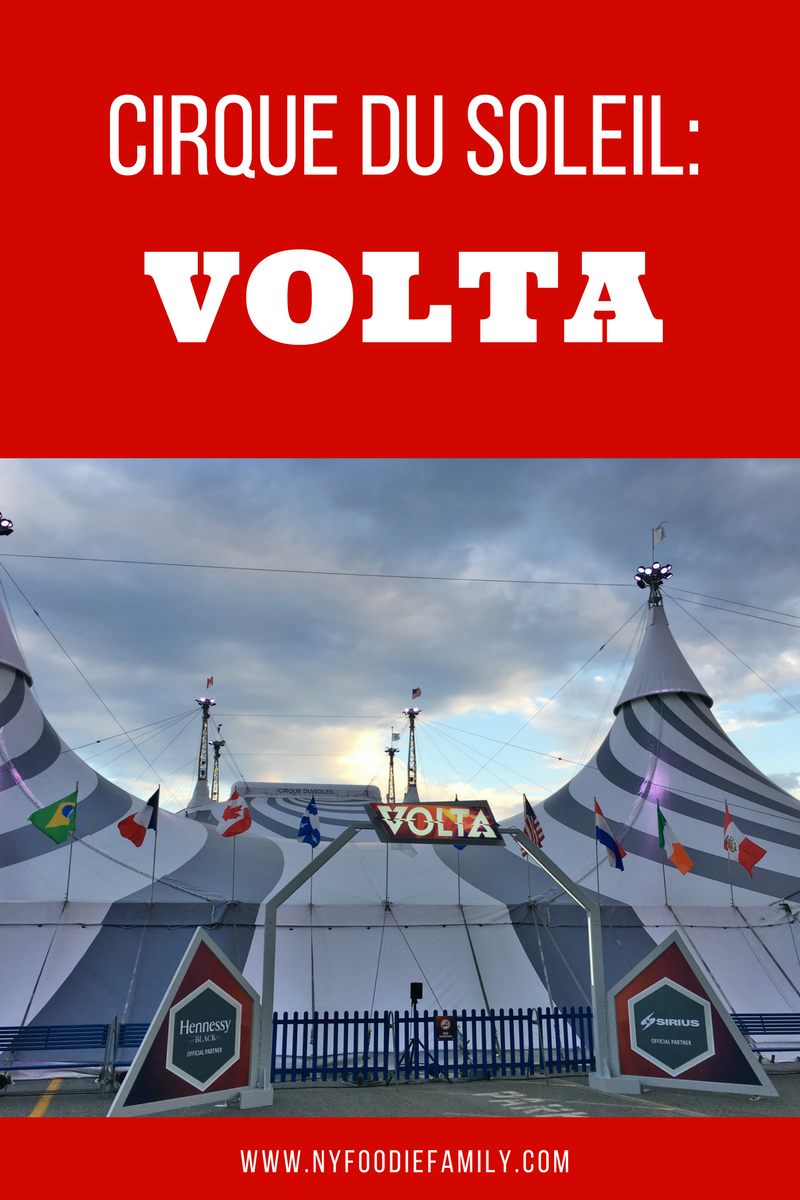 (Thank you to Cirque du Soleil for hosting NY Foodie Family.  As usual, all opinions are our own.)
I have been a fan of Cirque du Soleil, ever since I saw my first show, Varekai, many years ago.  For those unfamiliar, Cirque du Soleil literally means Circus of the Sun. However, this is no ordinary circus.  The Canadian company is the largest theatrical producer in the world, and Volta, their newest show, is their 41st production.
Volta is now performing at Meadowlands Racing & Entertainment in East Rutherford, New Jersey until May 6.  My family and I saw the show this past weekend and we had an amazing time!  Although my kids have seen a couple Cirque du Soleil shows on DVD and television, this was their first live show.  It was definitely an experience that they will not forget!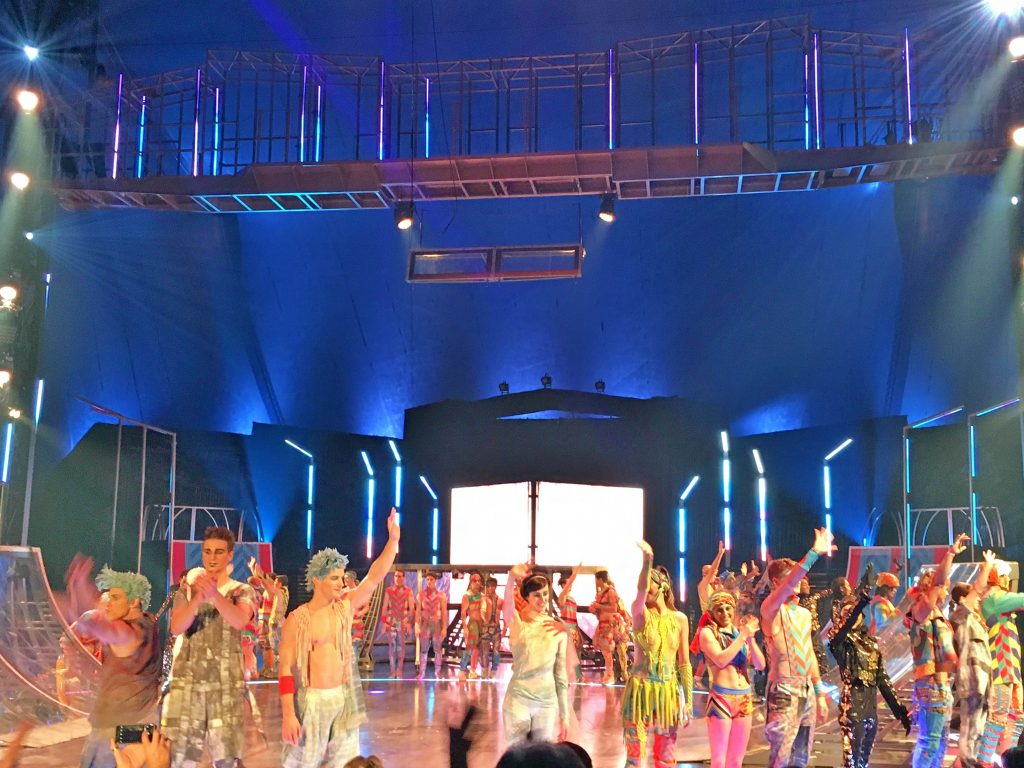 As soon as Volta starts you are in for a treat.  The colorful costumes, the rhythmic sounds and the amazing acrobatic feats combine for an awe-inspiring performance.  Volta, tells the story of WAZ, a guy who looks a little different than others, with his blue feathered hair.  He hopes that the fame of performing on a popular game show will bring him love and acceptance.  He is led on a journey with the Elites, the Greys and the Free Spirits as he comes to accept who he is.
The show's acrobatics focus strongly on street sports, with BMX, rope skipping, parkour, shape diving and more.  There are also some comedic bits as well. My kids found WAZ's story to be a bit vague and difficult to follow.  However, they loved the acrobatic displays!  During the shape diving act (pictured above), a couple of the performers knocked down the shapes during their dives.  At the intermission, my kids asked, "Did they do that on purpose?"  I told them that I didn't think that they did it on purpose.  But, we noted how the crowd was super excited for them when they landed their next dive.  These minor mistakes showed my kids that these performers are human and we all make mistakes.  As my daughter noted, "They were super brave to even get up there.  I could never do that!"  So, there were teachable moments during the show as well.
The music for Volta was written and composed by Anthony Gonzalez, from the French music band, M83.  As the musical director for Volta, he brings a variety of music styles to the stage.  A band and singers perform live for each show.
As I mentioned, Cirque du Soleil shows are productions.  This is not a short "circus" show.  The show is broken up into two acts and was approximately two hours, with a 25-minute intermission. This is a show for everyone.  The night we attended there were families with children of all ages as well as couples, young and old.  Tickets start at $55 and are similarly priced to what you'd pay to see a Broadway show.  There are two tiers of seating, with all seats having a decent view of the stage.
Get your tickets soon, as Volta is only playing in East Rutherford until May 6th.  Then it will move on to Uniondale, Long Island with performances from May 17 through June 10.  This is a fun experience that your family will LOVE!
The Details:
Cirque du Soleil's Volta
Meadowlands Racing and Entertainment
1 Racetrack Drive
East Rutherford, NJ 07073
Parking:  $20
Available Shows:
Wednesday May 2:  8 PM
Thursday May 3:  8 PM
Friday May 4:  4:30 PM
Sunday May 6:  1:30 PM and 5 PM
Tickets:
Start at $55, varies depending on the show and seat choice – can be purchased online or by calling 1-877-9CIRQUE (1-877-924-7783).
Tips:
*Doors open for the 8 PM show at 7:15 PM.  There was a lot of traffic getting into the parking lot of the Meadowlands Race Track.  You then have to take a shuttle bus to the circus tent.
*I recommend either leaving the show as the cast are taking bows or hanging out after the show for a little bit.  The crowds after the show ended were crazy, as everyone had to wait to get a shuttle bus back to the parking lot.  It just so happened that the night we attended it was raining and we didn't have an umbrella, so we got a tad bit wet!
*Food and drinks are available for purchase. However, be prepared to pay a hefty price.  A bottle of water costs $5 and a bag of popcorn (approximately the size of a medium movie theater popcorn) costs $12.  Alcohol, including beer, wine and spirits, are available as well.  We had an early dinner before we went to see the show and stopped on the way home for a treat.
*Flash photography is not allowed.  If you are in an aisle seat in front of the stage, have your camera ready during the bows.  The cast comes down off the stage and walks into the aisles – you may be able to get a close-up pic!