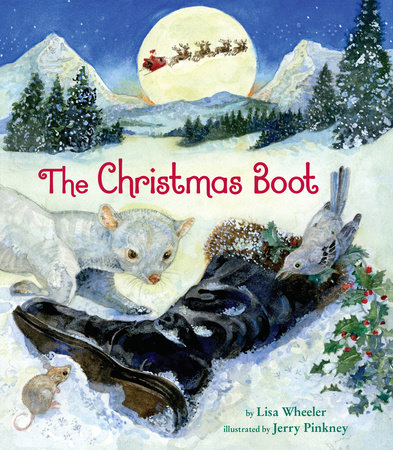 The Christmas Boot by Lisa Wheeler
Pictures By:  Jerry Pinkney
Published by: Dial Books for Young Readers (an imprint of Penguin Random House), October 18, 2016
Genre:  Children's Picture Book, Christmas
Pages: 32
Price:  $17.99
Source: borrowed from the library
From Penguin Random House:
In the spirit of Christmas classics The Polar Express and The Night Before Christmas comes a holiday tale about the magic of Santa, illustrated by Caldecott Medalist Jerry Pinkney
 
Lonely Hannah is delighted to discover a warm black boot as she gathers kindling in the forest. A poor woman, she doesn't have proper shoes on her cold feet. "Glory be! I only wish I had your mate," she says to the boot, and the next morning, to her great surprise, there is not just one boot but two sitting by her bed! More wishes bring even better gifts—but the best is still to come: A visitor arrives at her door—a man with a big white beard, wearing a red suit and only one boot. Who could this magical visitor be? Santa Claus, of course! And he has one more surprise in store for Hannah: She wakes up the next morning to find a new puppy waiting for her!
Review:  Hannah Greyweather, is a poor, old woman, who lives alone in a cabin in the mountains.  One day while collecting fired wood she finds one black boot.  Before bed she tells the boot how she wished for its mate.  The next morning she awakens to find the matching boot by her bed.  Hannah then discovers that she can wish for things and they will appear.  But then one evening she gets an unexpected visitor, Santa Claus, looking for his missing boot.  When she gives him back his boot, everything she had received from the magic of the boot disappears.  Hannah still ends up happy, receiving what she truly desires from Santa.
Although Lisa Wheeler has written over 30 children's books, the only other book that we've read of hers is Boogie Knights.   This book was originally published in 2006 by a small publisher that went out of business.  Wheeler got the rights back to her book and was offered a book deal with Dial.  This book really captures the magic of Christmas.   I appreciate the focus on what one really needs versus what one wants.  Jerry Pinkney's beautiful, colorful illustrations complement the story well.
Overall Verdict:  Recommended Read