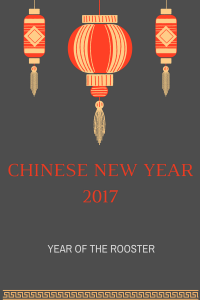 This Saturday, January 28 is the start of the Chinese New Year.  The date changes every year since it is based on the lunar calendar.  Over the next fifteen days this holiday will be celebrated with parades, lion dances, firecrackers and lots of good food!
There are many myths and traditions associated with this holiday.   Prior to the new year, families often do a thorough cleansing of their houses to sweep away any bad luck.  Plastic firecrackers are often hung inside houses. They symbolize the loud noises that real firecrackers make and are intended to frighten evil spirits away.  The color red is the main color of the Chinese New Year and is associated with joy and happiness.  Children receive red envelopes with "lucky" money.
Each year in the Chinese New Year is an animal from the Chinese zodiac.  2017 is the year of the Rooster.  Roosters, those born in the years 1933, 1945, 1957, 1981, 1993 or 2005 are considered to be loyal, hard-working and brave.   However, this year is believed to be unlucky for those born in a year of the Rooster.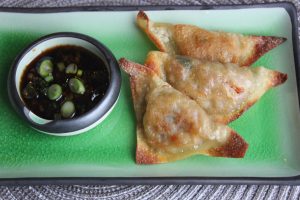 Food plays an important role during the Chinese New Year.  Different foods are thought to bring luck into the new year.  A new year's feast may include fish, which symbolizes abundance and prosperity,  golden, fried dumplings since gold symbolizes wealth and prosperity, long noodles, which represent longevity and mandarin oranges, which are considered to be lucky.
Although I am not Chinese, I think that it's important to educate and acknowledge my children about other cultures. Last year we read several books about Chinese New Year.  In previous years we have made a Chinese dinner together, complete with egg rolls and homemade dumplings.
There are many ways that you can celebrate Chinese New Year with your family!  You can make a Chinese lantern, wish each other Happy New Year in Chinese,  read a book about Chinese New Year, have a meal that includes some of the lucky foods, or even attend a local celebration.
Kung Hei Fat Choy!  How are you celebrating Chinese New Year with your family?