(This post contains affiliate links.  Purchasing through them helps support this blog.)
Halloween will be here soon!  To help get you in the holiday mood, we have rounded up a collection of Halloween picture books to share with you.   This collection includes recent releases as well as some oldies but goodies that we've read.  Stop by your local library or bookstore and pick some of these fun Halloween books!

The 13 Nights of Halloween
Written and illustrated by Rebecca Dickinson
from amazon.com:
A rhyming Halloween story follows a shy goblin boy who gives his sweetheart a special present on each of the thirteen days of Halloween, and eagle-eyed readers must find the presents hidden in the illustrations. 
A witch brews up a special potion to help a shy goblin propose to his sweetheart on Halloween night. She gives him thirteen nights of Halloween.  This book tells the story of the gifts he gives to his sweetheart each night.  It is most enjoyable when sung to the tune of "The 12 Days of Christmas."  We read this book several years ago, when my daughter and I took turns singing the lines aloud to our son.  I have to say, it got old for me around the fifth night but I was a trooper and finished the book with her.  The illustrations are really great and detailed.  Readers are challenged to find the presents that the goblin is giving and a tiny wizard mouse on each page.  As much as I wasn't into this that much the kids really enjoyed this book.
*This book was borrowed from the library.  
Boo!
Written and illustrated by Leslie Patricelli
from goodreads.com:
The inimitable Baby brings a humorous spin to the holidays in a cheerful board book fit for trick-or-treat bags.
It's almost Halloween! How should Daddy carve the pumpkin? So many expressions to choose from! What should Baby be—a princess or pirate, ballerina or clown? When the jack-o'-lantern's ready (looking suspiciously like Baby), it's time for a little ghost to head out in the slightly scary night. But fear turns to excitement as the pumpkin fills up with treats. WOW!
Fans of Patricelli's books will enjoy this Halloween board book.  Readers follow along as Baby gets ready for Halloween and picks out a pumpkin, chooses a Halloween costume and goes trick-or-treating.  The simple but colorful illustrations will appeal to the youngest readers.
*This book was read at a local bookstore.
Boo Who?
Written and illustrated by Ben Clanton
from goodreads.com:
A shy little ghost who's new to the group has trouble fitting in until his special talent comes to the fore. Boo is new. And even if the other kids are welcoming, it can be scary being new, especially for a shy ghost who can t play any of their games. ("You tagged me? Oh, sorry. I couldn't feel it.") Can Boo find a way to fit in and make friends with the rest of the group? From the creator of Rex Wrecks It! comes a funny story about feeling invisible and finding a way to be seen and appreciated for who you are." 
This isn't a Halloween book, but has a ghost as the main character, so it's a seasonally appropriate read.  It's a cute and simple story about making new friends and fitting in with others.
*this book was borrowed from the library.
CinderHazel:  The Cinderella of Halloween
Written and illustrated by Deborah Nourse Lattimore
from goodreads.com:
Filled with wonderful details and funny mishaps, this spin on the classic Cinderella fairy tale is the perfect Halloween treat.  Cinderhazel is a blond witch who loves dirt more than anything. When her stepsisters and stepmother fly oiff to attend the annual Halloween witches' ball, where the elusive Prince Alarming will make an appearance, they leave Cinderhazel behind. All her attempted spells turn to dust — until her witchy fairy godmother appears and sends Cinderhazel off to meet the equally messy prince. Could this be the beginning of filthily ever after?
This book is a Halloween take on the traditional Cinderella story.  In this book, Cinderhazel's stepsisters are going to the Witches' Halloween Ball in hopes of seeing Prince Alarming.  But with the help of her witchy godmother she makes it to the ball.  The story takes a detour from the traditional tale because when the clock strikes midnight Cinderhazel meets the Prince, and of course there's a fairy tale ending.  I didn't like that the title of the book is CinderHazel but the character's name in the story is spelled Cinderhazel, with a lower case h.  This definitely wasn't one of my favorite versions of the tale of Cinderella but the kids seemed to like it and it was fitting for Halloween.
* This book was borrowed from the library.
City Witch, Country Switch
Written by Wendy Wax
Illustrated by Scott Gibala-Broxholm
from goodreads.com:
Mitzi is a city witch.  She likes pizza and plays, crowded subways and noisy streets. Muffletump is a country witch. She prefers hayrides and fresh air, pumpkin picking and her pet snake. When the cousins visit each other, their differences come between them. How can they solve their problem? With a spell, of course But finding the right one isn't so easy. The rhyming text makes this a wonderful read-aloud, while the vibrant watercolor and colored-pencil artwork contains fantastically funny details for kids to pore over.
This book isn't technically a "Halloween" themed book but because of the witches I thought it was seasonally appropriate.  Prior to reading this book I was more familiar with author Wendy Wax's novels for adults.  This book, told in rhyme, is a take on the classic tale The City Mouse and the Country Mouse.   Witch cousins Mitzi and Muffletump visit each other's homes and discover that they each prefer their own homes better.  This is of course after they perform spells to create a more enjoyable visit. The illustrations are eye-catching and colorful helping to make this a fun read.
* This book was borrowed from the library.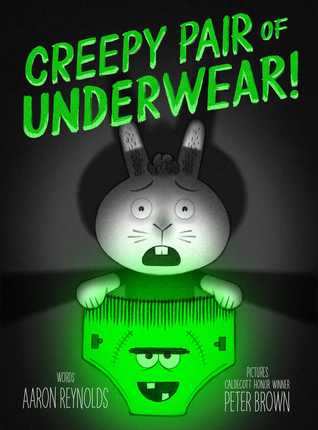 Creepy Pair of Underwear!
Written by Aaron Reynolds
Illustrated by Peter Brown
from goodreads.com:
Jasper Rabbit is NOT a little bunny anymore. He's not afraid of the dark, and he's definitely not afraid of something as silly as underwear. But when the lights go out, suddenly his new big rabbit underwear glows in the dark. A ghoulish, greenish glow. If Jasper didn't know any better he'd say his undies were a little, well, creepy. Jasper's not scared obviously, he's just done with creepy underwear. But after trying everything to get rid of them, they keep coming back!
This isn't a Halloween-themed book but it's a "spooky" tale that will entertain readers. What child does not find humor in underwear?  Fans of Aaron Reynolds books will need to check out this latest of his.
*This book was borrowed from the library.
Frankenstein Makes a Sandwich
Written and illustrated by:  Adam Rex
from goodreads.com:
Being a monster isn't all frightening villagers and sucking blood. Monsters have their trials, too. Poor Frankenstein's cupboard is bare, Wolfman is in need of some household help, and it's best not to get started on Dracula's hygiene issues. What could be scarier?  Nineteen hilarious poems delve into the secret lives of the Creature from the Black Lagoon, Bigfoot, Godzilla, and others. In a range of styles that pay homage to everyone from Charles Schulz to John James Audubon, the monstrously talented Adam Rex uncovers horrific–and clever–truths you won't want to miss.
This is not your typical Halloween book about trick or treating.  It does however feature all kinds of monsters, zombies, and mummies in poems.  Yes, this book is a book of poems about monsters and some of the poems also feature food.  The kids especially liked the Phantom of the Opera who keeps appearing and can't get songs out of his head, which of course requires the reader to sing the words to that particular tune.  A lot of the humor is for older kids and adults but I think younger kids will still enjoy listening to the poems and looking at the detailed and funny pictures.
*This book was borrowed from the library.
Fright Club
Written and illustrated by Ethan Long
from goodreads.com:
Each year, on Halloween eve, Fright Club meets to go over their plan: Operation Kiddie Scare. Only the scariest of monsters can join Fright Club-Vladimir the Vampire, Fran K. Stein, Sandy Witch, and Virginia Wolf have all made the cut. They've been practicing their ghoulish faces, their scary moves, and their chilling sounds. But when a band of cute little critters comes along asking to join in the fun, the members of Fright Club will find out who really is the scariest of all!  This clever, rollicking read aloud text and delightfully spooky illustrations will have young readers laughing, cheering, and begging to be the newest members of Fright Club.
This  Halloween picture was an okay, cute read.  The kids enjoyed me attempting to speak in a vampire voice.
*This book was borrowed from the library.
Goodnight Goon
Written and illustrated by Michael Rex
from goodreads.com:
Goodnight monsters everywhere, in this parody romp with its own special twist!  Goodnight tomb. Goodnight goon. Goodnight Martians taking over the moon.   It's bedtime in the cold gray tomb with a black lagoon, and two slimy claws, and a couple of jaws, and a skull and a shoe and a pot full of goo. But as a little werewolf settles down, in comes the Goon determined at all costs to run amok and not let any monster have his rest.  A beloved classic gets a kind-hearted send up in this utterly monsterized parody; energetic art and a hilarious text will have kids begging to read this again and again.
This book is also not a "Halloween" themed book, but since the main character is a goon, I thought it seasonally appropriate.  This picture book is a spooky  parody of the classic story Good Night Moon that the kids enjoyed.
*This book was borrowed from the library.
The Halloween Queen Who Lost Her Scream
Written by Donna Davies
Illustrated by Rob Peters
from goodreads.com:
Halloween author, Donna Davies has created an exciting Halloween mystery that will have your kids sitting on the edge of theirs seats. An action-packed tale of a Halloween Queen named Calliope who lost her scream right before Halloween. Meet an amazing cast of Halloween monsters from witches to zombies as they go on an adventure to help their Queen and save Halloween. Filled will stunning colorful Halloween illustrations by the very talented Rob Peters. This delightfully fun book is sure to become a family tradition.
Calliope, the Halloween Queen kicks off the Halloween Bash every year with a scream.  But this year, someone has stolen her scream. Told in rhyme, the reader follows the black widow Mina as she searches for clues to who stole the Queen's scream.  We are taken on an adventure as she helps to gather the special ingredients needed for Witchy Wanda's special potion to help the Queen get her scream back.  After reading this book I discovered that the author is a local Hudson Valley resident and owns/runs the publishing company.  Overall, this was a cute Halloween read.
* This book was borrowed from the library.
The Hallo-Wiener
Written and illustrated by Dav Pilkey
from goodreads.com:
Oscar is short, like all dachshunds and other dogs make fun of him. On Halloween he takes more ridicule than ever in his hot-dog costume, but one brave act makes him a hero. Color illustrations throughout. A "School Library Journal" Best of the Best of 1995.
Dav Pilkey is the author/illustrator of the famous Captain Underpants series, which my son loves.  In this story, Oscar, a dachshund is picked on by the other dogs.  For Halloween his mother gets him a hot-dog costume.  He doesn't want to make her feel bad so he wears it, even though he gets made fun of.  He can't walk fast in it and misses all of the treats.  The other dogs who have gotten all of the candy and who usually make fun of him have a change of heart after Oscar helps them out.  There is some hot dog humor in this book, that probably only older children and adults will get.  This was a cute story that the kids enjoyed.
*This book was borrowed from the library.
The Haunted Ghoul Bus
Written by Lisa Trumbauer
Illustrated by Jannie Ho
from goodreads.com:
Of course children know about the big yellow school bus…but have they ever heard about the haunted ghoul bus? It's wilder and way cooler, with a Mutant Mummy driver and a menagerie of monster passengers. But one Halloween day someone else gets on board by mistake: a normal little boy. Soon he's taking a ride with a furry werewolf, a skeleton whose rickety bones go clitter-clatter, a grinning pumpkin head, a swirl of bats, and a friendly witch named Dolores. Told in fun and appealing rhyme, and featuring holiday-bright illustrations of a cast of unforgettable characters, this playful picture book has sturdy cardstock pages and embossing throughout. It's perfect for celebrating a (not too) scary Halloween. Kids will want the ghoul bus to come to their neighborhood, too!
This Halloween book, told in rhyme, tells the story of a little boy who mistakenly gets on the ghoul bus.  He meets lots of different creatures on his ride.  The pictures are bright and colorful but overall, the story was just okay.
*This book was borrowed from the library.
I Dare You!
Written and illustrated by Nicole Maubert
from goodreads.com:
This very scary, very silly book will have young children roaring with laughter as they dare each other to touch the hair of a spider, the belly of a monster, the sticky tongue of a snake, and many more icky parts of creepy creatures! But who will be brave enough to turn to the last page to see the spookiest monster of all? The truly courageous will be rewarded with a shockingly hilarious—yet eerily familiar—surprise!
This is a fun touch and feel board book for the youngest readers.  They can touch a spider, a witch's wart, the teeth of a shark and more.  This is another seasonally appropriate but not Halloween-themed book.
*This book was read at the local bookstore. 
It's Halloween
Written by Jack Prelutsky
Pictures by Marylin Hafner
from goodreads.com:
Thirteen poems to spice up the holiday that ghouls and ghosts love most. "Prelutsky's Nightmares tamed for beginning readers. They're catchy at the most rudimentary level."–Kirkus Reviews.
Wow!  This book was first published before I was born!  Definitely an oldie….but goodie!  This book caught my eye because Prelutsky is a well-known children's poet.  We are a fan of his Scranimals and my daughter has read his  poetry collections A Pizza the Size of the Sun and The New Kid on the Block.  This book was a cute collection of Halloween-themed poetry.  He writes about everything from "Bobbing for Apples" to a "Haunted House" and a "Skeleton Parade."  The illustrations have a classic, older look to them.
*This book was borrowed from the library.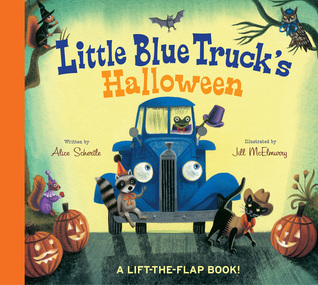 Little Blue Truck's Halloween
Written by Alice Schertle
Illustrated by Jill McElmurry
from goodreads.com: 
Beep! Beep! It's Halloween! Little Blue Truck is picking up his animal friends for a costume party. Lift the flaps in this large, sturdy board book to find out who's dressed up in each costume! Will Blue wear a costume too? With the delightful rhymes and signature illustration style that made Little Blue Truck a household name, Blue's new adventure is full of festive costumes, fall colors, and plenty of Halloween fun!
Many young readers are familiar with Little Blue Truck.  In this book readers follow along as he drives to a Halloween party.  On the way he stops to pick up his animal friends, all disguised in their Halloween costumes.  This is a fun lift-the-flap book told in rhyme.
*This book was read at a local bookstore. 
Pete the Cat: Trick or Pete
Written and Illustrated by Kimberly & James Dean
from goodreads.com:
Pete loves Halloween and candy but not so much scary surprises. Follow Pete as he goes trick-or-treating from house to house and discover what is waiting behind each door. With over ten flaps that open to reveal fun spooky surprises, this book is sure to be spooktacular! 
Fans of Pete the Cat will enjoy this Halloween-themed book.  Pete enjoys trick-or-treating but doesn't want anything spooky to happen.  As children lift the flaps of this book they will meet Pete's friends and follow them on their trick-or-treating adventure.
*This book was borrowed from the library. 
Scary, Scary Halloween
Written by Eve Bunting
Illustrated by Jan Brett
from goodreads.com:
Four pairs of eyes stare from the blackness to watch fearsome creatures trick-or-treat.
This is another oldie but goodie Halloween book.  Award-winning author Eve Bunting has written over 250 books and illustrator Jan Brett (a family favorite)  is also an award-winning author and illustrator of many books.  Written in rhyme, this book is told from the perspective of something with two green eyes, shining in the night.  It watches as children go trick-or-treating dressed up as goblins, witches, and ghosts.  Only at the end of the book is the identity of the narrator revealed.
*This book was borrowed from the library.

Tell Me a Scary Story…But Not Too Scary
Written by Carle Reiner
Illustrated by James Bennett
from goodreads.com:
A little boy has an adventure in the scary basement of his mysterious new neighbor, Mr. Neewollah. 
A father tells his son a scary story about a little boy who meets his neighbor Mr. Neewollah and has an adventure.  Our book came with a CD in which Reiner reads the story.  While I was unfamiliar with comedian Carl Reiner, my husband is a fan.  This was another okay Halloween story.
*This book was borrowed from the library.
There's a Monster In Your Book
Written by Tom Fletcher
Illustrated by Greg Abbott
from goodreads.com:
Bestselling author of The Christmasuarus, Tom Fletcher, has written a brand new picture book perfect for bedtime, where a mischievous monster has invaded the pages of your child's book!  This read-aloud, interactive picture book treat invites children to make magic happen page by page, tilting, spinning and shaking the book, and then seeing the funny results when each page is turned. A fantastic celebration of all the fun that can be had with a book, with a wonderful wind-down bedtime ending!
Again, this is not a Halloween book, but with a monster as the main character, I thought it fitting for the holiday. This is a fun, interactive book that has children doing all sorts of things to try to set it free.
*This book was read at a local bookstore.  
Trick Arr Treat: A Pirate Halloween
Written by Leslie Kimmelman
Illustrated by Jorge Monlongo
from goodreads.com:
Charlotte Blue-Tongue, Peg-Leg Pete, Glass-Eyed Gabby, and their friends swashbuckle through the streets demanding loot and treasure from their neighbors in this Halloween pirate tale. As their world transforms from neighborhood to pirate's lagoon, they shout, "We be pirates. TRICK ARRR TREAT!" But what's lurking in the shadows? Are the pirates brave enough to defend their treasure?

This Halloween picture book was published in 2015. The story, told in rhyme, is about a group of children dressed as pirates trick-or-treating on Halloween. Overall, it was just an okay read for us.
*This book was borrowed from the library.
Do you have a favorite Halloween book that you recommend we read?