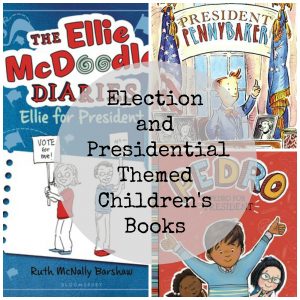 With school elections recently occurring in most schools and the presidential election quickly approaching in November, I have been reading lots of election and presidential themed children's books.  I have read some picture books with my kids as well as getting them election themed chapter books for them to read on their own.  This is by no means an exhaustive list, we were just very limited on time!  Here is a round up of the children's election themed books that we have read recently.
Picture Books:
Madam President by Lane Smith – A little girl spends the day imagining what it would be like to be President.  The reader learns a little bit about the Presidential duties while the illustrations add a humorous touch.  (Rating:  3/5 stars)  This book was borrowed from the library.
Presidential Pennybaker by Kate Feiffer – Tired of doing his chores and being told what to do, Luke Pennybaker decides to run for President.  As he travels the country, he campaigns for the "birthday party" and has the White House painted orange.  But Luke soon realizes that being President gives him even less time for watching TV, bike riding and playing.  (Rating: 3/5 stars)  This book was borrowed from the library.
Beginning Reader Books:
How Not to Run For Class President by Catherine A. Hapka  – Third grader Will decides to run for class president with the help of his little brother Steve.  Steve is in Kindergarten, so the whole storyline was hard to believe.  Running a successful campaign is touched upon.  This is a level four book in the Step Into Reading series.   (Rating:  2/5 Stars)  This book was borrowed from the library.
Pedro For President by Fran Manushkin – This beginning reader book is targeted towards readers in K-2nd grade.  Pedro decides to run for class president.  His teacher Miss Winkle guides him and his opponent Katie Woo through the election process including figuring out how they will help the class, to making posters and speeches.  The book has three short chapters with lots of colorful illustrations.  The end of the book includes several resources including a glossary, writing and discussion questions and some school-related jokes.  As seen on the cover and throughout the illustrations in the book, there is a multicultural class of students.  (Rating:  4/5 stars) This book was borrowed from the library.
Chapter Books:
Double Trouble (The Doodles of Sam Dibble #2) by J. Press – Third grader Sam Dibble has decided to run for class president.  The teacher makes reference to the presidential election that occurs during the class election.  While this book is the second in the series, it can be read as a stand-alone.  There are lots of fun illustrations (doodles) throughout with short chapters, which makes this a great book for the beginning chapter book reader.  (Rating:  3/5 stars)  This book was borrowed from the library.
Middle Grade Fiction Books:
Ellie for President (The Ellie McDoodle Diaries #6) by Ruth McNally Barshaw – As editor for the school newspaper, Ellie hears about the upcoming school election.  Her friends convince her to run for class President and help her run her campaign, which means she's unfortunately running against her friend and crush, Jake.  Will she win the election?  Although this is book six in the Ellie McDoodle series, it reads like a stand-alone.  Through the story and fun illustrations/doodles readers learn a lot about the school election process.  (Rating:  4/5 stars)  This book was borrowed from the library.
What is your favorite election themed children's book?