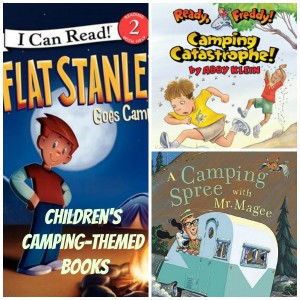 Growing up my family did a lot of camping.  We went from tent camping to a pop-up to eventually an RV.  It was a cheap way for us to travel and vacation.  Prior to having kids the Weekend Chef and I did some tent camping.  We've taken the kids camping a couple of times when they were much younger, but haven't had a chance to go more recently.  This summer we are planning a weekend camping trip.  In preparation, our bedtime reading books have been focused on camping! Here we share a round-up of some camping themed books for children.
*Disclosure:  This post contains affiliate links.  If you make a purchase through a link I may receive compensation which is used to support this blog.
Picture Books:
A Camping Spree with Mr. Magee by Chris Van Dusen
Rating:  3 out of 5 stars
In this picture book, that is told in rhyme, Mr. Magee and his dog Dee take a camping trip.  They tow a camper up to the mountains and find a perfect place to set up camp.  Unfortunately, after roasting some marshmallows, they leave the bag of leftovers out, which attracts the attention of a bear.  In trying to get to the marshmallows the bear accidentally unhitched the camper and sends it rolling down the hill into a stream.  Before falling over a waterfall Mr. Magee and Dee are unintentionally saved by the bear.  The two decide to head home and enjoy camping in the backyard instead.  This was an adventurous camping story in which things end up getting a little chaotic, but ends well.
*This book was borrowed from the library.
Just Me And My Dad by Mercer Mayer
Rating:  4 out of 5 stars
In this picture book Little Critter and his dad go camping, just the two of them.  While he has the best intentions, Little Critter ends up finding himself in disastrous situations – from pitching the tent, trying to take a canoe ride and catching fish for dinner.   Luckily, dad is there to help straighten things out!  The illustrations add to the enjoyment of this story.  This is a classic picture book that I grew up reading and it still has the charm and humor that I remember!
*This book was borrowed from the library.
S is for S'mores:  A Camping Alphabet by Helen Foster James
Rating:  5 out of 5 stars
Like the title suggests, this is an alphabet book about camping.  The main text of this book is told in rhyme touching on aspects of camping from hiking and emergencies to parks and s'mores.  The sidebars of this book include much more detailed information about the things touched upon in the main text of the story.  Colorful illustrations accompany the text.  We are big fans of the alphabet book series from Sleeping Bear Press.  I like that the books can be read on two levels – the main text with simple rhymes for my son and the more detailed text for my daughter.  The sidebars always provide information that is new even to us adults.
*This book was borrowed from the library.
Scaredy Squirrel Goes Camping by Melanie Watt
Rating:  3 out of 5 stars
If you are unfamiliar with Scaredy Squirrel, I recommend you start with the first picture book, Scaredy Squirrel.  Scaredy Squirrel is afraid of everything and never goes camping.  He realizes that he can enjoy camping through a television show that he's found, but……he has to plug in his television.  To do that he must cross the dangerous campground.  Scaredy Squirrel always plans and is prepared.  The book contains plenty of charts and diagrams to support this.  This is a fun read that shows kids to enjoy new experiences and that sometimes you may end up liking things that you didn't think you would.
*This book was borrowed from the library.
Poetry Book:
Toasting Marshmallows:  Camping Poems by Kristine O'Connell George
Rating:  3 out of 5 stars
This picture book is a collection of poems related to camping from the tent to hiking to toasting marshmallows and fishing.   There's a variety of different types of poems in this book as well including a shape poem, rhyming poems, poems that don't rhyme and more.  Each poem is accompanied by a colorful illustration.
Beginning Readers:
Flat Stanley Goes Camping by Lori Haskins Houran
Rating:  3 out of 5 stars
Flat Stanley originated as a character created by Jeff Brown in a chapter book series.  He is now part of the I Can Read series.  In this beginning reader book Flat Stanley and the rest of the Lambchop family go on a camping adventure.   After setting up camp Stanley and Arthur go exploring but mom warns them, "Don't get lost or fall off a cliff."  Of course they do both!  While Stanley first feels bad about being flat he soon discovers that it is helpful in getting them out of some sticky situations.  Tent camping, campfires, s'mores and hiking are all mentioned in this book.
*We borrowed this book from the library.
Fred and Ted Go Camping by Peter Eastman
Rating:  3 out of 5 stars
In this early reader book Fred and Ted go on a camping trip.  They set up their tent and then decide to go fishing.  Unfortunately, after catching fish, they have a little accident and end up with no food.  A little bird helps them out and the two don't go hungry.  This book is part of the Random House "I Can Read It All By Myself" Beginner Books.  It has short sentences with simple text.  This book contains lots of opposites and the illustrations are humorous and engaging.
*This book was borrowed from the library.
Chapter Books:
Camping Catastrophe!  (Ready, Freddy! series #14) by Abby Klein
Rating:  4 out of 5 stars
Our family has enjoyed the Ready, Freddy! series.  If you are unfamiliar with Freddy, he's a 1st grader who loves sharks.  The series is aimed towards early to middle readers.  Camping Catastrophe!, number 14 in the series, has Freddy and his friend Robbie taking a camping trip with Freddy's father.  It's not a Freddy book without some type of trouble occurring.  In this book trouble involves a bee hive, fishing problems, a bear and some skunks.  This was an enjoyable read that touches upon aspects of camping like pitching a tent (remember the directions if you've never set it up before!), collecting firewood, fishing and making s'mores.  Despite all of the "catastrophes," Freddy ends up having a great camping trip.
*This book was borrowed from the library.
The Case of the Marshmallow Monster (Jigsaw Jones Mystery #11) by James Preller
Rating:  3 out of 5 stars
In this book Jigsaw goes on a neighborhood camping trip with his dad.  Mr. Hitchcock tells a ghost story about a lake creature.  The kids leave a bag of marshmallows out for the lake creature and wake up to find the marshmallow bag gone.  Jigsaw and Mila have a new case – to find out who (or what!) ate the marshmallows.  This book is the eleventh book in the Jigsaw Jones Mystery series, a series aimed towards readers in middle elementary grades.  This book touches upon aspects of camping like starting a fire, making s'mores, not leaving food out to attract animals and campfire ghost stories.  The lake creature story may be scary for some readers and could possibly scare them away from camping and lakes.
*We own this book.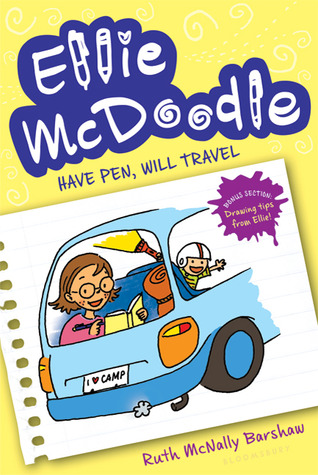 Ellie McDoodle:  Have Pen, Will Travel by Ruth McNally Barshaw
Rating:  3 out of 5 stars
In this chapter book, Ellie McDougal (a.k.a. Ellie McDoodle) and her baby brother Ben-Ben have to spend a week camping with their aunt, uncle and cousins, while their parents are out of town.  Ellie loves to sketch (and spy) and this book is an illustrated diary of this family camping trip.  It's filled with games played, camping adventures and of course family drama.  This is the first of Barshaw's Ellie McDoodle books and has been compared to the Diary of a Wimpy Kid series.
*This book was borrowed from the library.
Humphrey's Creepy-Crawly Camping Adventure by Betty G. Birney
Rating:  3 out of 5 stars
Humphrey is the class hamster in Room 26 and this book is told from his point of view.  Each weekend a different student takes him home.  In this book, Heidi takes him home and they have a campout in her backyard with several other girls from Room 26.  Richie, another student in Room 26 and Heidi's neighbor is having a campout with some boys from Room 26 as well.  The boys try to scare the girls and later, the boys end up being scared by Humphrey and no one ends up camping out!  The girls in this book attempt to campout in a tent, take a hike around the backyard, stargaze  and play flashlight games.  This book is part of the Humphrey's Tiny Tales series.  There is also the original Humphrey series, for readers 8 and up, though we are unfamiliar with it.
*This book was borrowed from the library.