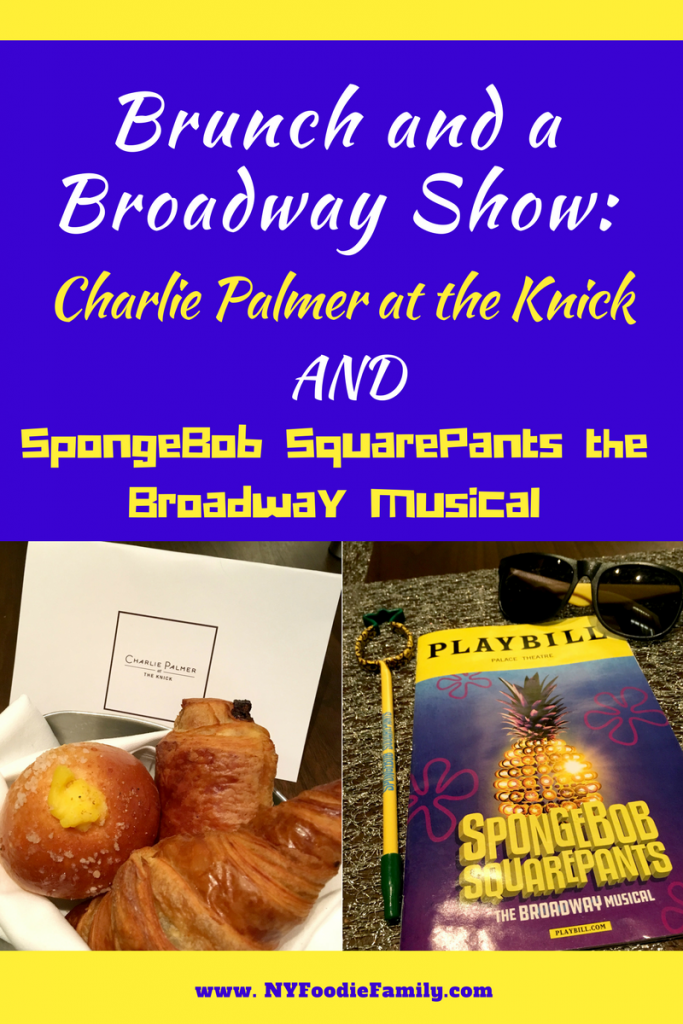 (Thank you to the Charlie Palmer Group and SpongeBob the Broadway Musical for hosting us.  As always, all opinions are our own.)
Dinner and a movie makes for a great date with your significant other.  If you are looking for a fun day out on the town with your child, how about brunch and a Broadway show?!  My children love breakfast foods. I know if we go out for breakfast they will always find something on the menu that they will enjoy. And, really, who doesn't love bacon and eggs? For a super special parent-child outing, seeing a Broadway show is a real treat! Enjoying brunch before a weekend matinee ensures that you don't get home too late.  This is especially important when seeing a Sunday show, when your kids probably have school the next day!
My 9 year old son and I recently took a trip into New York City for a mother-son brunch and a Broadway show date.  We started with brunch at Charlie Palmer at the Knick.  This family-friendly restaurant is located on the fourth floor of the Knickerbocker hotel, in the heart of Times Square.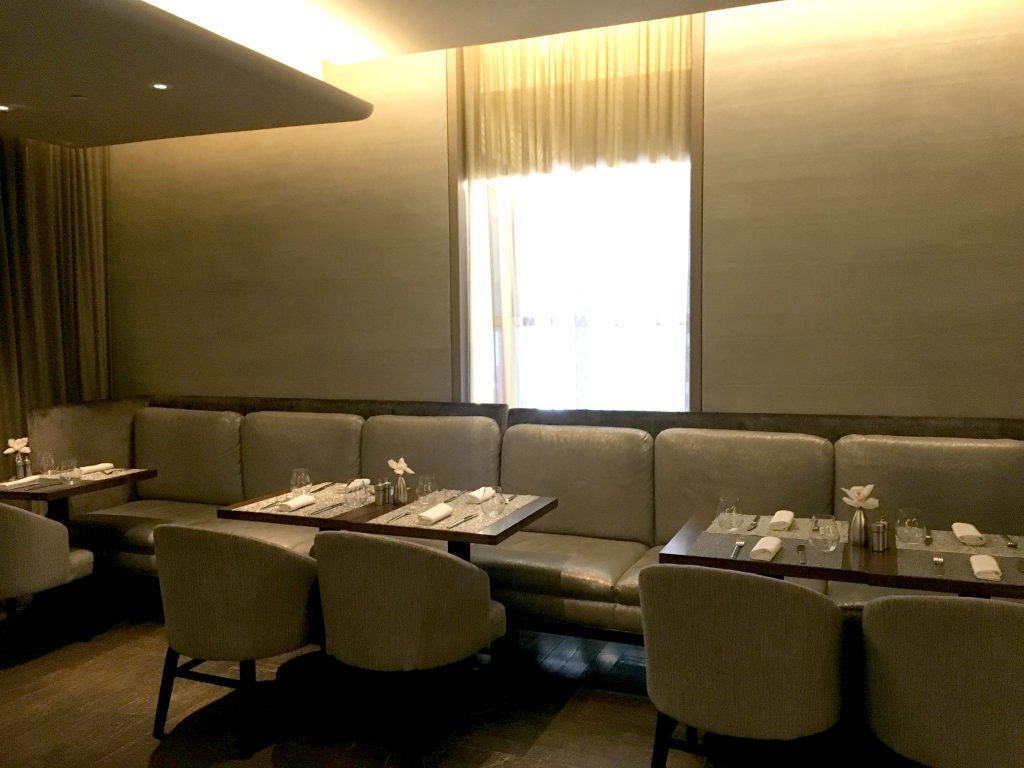 The decor of the restaurant is modern but inviting.  As my son noted: "This is the fanciest-looking restaurant I've been to!"  Chef Charlie Palmer creates American cuisine that is sourced locally from the Hudson Valley. For those on the hungrier side, the breakfast menu includes both a Continental and American Breakfast.  The a la carte menu includes a couple of different omelettes, pancakes, waffles, french toast and more. The restaurant also has a different children's menu for breakfast, lunch and dinner.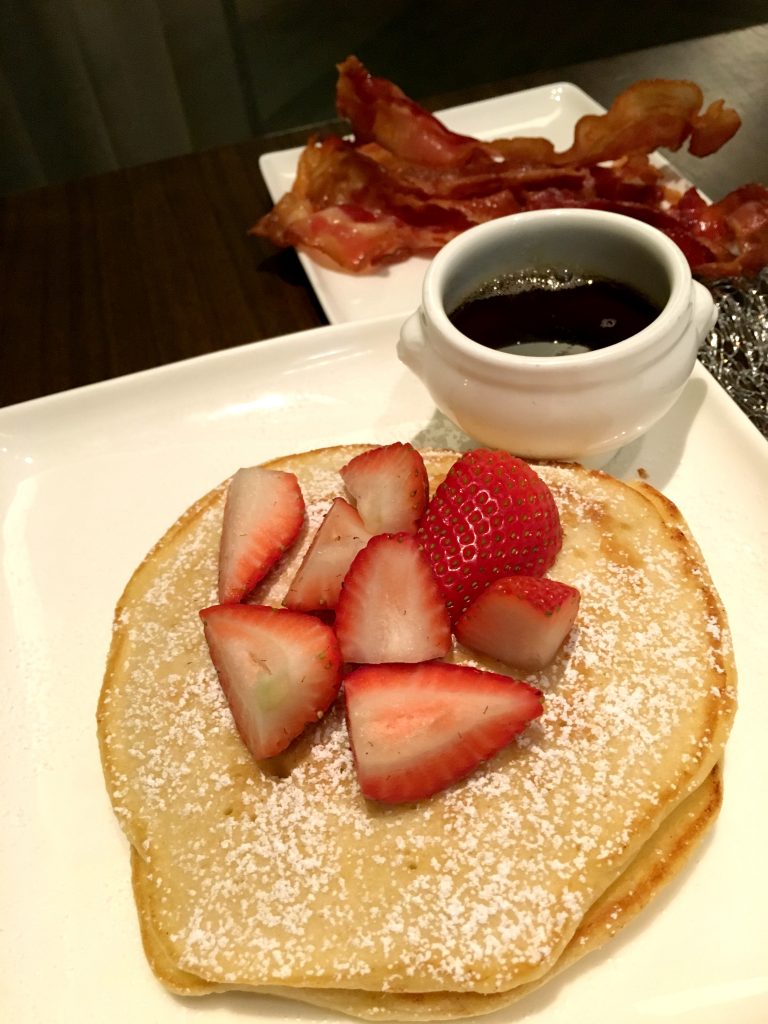 Although my son sometimes orders from the adult menu, he opted for the buttermilk pancakes with fresh strawberries from the kid's menu and added a side of bacon. After seeing the portion sizes, he could have likely finished a meal off the adult menu. As it was, he devoured his pancakes in record time. Breakfast is his favorite meal!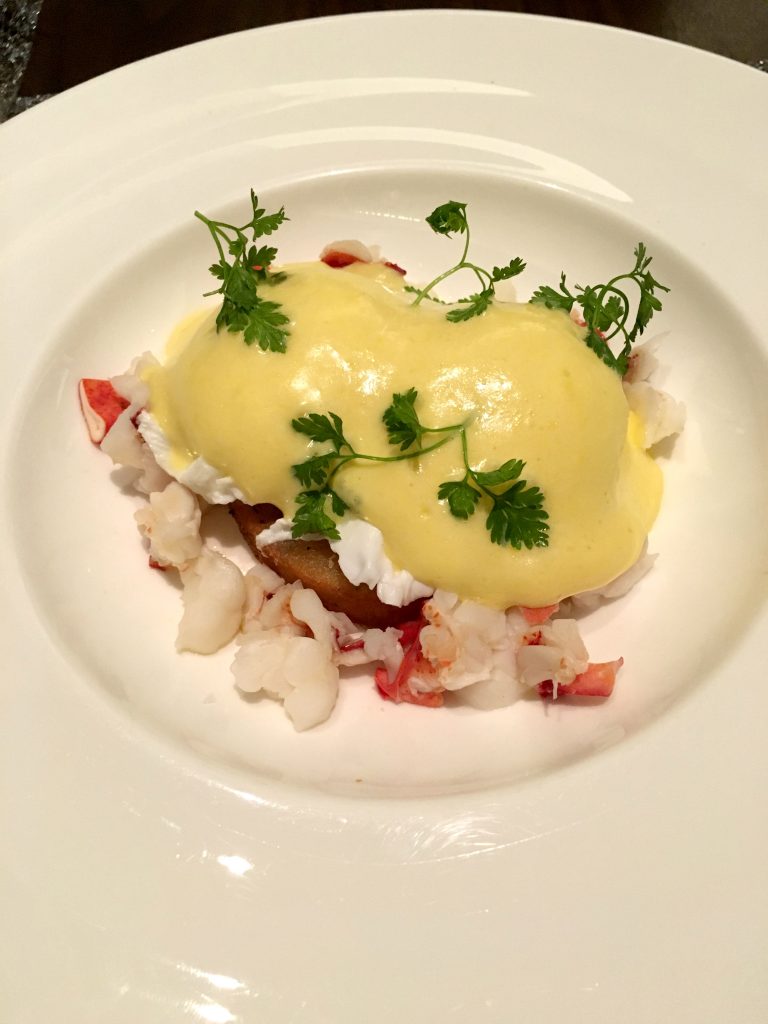 I ordered the Midtown Eggs Benedict.  Two poached organic eggs were served on a potato rosti with Bearnaise sauce, surrounded by chunks of lobster.  This was a decadent and delicious dish!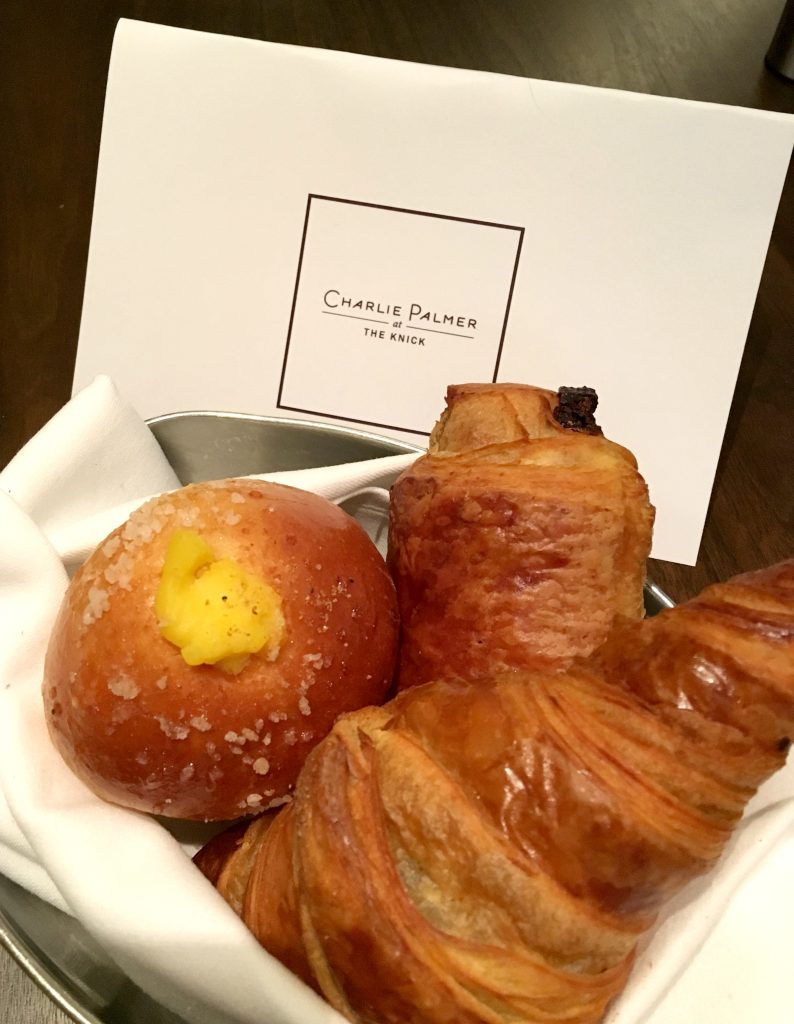 After we had ordered, a basket of pastries was brought to the table.  We enjoyed these after our brunch to end our meal on a sweet note.  My son especially enjoyed the chocolate-filled croissant. The flaky layers of pastry filled with a sweet chocolate filling was delicious!
I'm not going to lie.  Prices at Charlie Palmer, even for breakfast, are on the higher end of the price spectrum.  My eggs Benedict was definitely a splurge, priced at $26. However, if you are going to have a parent-child date, it's nice to be a little fancy and treat yourself!
We had 11 AM reservations, which gave us plenty of time to eat before our 1 PM show.  Our food arrived quickly after we ordered.  However, we were not made to feel rushed at all.  After finishing our meal, we sat a bit while I enjoyed my coffee. Service was excellent, with our server being attentive but not annoyingly so.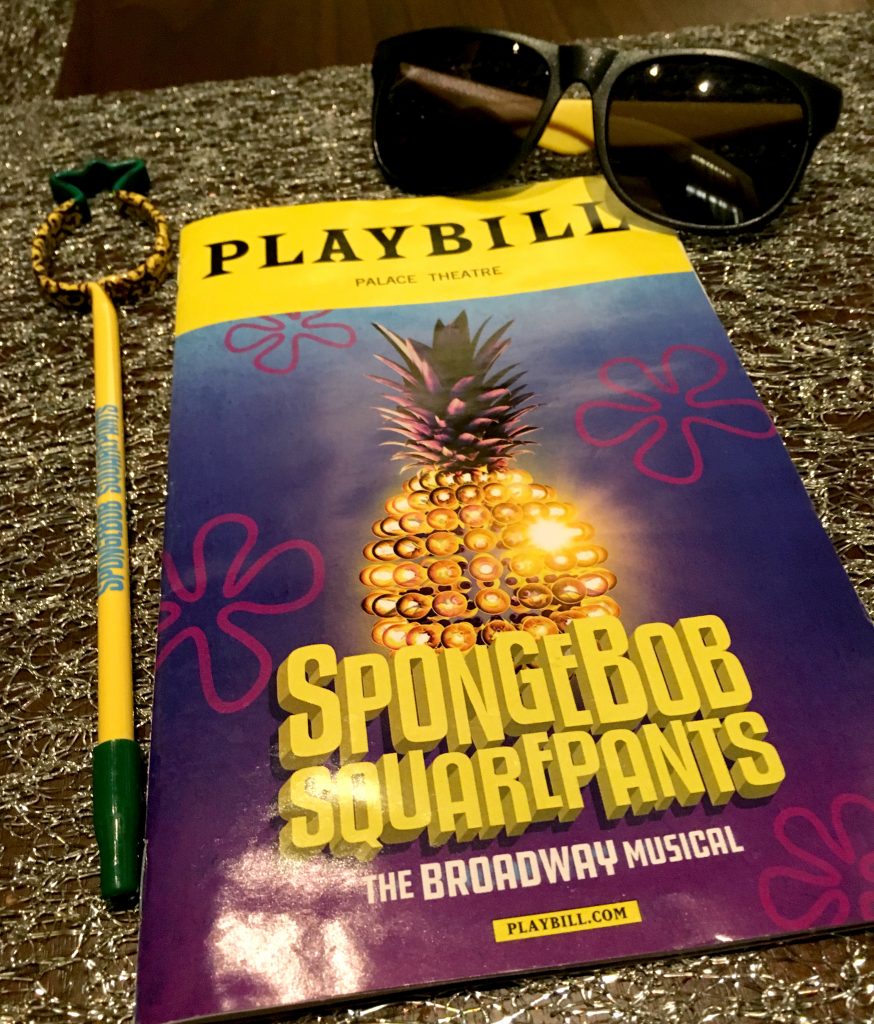 Charlie Palmer at the Knick is super close to many of the Broadway theatres.  After our delicious brunch, we only had to walk a couple of blocks to the Palace Theatre to see the show. "Who lives in a pineapple under the sea?  SpongeBob SquarePants….."  If you have tweens you are probably very familiar with that song!  Did you know that the Nickelodeon television show made its Broadway debut this past December?  I have to be honest, my son really wanted to see this musical.  Me?  Not so much.  I'm not the biggest fan of the animated talking sponge.  But guess what?  I am here to tell you that you don't have to be a fan of the show to enjoy the musical.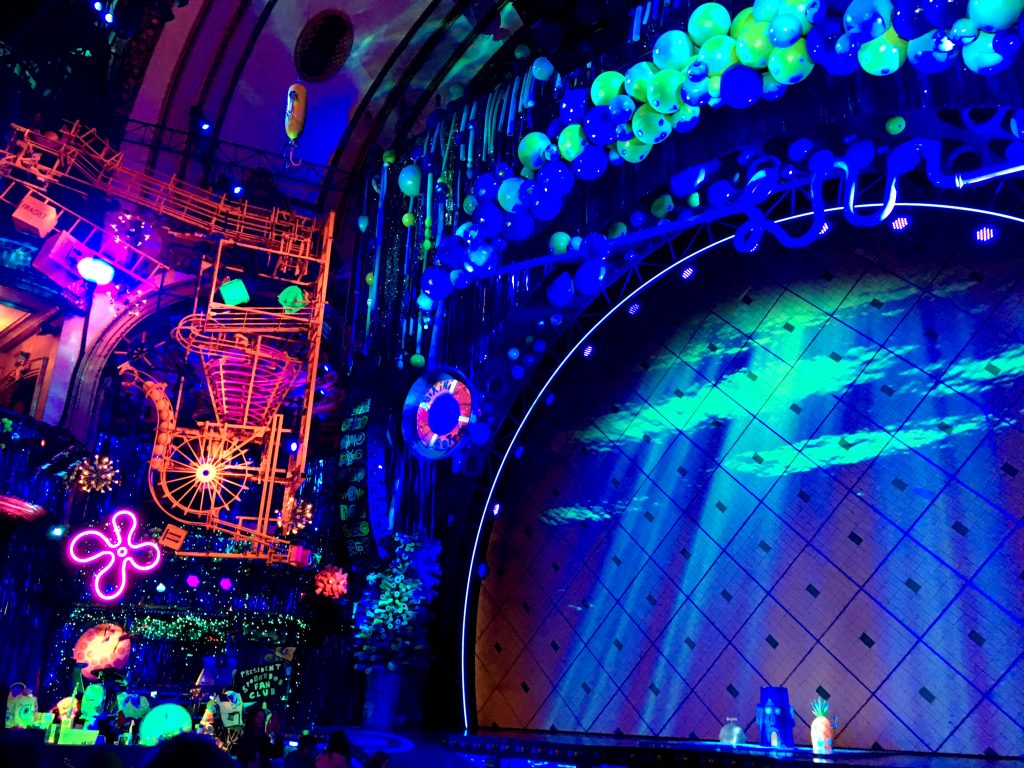 As soon as you enter the Palace Theatre you are transported into an underwater wonderland.  From beginning to end, guests are treated to a feast for the senses.  Giant fluorescent set pieces glow under black lights. The cast are dressed in bright, colorful costumes. The continuously changing sets are filled with lights, smoke and more.  There are lots of sound effects and the songs are catchy. Most songs were written by artists like Cyndi Lauper, John Legend, Plain White T's, T.I. and more, specifically for this production.  The show ends with bubbles, confetti and bouncing beach balls.
One of the first things you will notice once the show starts is that SpongeBob is not actually shaped like a sponge.  Ethan Slater, does a phenomenal job in taking on the role of SpongeBob.  He has the voice, gestures and even the laugh spot-on!  Although you don't have to be familiar with the characters from the show, it helps, so you can fully appreciate how well the show was cast.  There is even a story line to the musical.  Bikini Bottom is in danger of being destroyed by a volcanic eruption.  While most of the residents want to leave, SpongeBob with the help of his friends Patrick and Sandy attempt to save their beloved home.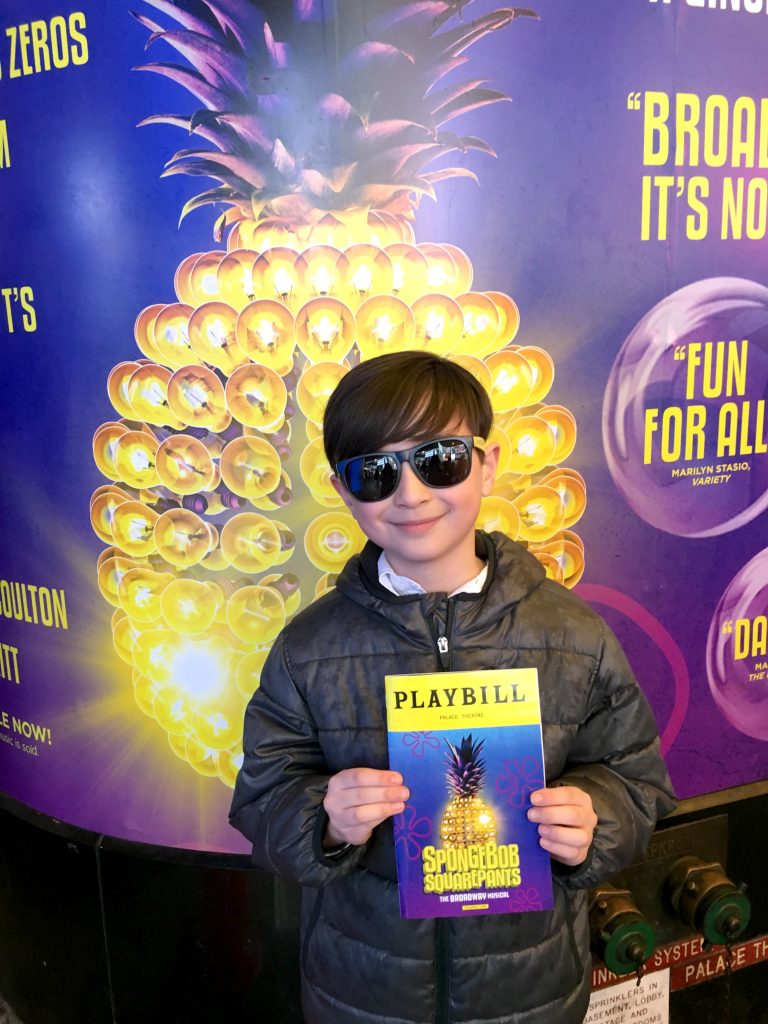 Although the audience was mostly comprised of families with children (right around my son's age or younger), I think this show will appeal to the masses.  For anyone who loves a good Broadway production, you will not be disappointed. SpongeBob SquarePants the Broadway Musical is a fun and entertaining show.  This is a perfect musical for a parent-child/family day out and both my son and I give it two thumbs up!
The Details:
Charlie Palmer at the Knick
The Knickerbocker Hotel
6 Times Square
New York, NY 10036
(212) 204-4983
Hours: Breakfast 7 AM – 11 AM, Lunch 11:30 AM – 2 PM, Dinner 5 PM – 10 PM
Price:  $$$ (breakfast – most entrees between $16-$30)
SpongeBob SquarePants the Broadway Musical
The Palace Theatre
1564 Broadway (47th and Broadway)
New York, NY 10036
Show Dates and Times:  7 PM Tuesdays and Thursdays, 2 PM  Wednesdays, 8 PM Fridays, 2 PM & 8 PM Saturdays,  1 PM & 6:30 PM Sundays
Prices:  (Depend on day/time, seat choice and availability)  Tickets start at $49 balcony seating.