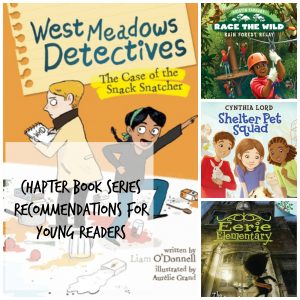 My son is in second grade and loves to read!  He's read some of the books in the Henry and Mudge series, some of the Ready Freddy! series as well as almost all of The Magic Treehouse series.  However, I am always on the lookout for new books and series that may interest him.  I thought I'd share some of the more recent chapter book series that we have read that might bring some reading enjoyment to a young reader in your family!  While he read all of these books on his own, I also read them all.  I would recommend the below series for children in 1st through 3rd grade, dependent on reading level.  All of the series have fairly short chapters and lots of illustrations.
If you like mystery books try:
West Meadows Detectives: The Case of the Snack Snatcher by Liam O'Donnell – This is the first book in the West Meadows Detectives series, published in October of 2015.  Main character Myron is a third grader on the autism spectrum.  As a former special education teacher, I appreciate the author having a diverse cast of characters, including students with special needs.  O'Donnell shows that they are very much like other children with a few quirks.  In this first book, Myron and his friend Hajrah use their detective skills to find out who has been stealing the snacks from the school kitchen.  As an adult, I was able to identify the culprit super early on, based on the clues.  It's not a suspenseful mystery, but I think young readers will enjoy the story.
If you like adventure try:

Race the Wild:  Rain Forest Relay by Kristin Earhart – Back in September 2015 I wrote a full post on this book.  This book series is like the Amazing Race for kids!  You follow Russell and his friends as they race around the world (each book takes place in a different geographic location) in an attempt to win the prize money.  There are currently four books in the series, with the fifth book, Outback All-Stars, expected to be released this week.
If you like to travel and learn about other countries try:
Greetings from Somewhere #1: They Mystery of the Gold Coin by Harper Paris – This is the first book in the Greetings from Somewhere series that was published in January 2014.  There are currently 9, soon to be 10 books in this series, targeted for transitional readers who are readyin first and second grade.  Twins Ethan and Ella learn that their mother has accepted a job as a travel writer for The Brookeston Times.  This book sets the stage for future books, as the twins get ready to move and say goodbye to friends.  The two siblings must also find the gold coin that their grandfather gave Ethan as a going away present before they have to leave for the airport.  The mystery in this first story isn't a big mystery, but they do become bigger in future books.  Each subsequent book also takes place in a different country.
If you like animals try:
Shelter Pet Squad #1:  Jelly Bean by Cynthia Lord – In the first book in this series, the reader is introduced to Suzannah.  She lives in an apartment building that does not allow pets, so her mom signs her up for a program in which she gets to help at the local animal shelter.  Suzannah is at the shelter when a young girl drops off her guinea pig, Jelly Bean.  Her family is moving to France and she can't take the guinea pig with her.  Suzannah promises to find a good home for Jelly Bean, but discovers that doing so is harder than it appears.  There are currently three books in this series.
If you like food try:
Phoebe G. Green: Lunch Will Never Be the Same! by Veera Hiranandani – We first reviewed this book on the blog back in July.  Phoebe loves new and interesting food but her parents always make the same thing.  In this book, readers will be introduced to all kinds of new and different foods that Phoebe samples by befriending Camille, the new girl from France.  There are currently four books in this series.
If you like scary books try: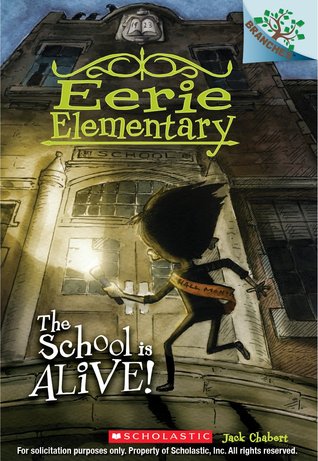 Eerie Elementary:  The School is Alive! by Jack Chabert – I'm not going to lie, this book will not be for all readers.  In this first book Sam Graves is chosen to be hall monitor and discovers that his school, Eerie Elementary, is alive.  Of course his friends don't believe him at first…..but then they see how scary the school is.  For some readers, reading about a school that is evil may be a bit too much.  My son has read the first two books in the currently four book series and has enjoyed them with no problems.