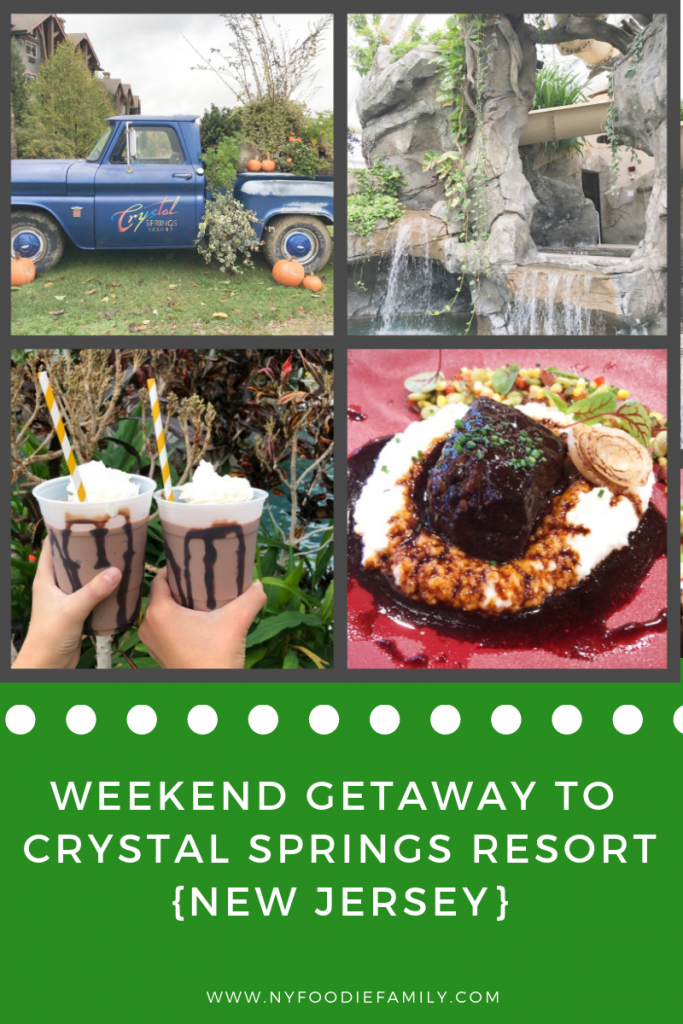 (Thank you Crystal Springs Resort for providing lodging accommodations for NY Foodie Family.  Meals were not included in our stay and were paid for by NY Foodie Family.  As always, all opinions are our own.)
Our family  loves to travel, visit new places and have new experiences.  However, our days (and weekends) have been super busy, now that school has started and we are deep into activities and sports.  A relaxing weekend getaway to Crystal Springs Resort in Hamburg, New Jersey is just what we needed.  From northern Westchester County, the resort is only a little over an hour away by car.
Crystal Springs Resort truly is a resort, housing two hotels (Grand Cascades Lodge and Minerals Hotel), six golf courses and housing developments.  Yes, you can own a house, townhouse or even a suite in the Grand Cascades Lodge.  Seasonally, there are up to ten different dining options available.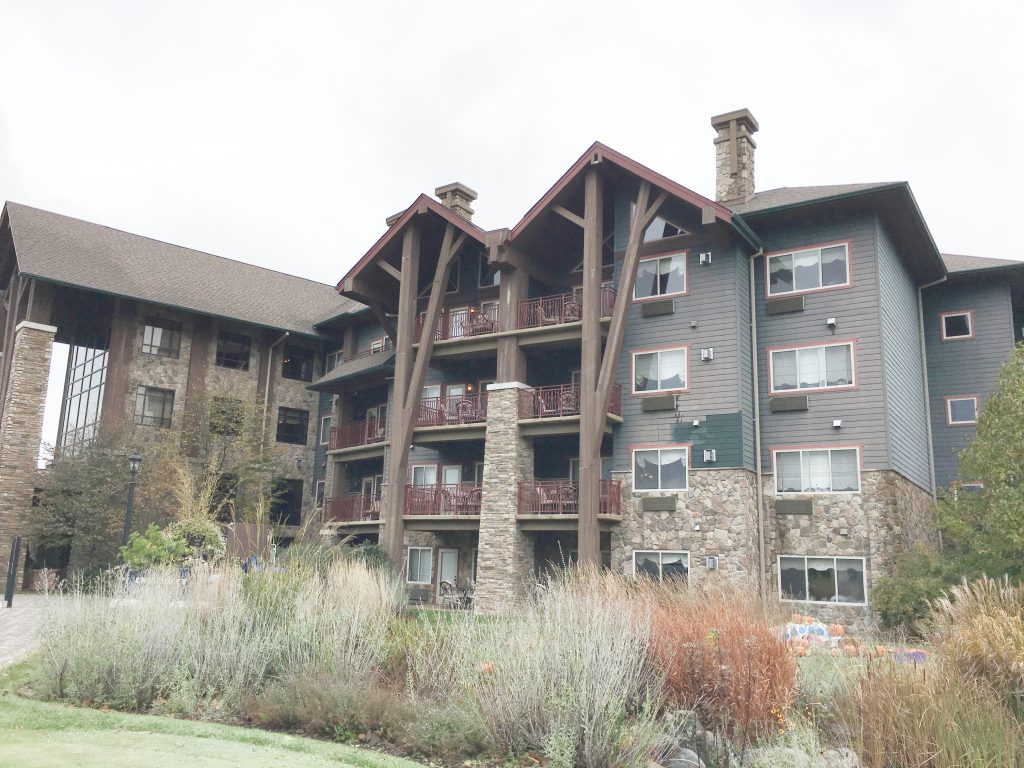 We stayed at the Grand Cascades Lodge.  This location offers several different room types including standard guest rooms and one and two-bedroom suites, including some that have fireplaces.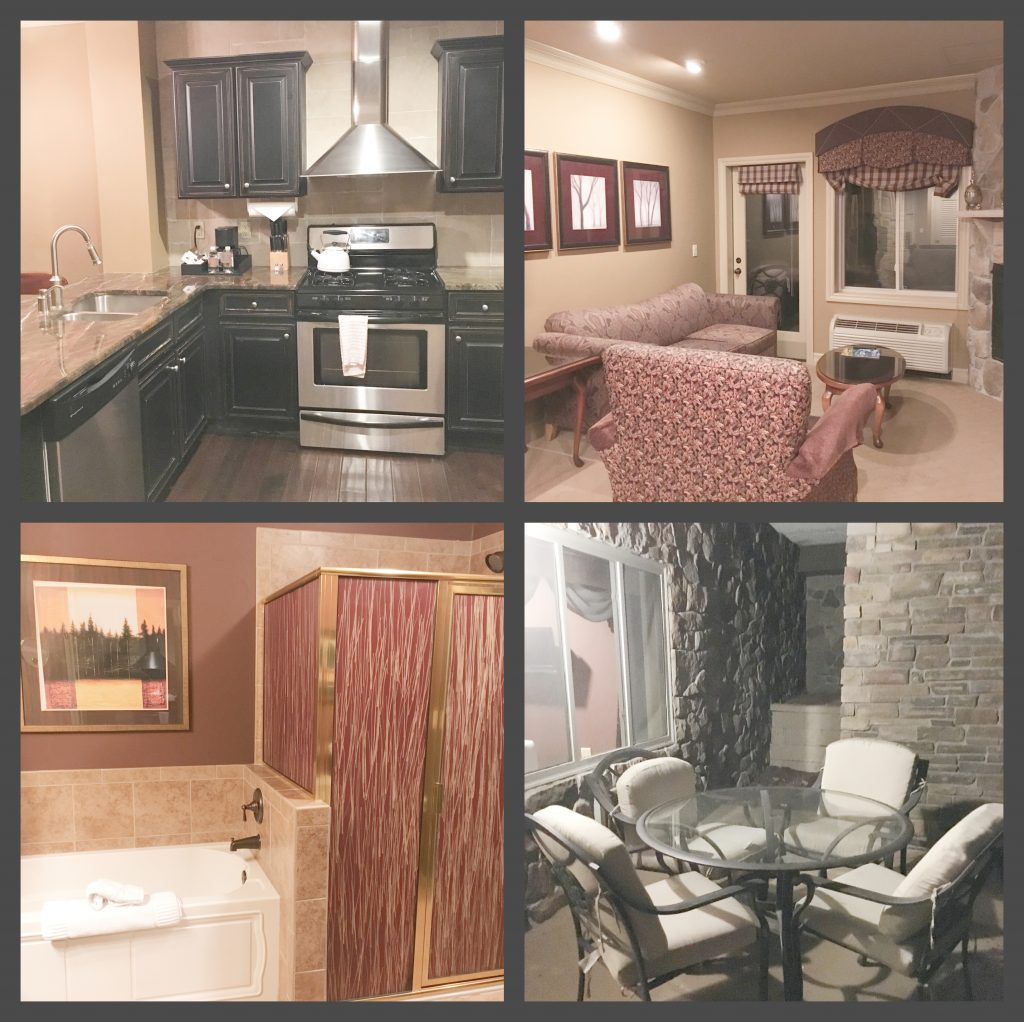 We stayed in a one bedroom suite with a pull-out sofa in the living room.  There was more than enough room for the four of us. Plus, the suite had a kitchen, dining table and chairs.  If the weather was nicer, we could have enjoyed sitting outside on the patio, though the room that we stayed in (Room 101) didn't have views of the property as it is on the ground level .  The lodge has several floors, many offering rooms with balconies that offer beautiful views.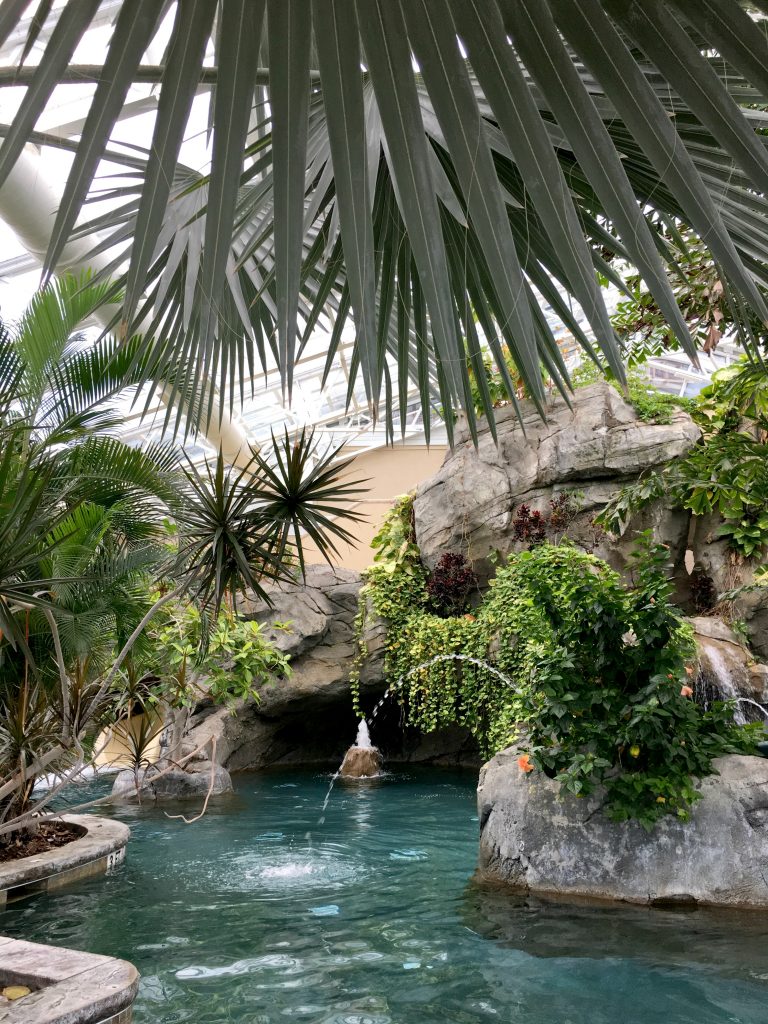 The weekend of our visit was cold and rainy.  So, unfortunately, this limited the activities available to us.  Most of our time was spent inside at the biosphere pool.  This is Crystal Springs Resort's 10,000 square foot indoor pool complex.  The plants and fountains create a tropical indoor oasis.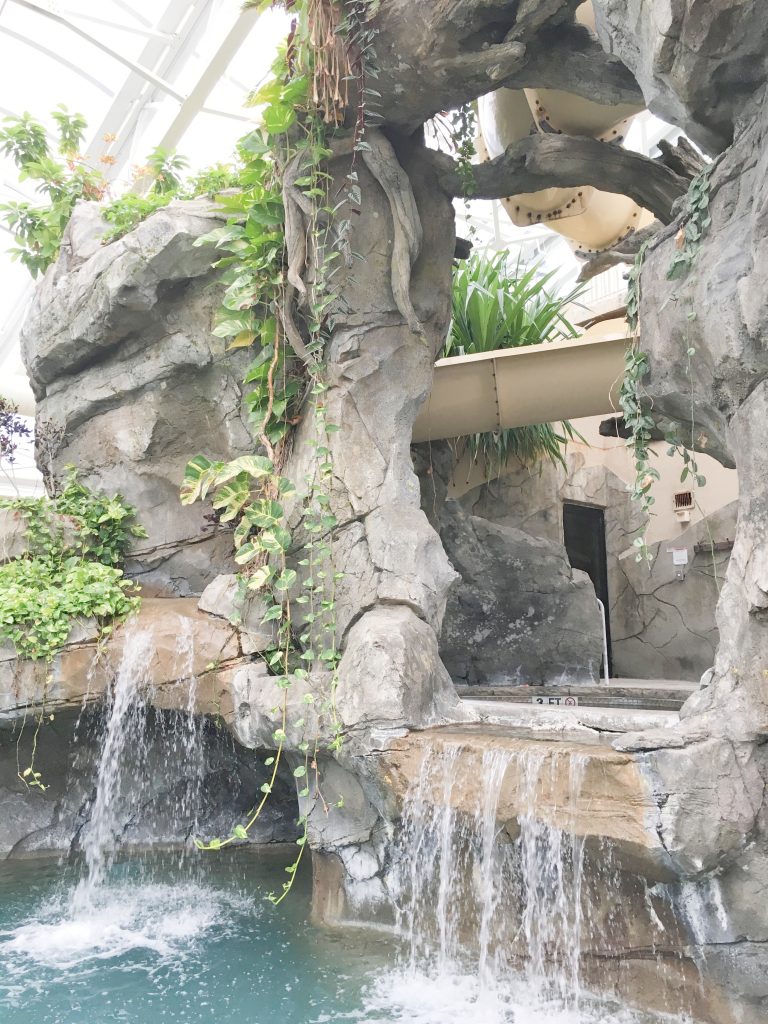 The kids had a fun time going down the slide countless times and wading around the pool.  I actually put on a bathing suit to bubble away in the hot tub.  Our family favorite was enjoying the heated outdoor pool. Our bodies were toasty while our heads were splattered by chilly raindrops!
Grand Cascades Lodge guests can enjoy the pool and activities at the Minerals Hotel, the sister resort, located approximately a ten minute drive away.  However, the biosphere pool is only accessible to Grand Cascades Lodge guests.  If our visit was longer we would have stayed to explore the Minerals pool and activities, but we wanted to take advantage of what the Cascades Lodge offered.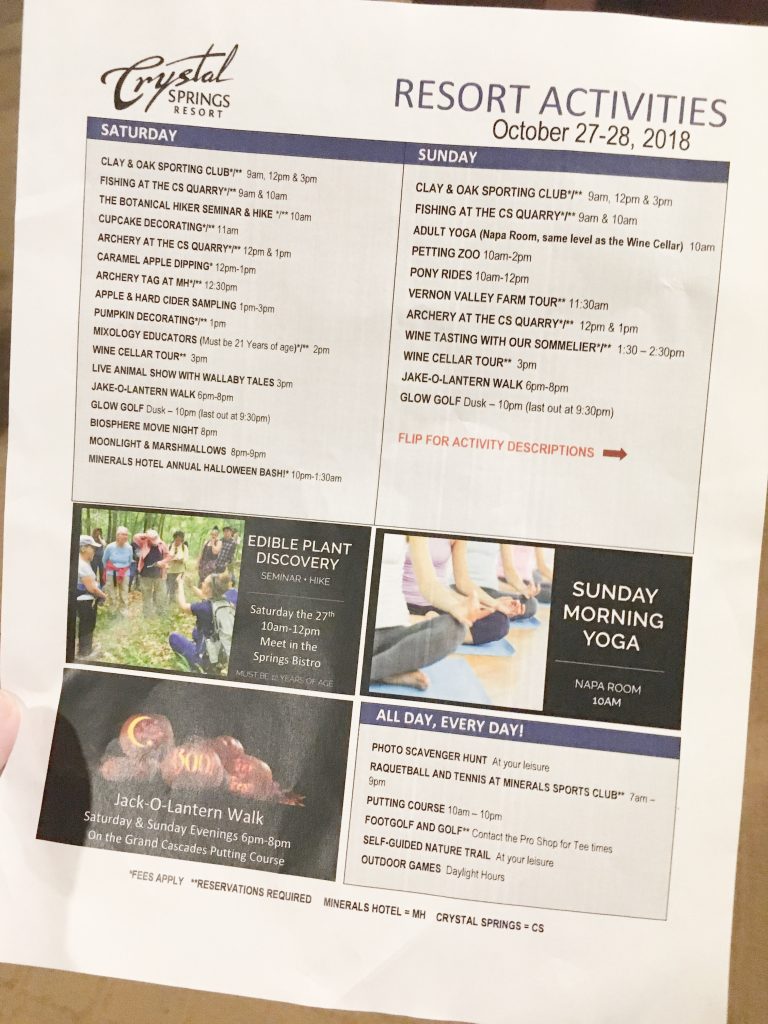 Speaking of activities, Crystal Springs Resort offers all types of activities, regardless of when you visit.  On your arrival, you are given a schedule of events.  Many of the activities do require a reservation and/or additional fees.  Unfortunately, the rain impacted the outdoor activities available to us.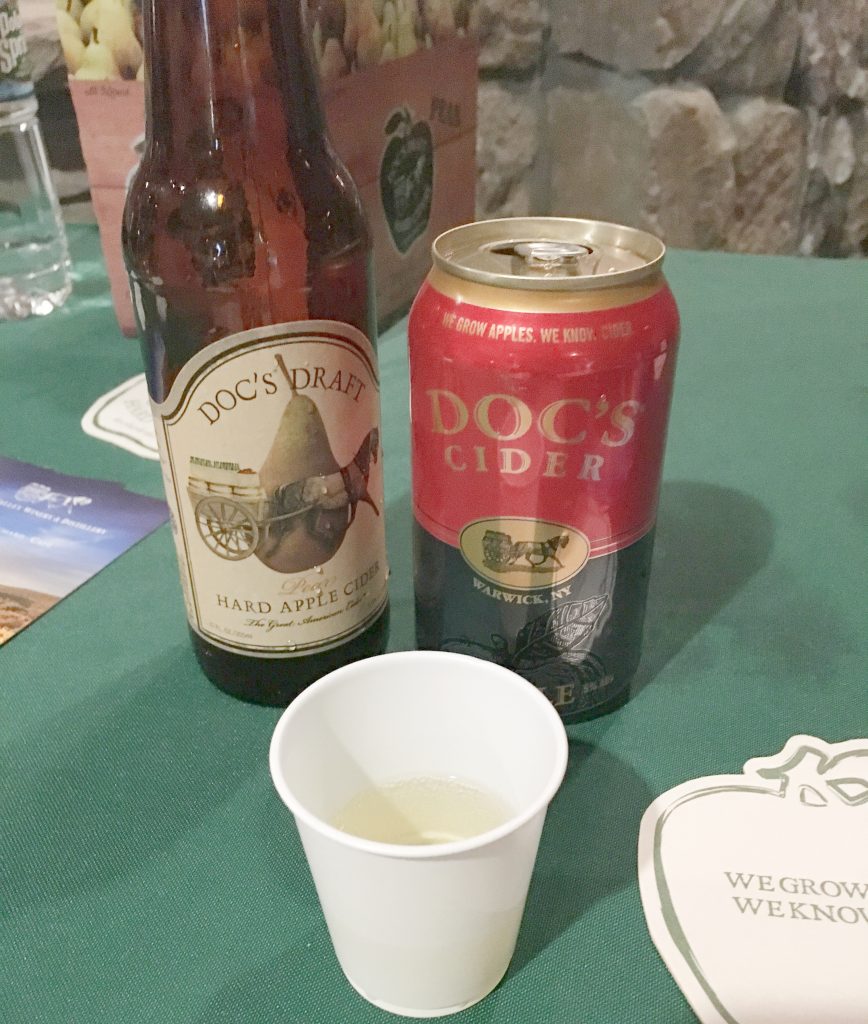 I stopped by the Apple & Hard Cider Sampling while my husband and kids stayed at the biosphere.  Warwick Valley Winery and Black Dirt Distillery is located in Warwick, NY, an approximately 25 minute drive from the resort.  A representative from the winery shared samples of their rose, original apple and pear ciders.  I especially enjoyed the apple and pear ciders, as I prefer sweeter ciders.  Warwick is a beautiful town and I hope to visit the winery and distillery soon.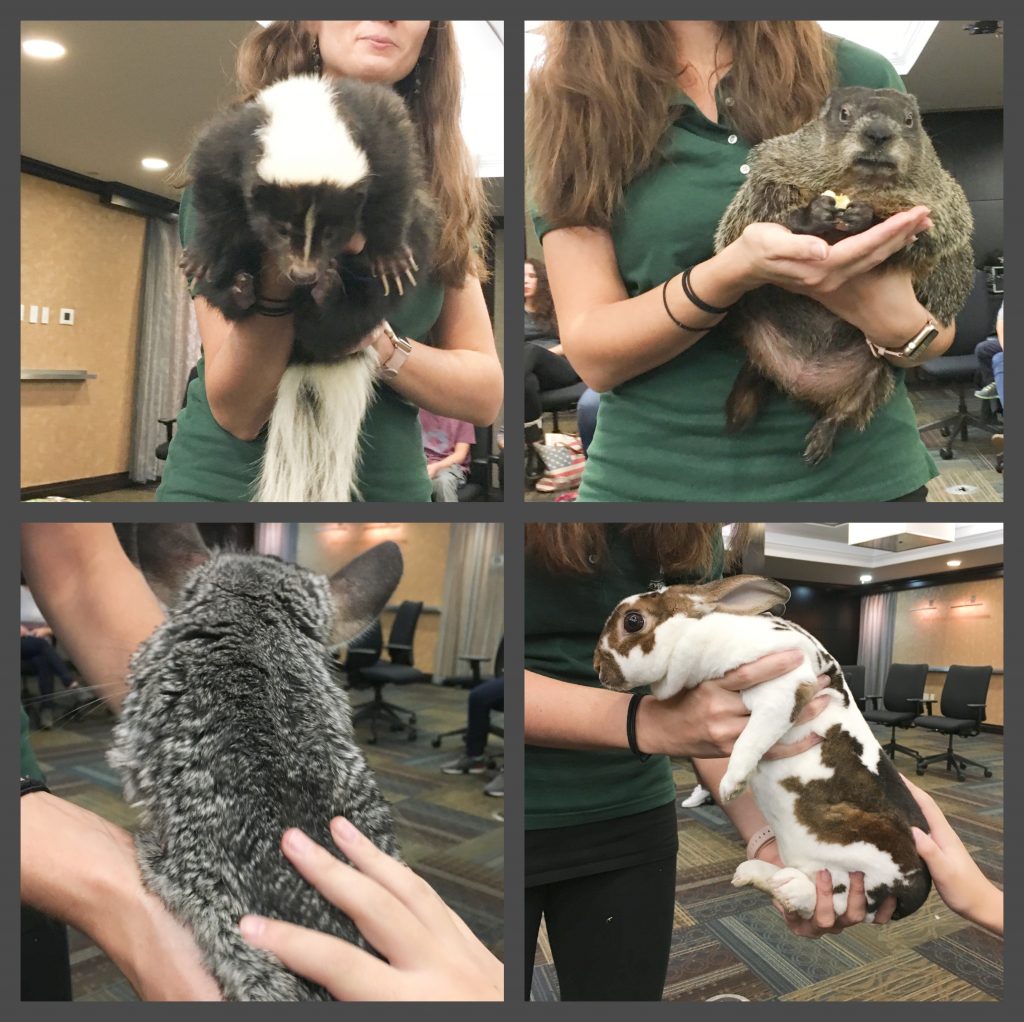 The kids took a break from the biosphere pool for the live animal show with Wallaby Tales.  This free show brings exotic and abandoned animals to the public.  The show was informative and we had such a great time petting Milkshake (the rabbit) and the chinchilla.  It was fun to watch Phyllis the groundhog eating a banana and discovered skunks are really cute when seen up-close.
Both Grand Cascades Lodge and Minerals Hotel have spas.  There's a small 24-hour fitness center on the first floor with treadmills, ellipticals and other exercise equipment.  During our visit, I was suffering from some minor neck and shoulder pain, otherwise I would have participated in the Sunday morning yoga.
It's important to note is that meals are not included in your stay.  However, there are several varied dining options at the two resorts.  My husband and I would have loved to dine at Restaurant Latour, the award-winning fine dining restaurant. With our kids in tow, this sadly wasn't really an option for us.  We visited Kites Restaurant, located at the Minerals Hotel, for breakfast Saturday morning.  Although a shuttle between resorts is available, we opted to drive.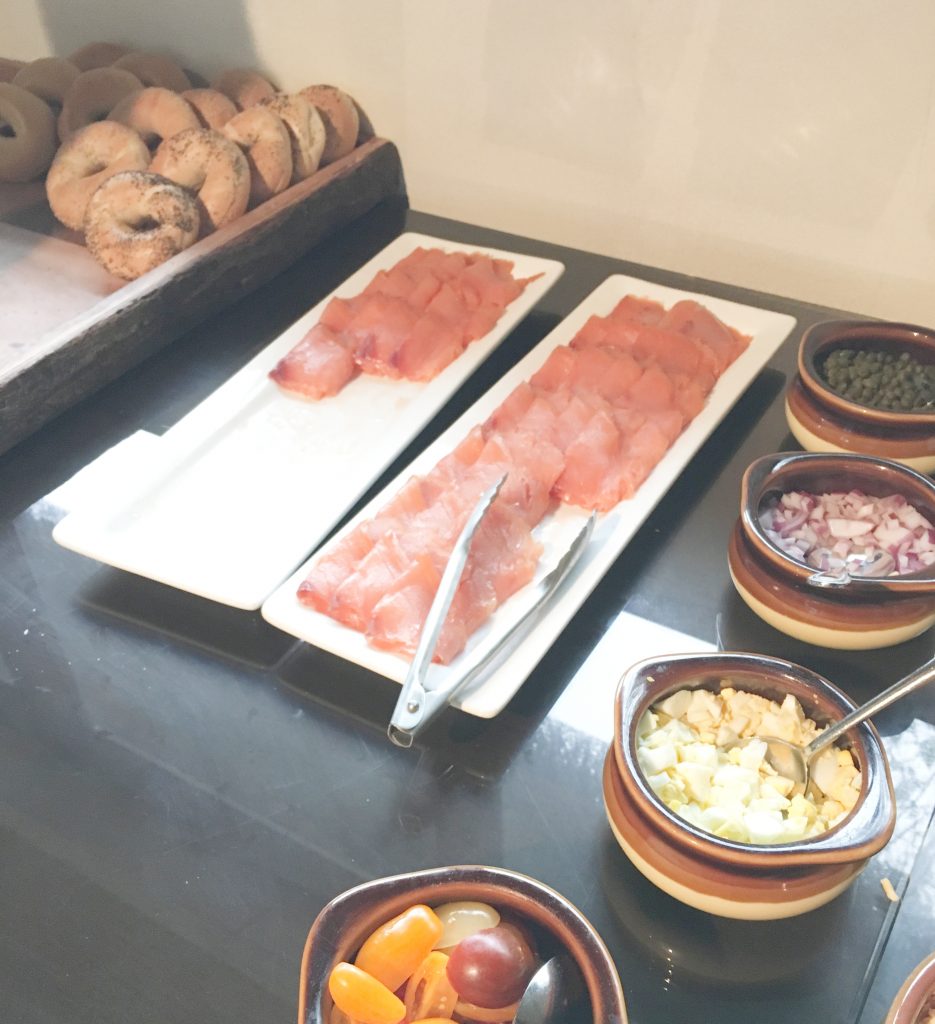 I believe I've mentioned how much my kids love breakfast!  Kites has a breakfast buffet, priced at $19.95 for adults and $9.95 for kids.  The buffet included the usual scrambled eggs, bacon, sausage, pancakes and cereal.  Our favorites were the bagel and lox station and the pastries.  I overheard the hostess mention to another guest that they can make omelettes, but there was not a station and this was not otherwise stated anywhere.  As far as breakfast buffets go, this one was average but we left full and ready for a day of fun.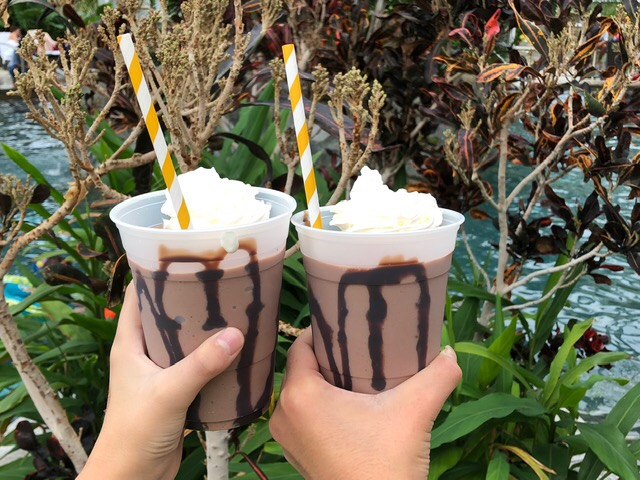 After breakfast we called to make dinner reservations at Crystal Tavern.  The only time available was 5:30 PM.  Since we ate breakfast so late, we opted to skip lunch and instead treated the kids to a Chocolate, Raspberry, Banana Gelato  Shake from the Biosphere Cafe.  This little cafe is located adjacent to the Biosphere pool and serves salads and sandwiches, in addition to scoops of gelato, shakes, smoothies and more. The staff members went above and beyond when my husband mentioned the kids were sharing the one shake. They split the shake in two cups, each with chocolate sauce, whipped cream and a striped paper straw!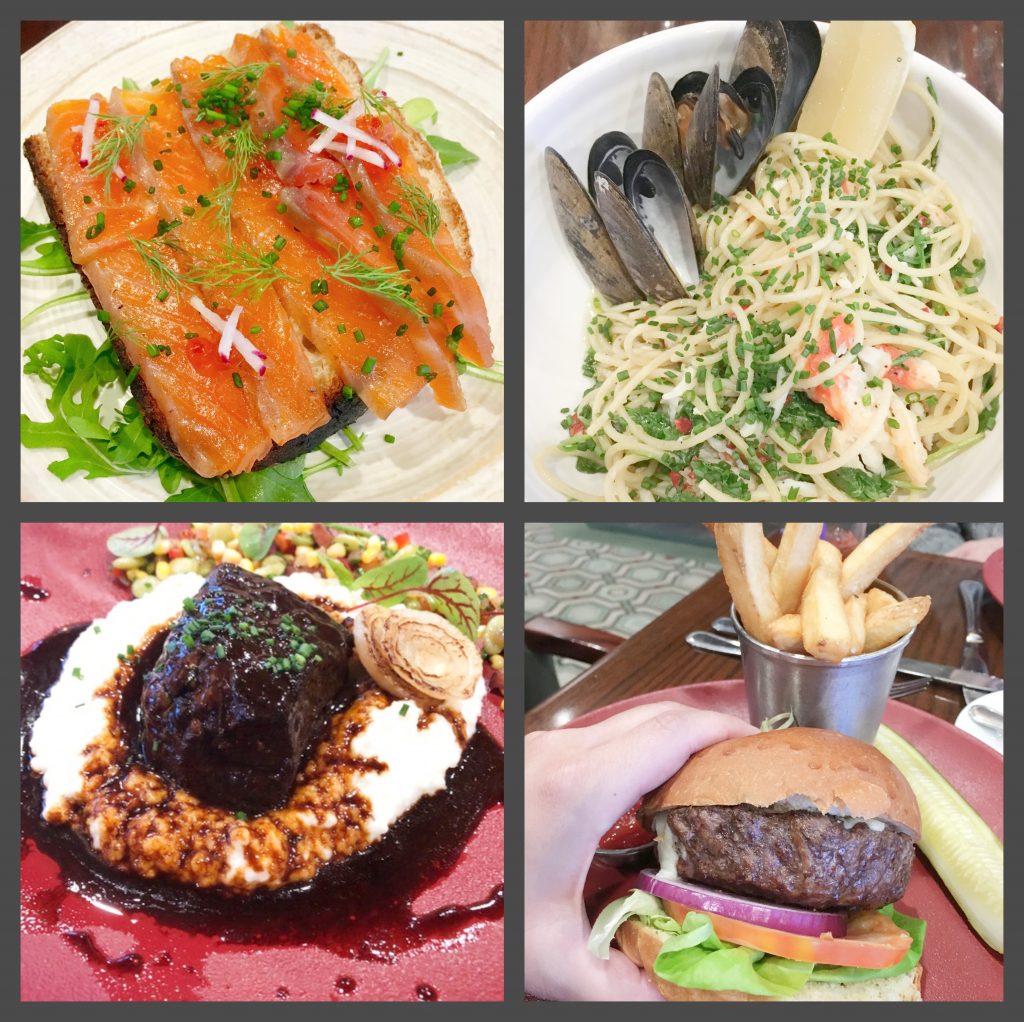 We ate dinner at Crystal Tavern, located in the clubhouse at the Grand Cascades Lodge.  This family-friendly restaurant serves breakfast, lunch and dinner and offers children's menus.  My kids opted not to order off the kid's menu.  Instead, my son ordered the Smoked Salmon Toast ($12) which is an adult appetizer, but he had it for his main and my daughter had the CSR Burger with cheese ($19 +$2 cheese).  It's a gigantic burger and was tasty but we opted not to add a fried egg for $4.  I enjoyed the Seafood Pasta ($28) and my husband had the Short Rib of Beef with manchego grits and garden succotash ($34).  Everything was delicious.
After our dinner, we headed back to the biosphere for movie night at the pool.  The kids watched a bit of Ice Age 2 from the pool (and I from the hot tub) and they also went back in the outdoor pool.  We finally headed back to the room to call it a night.
If you are looking for a relaxing, fun-filled weekend, Crystal Springs Resort is perfect.  It's a great get-away for both families and couples, with enough activities to keep everyone entertained.   Even better, it's only a short drive from Westchester County.
The Details:
crystalgolfresort.com
Crystal Springs Resort
Grand Cascades Lodge
3 Wild Turkey Way
Hamburg, NJ 07419
Minerals Hotel
1 Stonehill Drive
Vernon, NJ 07462
Tips:
*Check out their site, as they are always offering specials and packages.
*If you are in a suite and want to save some money, there is a fully stocked kitchen with dishes, cookware and even a block of knives.  You can bring food with you and cook in the kitchen of your suite.