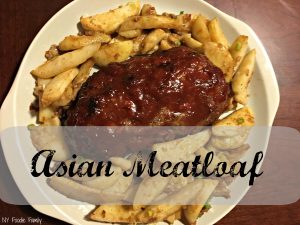 As much as I enjoy cooking dinner each night for the family, I usually want something quick and easy.  So, I'm warning you right now, if you are looking for quick and easy, this is not the recipe for you.  Unfortunately, meatloaf needs to cook for awhile.  But this recipe is really tasty!  So I recommend either prepping the meatloaf the night before, so its ready to just cook in the oven.  Another option is to either make this recipe in muffin tins or form into burgers, to cut down on cooking time.  I plan on trying out both of these alternatives soon since this recipe is so tasty!
This is the chili garlic sauce that I used on the sauce.  We buy this at HMart but I'm sure it's available at most Asian grocery stores.  I served the meatloaf with roasted potato wedges.
Asian Meatloaf
Prep Time:  20 minutes
Cook Time:  1 hour
Ingredients:
Cooking spray
1/2 cup panko breadcrumbs
3 Tbsp milk
1 1/4 pounds ground meatloaf mix
1/4 cup sliced scallions
1/4 cup soy sauce
1/4 cup hoisin sauce
4 ounce can drained, chopped water chesnuts
1 clove garlic, minced
1/2 tsp salt
1/4 tsp pepper
1/4 cup ketchup
1 tablespoon brown sugar
2 tsp chili garlic sauce
Directions:
Preheat oven to 400 degrees F. Line a baking sheet with aluminum foil and coat with cooking spray. In a small bowl, combine the panko breadcrumbs with the milk and let sit for 5 minutes.
In a large bowl, mix the panko crumbs, ground meat, scallions, soy sauce, hoisin sauce, water chestnuts, garlic, salt and pepper. Once it is well mixed, shape into a 5-by-8-inch oval on the baking sheet.
In a small bowl, stir together the ketchup, brown sugar and chili garlic sauce.  Spread half of the mixture over the meatloaf, spreading to cover. Bake  in the preheated oven for one hour, or until a thermometer inserted into the center reads 165 degrees F.  Halfway through cooking, brush remaining glaze on the meatloaf and continue cooking. Let rest for 10 minutes before slicing.
Adapted from Every Day with Rachael Ray.