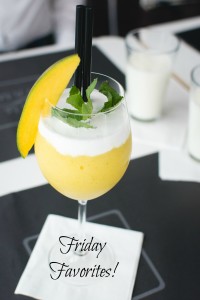 Happy Friday!  Unfortunately, this week I wasn't feeling the greatest and even had to miss a day of work.  I'm feeling much better today and am looking forward to a relaxing weekend!  Here are some of the highlights of this week, which seem to be almost all food related!
1.  Outlet Shopping – Sunday we took a trip up to Woodbury Common outlets to do a little shopping.  We hadn't been in awhile and they have and are in the midst of renovating the place.  We had never been to the Calvin Klein clearance store before, but everything in the store was 75% off!  The Weekend Chef scored a suit for $140!!  And I was happy to find that a Chipotle was now in the new food court!  While shopping is not the kids' favorite, they did enjoy a Pinkberry fro yo treat!
2. Our daughter's gym show – Each year, the kids' school has a 3rd and 4th grade gym show.  For the past two months she's been dropped off at school an hour early, two day a week,  to practice for this show.  Wednesday night we got to see her perform in the dance production and the circus arts production.  She had so much fun and we are so proud of her!
3.  Celebrating the Weekend Chef's birthday – My amazing husband turned 39 Thursday!  We celebrated with a steak dinner and at his request, homemade chocolate chip cookie bars.
4.  Favorite bookmarked recipe of the week – This Slow Cooker Chicken Marsala Stew from Cooking and Beer.  I am always on the lookout for new slow cooker recipes and I love chicken marsala!
5. Pizza Themed Supper Club – Saturday night we had our monthly supper club.  This month's theme was pizza.  One of our members made homemade pizza dough for everyone and we all assembled and cooked our pizzas at the hosting couple's house.  I made a Kimchi Chicken Bulgogi pizza and the Weekend Chef made a New Haven Style white pizza with clams and garlic.  That night we also had BBQ Chicken Pizza, Deep Dish Taco pizza, a  pizza with Butternut Squash, Brussels Sprouts, Pomegranate and Bacon, as well as a chocolate dessert pizza made with a chocolate dough! Needless to say, even eating only half slices, I was super stuffed by the end of the night.  But so worth it!
ICYMI this week on the blog:
Monday  we posted our weekly meal plan.
Tuesday we posted How to Teach Kids About Money?
Wednesday we posted an update on the Weekend Chef's diet.
Thursday we posted a review of some children's Thanksgiving picture books.
We are linking up with Tif @ Bright on a Budget, Amanda from Meet @ The Barre and Andrea from Momfessionals.  Have a great weekend!