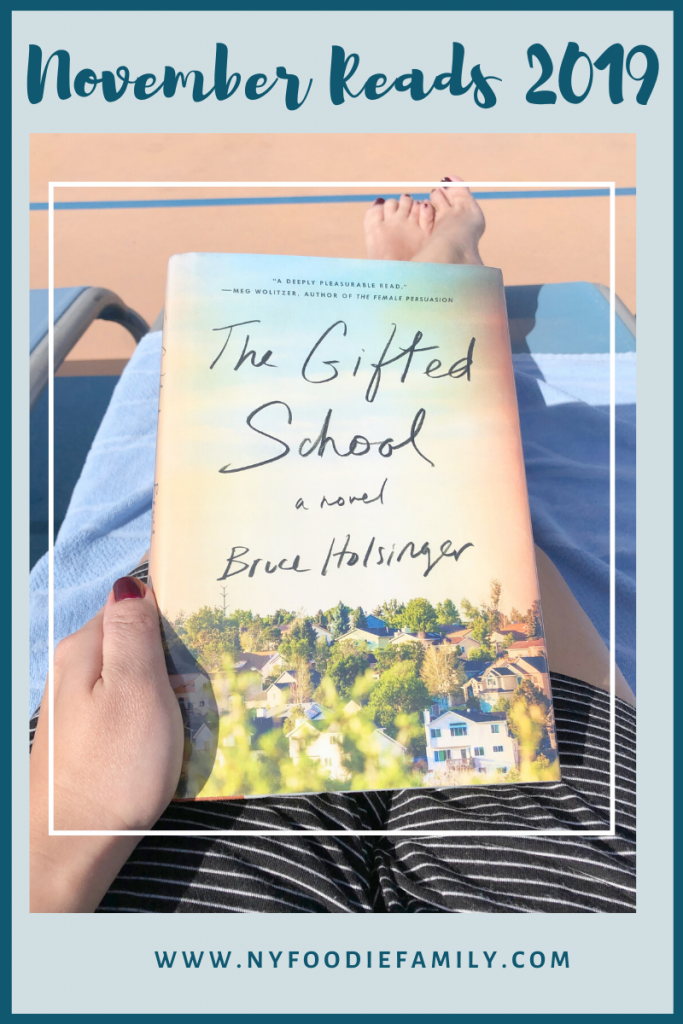 It's December and I'm currently all about the holiday themed reads! But today, I'm sharing my November reads with Steph and Jana's monthly book link up. I've been averaging 4-5 books a month and last month was no different, with five books read. Here are my November reads from least to most liked:
3 stars:

The Gifted School by Bruce Holsinger – This book revolves around four families that are great friends. They all have children in the 5th grade and met when the kids were babies. When a new public charter gifted school, Crystal Academy, plans to open, the parents end up going to extreme measures to try to get their kids into the middle school. The book is told from the perspectives of different characters in the story. It has been compared to Big Little Lies, which I really liked. Overall, I found this to be a decent contemporary fiction read and rate it more of a 3.5, if half stars were available on goodreads.
Little White Lies by Jennifer Lynn Barnes – Sawyer Taft's estranged grandmother shows up at her door with an interesting proposition. Sawyer has to participate in debutante season and in exchange she will get a six figure award. Sawyer is immersed in an unfamiliar world of wealth and parties. As she upholds her end of the deal, she is also able to investigate her unknown birth father's identity. This was a fun YA book that's been compared to Pretty Little Liars.

Royal Holiday by Jasmine Guillory – Vivian Forest is accompanying her daughter on a work trip and is visiting England for the first time. On her first day there she meets Malcolm Hudson. He ends up showing her around the area and of course, a romance begins. But this is a vacation…..can/will they do a long distance relationship? I didn't realize that this was the fourth book in a series, so it can be read without reading the others. I enjoy a good contemporary romance, but this was just an okay read for me. I found it very predictable and a little cheesy. This was my first book by Guillory, and I think I'll pass on her others.

4 stars:

The Orphan's Tale by Pam Jenoff – This book tells the story of two women, Noa and Astrid, who are trapeze artists in a traveling circus during WWII. This historical fiction book was last month's read for my in-person book club and we all enjoyed it. I enjoy reading historical fiction, especially books about WWII. I enjoyed this book's unique perspective of the time period, as I didn't even realize that there were traveling circuses during this time. Definitely a book that you need to be in the right mind frame to read, but in my opinion, worth the time.

Something Like Happy by Eva Woods – Annie feels stuck in her miserable life. Then she meets Polly who is terminally ill, but living her 100 Days of Happy Challenge. She ends up recruiting Annie, which has drastic changes on both of their lives. Although not everyone may enjoy this book, I think there are takeaways that we can all use. This book is a good reminder to embrace life and live with no regrets.