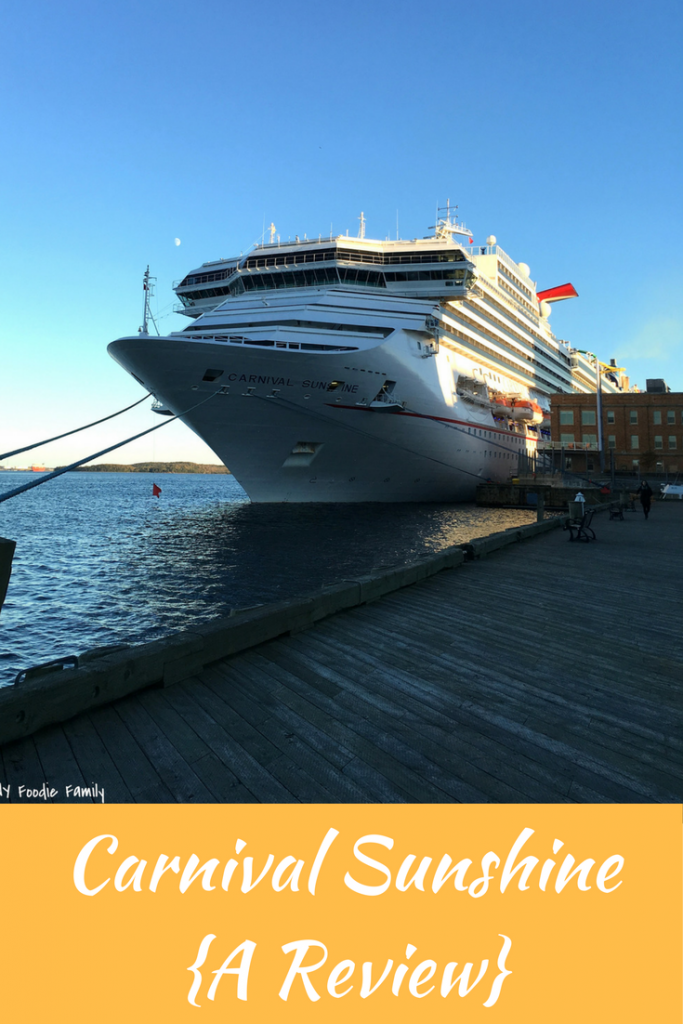 Overview:
The Carnival Sunshine was previously the Carnival Destiny.  In April 2013 the Destiny underwent an $155 million renovation and was renamed the Sunshine.  The ship weighs 102,853 tons and carries 3,006 passengers.  There are over 1,040 crew members coming from over 50 different countries.  The ship currently departs from Charleston, SC, New York, NY, Norfolk, VA and Port Canaveral, FL and cruises to the Bahamas, Bermuda, Canada/New England and the Caribbean.
Review:
Last week, my family cruised on the Carnival Sunshine out of New York City. We traveled to St. John and Halifax on a five night cruise.  My husband and I had previously cruised on the Carnival Fantasy almost eight years ago.  This was the kids' second cruise, but first time on a Carnival boat.  We drove into the city and parked at the terminal for $40/day.  The check-in process was smooth, but very slow.  Arriving at the port, checking in and finally boarding the ship took over two hours.
Once onboard we visited our stateroom.  We chose an inside cabin that slept four.  We were surprised to see that the kids' beds were directly above us!  They loved sleeping in an "upper bunk."  However, the setup of the room made the room feel especially small.  Space on a cruise ship is at a premium and cruise ship rooms in general are not very roomy.  This isn't usually a big deal for us, as we tend to just use our room for sleeping and changing.
This was our first time cruising to Canada.  The weather was a bit chilly and since we were heading north to even colder weather, we knew this was not going to be the kind of trip where you lay out at the pool.  However, we were surprised to discover that the main pool on the ship is heated.  My son took advantage of this on both sea days.  My daughter wasn't feeling well and she agreed she shouldn't swim with the weather being so cool.
Each evening on the boat we received the FunTimes which provides an activity, music and dining schedule for the next day.  This was helpful in planning our days on the ship.  Carnival Cruise Lines has a reputation of being the "fun and party" cruise line.  However, unless you like trivia or Bingo, we found the indoor planned activities onboard tended to be limited.  This was especially noticeable on our first fun day at sea when the weather was cold and rainy.
Granted, if the weather was warmer, we would spend the majority of our time outside.  The Sunshine has a WaterWorks area with three water slides.  However, they are not heated!
Up on the SportsSquare our family played miniature golf and also completed the SkyCourse, part of which is pictured above.  I was surprised at how well the kids did completing the course and how scared I was!  But we all finished it and my husband and kids even did it a second time on our trip.
There is also a basketball court, foosball tables, pool tables, shuffleboard and a giant Twister game board and Checkers board on the deck.  A jogging track circles the SportsSquare as well.
Carnival Sunshine has Camp Carnival, a kid's club for children ages 2-11.  Groups are normally broken down by ages (2-5), (6-8) and (9-11).  Because of the low number of children registered during our trip, they combined sections and had one large (6-11) group.  However, our kids didn't participate in many of the Camp Carnival scheduled activities, opting to spend time doing things with me and my husband.  Even though the camp is open until 10 PM at night free of charge, we only made use of this one evening so my husband and I could go see the Love and Marriage Show!  Otherwise, the kids came with us to the evening shows.  Late night babysitting is available until 1 AM for a $6.75 per hour fee, though we didn't make use of this service.  One of our favorite  Camp Carnival activities was a family digital scavenger hunt.  It was lots of fun!
My husband and I visited the gym once while onboard.  Cloud 9 Spa offers massages, facials and more at an additional cost, which we did not partake in.
A casino operates onboard when the cruise ship is at sea.  There are lots of different slot machines as well as tables.  There are also more than nine different bars on board the Carnival Sunshine.  Unfortunately, alcohol is not included in the price of a cruise.  Luckily, my husband and I are not big drinkers.  For those that do enjoy drinking, the ship offers CHEERS!, an all-inclusive beverage package that can be purchased.
Each evening there was plenty of entertainment.  Playlist Productions put on three different shows while we were onboard, with Epic Rock being my favorite.  There were also two different comedy shows, karaoke, the Love and Marriage Show as well as Hasbro Family Game Night.
The Carnival Sunshine has a shopping area known as the Fun Shops.  Here you can purchase clothing, souvenirs, liquor, jewelry, watches and more.  There's also Cherry on Top, a candy shop onboard. Next to the candy store is the 24 hour arcade.
And last, but not definitely not least, we need to discuss food.  The wonderful thing about cruising is that there is ALWAYS food available and most of it is included in the price of your trip.  The Carnival Sunshine has several dining options.
There are two assigned dining times in the main dining room for dinner at 6 PM and 8:15 PM.  However, for those cruisers who don't want to be tied down to a set dining time, Carnival also offers My Time Dining.  When we booked our cruise we were assigned to the 8:00 PM dining time.  However, with two children who are normally in bed at 8 PM on a school night, I didn't want us eating that late.  The first evening we were able to dine during the 6 PM seating and by the next morning the maitre'd we spoke with had assigned us to the My Time Dining.  This dining program allows you to check-in at the desk anytime between 5:15 and 9:45 PM and be seated within 15 minutes in the dining room.
Each day that night's dining menu was available to peruse outside the dining rooms.  If a three course, sit-down dinner is not your thing, the Lido Restaurant offers a buffet for all meals.  The Carnival Sunshine also has Cucina del Capitano (Italian), JiJi Asian Kitchen (Asian), Fahrenheit 555 Steakhouse and Bonsai Sushi restaurants which require an additional cost to dine.
Our family found that the BlueIguana Cantina and celebrity chef Guy Fieri's Guy's Burger Joint offered some of the tastiest food on the ship.  The BlueIguana Cantina had made-to-order breakfast burritos as well as tacos and burritos during lunch hours.  Guy's Burger Joint, available for lunch/early dinner offered a selection of burgers served with fries.
There is a 24 hour Swirls frozen yogurt and soft-serve station.  For an additional cost JavaBlue Café offers coffee and pastries and the Shake Spot sells all kind of shakes, including some "grown-up" shakes that contain alcohol.
Overall, we found the food on the Sunshine to be just okay.  There is plenty of food available in terms of quantity on the ship, however the taste and quality weren't impressive.
Our family had a great time on the Carnival Sunshine.  A vacation where this mom didn't have to worry about the cooking and cleaning is a good one!  Unfortunately, we didn't have control over the weather, which wasn't great for a majority of our trip.  While what we saw of St. John and Halifax was beautiful and when we cruise again, it will be to a warm location!