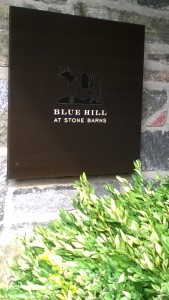 We were fortunate to dine at this year's winner of the James Beard Award for Outstanding Restaurant. Hosted this past week in Chicago, the James Beard Awards are like the Academy Awards for the food world. Blue Hill at Stone Barns had been on our food bucket list for years. Price-wise, this is a special occasion meal to be sure.  We thought our eleventh wedding anniversary was worthy of such a trip!  Taking the economic hit to one's pocket out of the equation, we would go monthly since the experience and menu changes almost non-stop. The restaurant is located on the farm at Pocantico Hills, NY.  As you drive to get to the restaurant you pass the fields and animals that your food is coming from.  Blue Hill is a farm-to-table restaurant and whenever an ingredient is at its peak, that's when it's put on the menu. There is no menu, so-to-speak, to order from.  Instead, diners are greeted with a field guide of sorts that outlines the monthly calendar of those ingredients, from summer tomatoes to winter preserves that are in season.  You are also provided with details of what is going on at the farm year-round: harvesting, pickling, canning, planting, etc. Chef Dan Barber and his staff then create a tasting menu incorporating those ingredients.   We were there just at the cusp of warm weather in the first week of April. The winter was exhausting this year and the menu reflected a larger percentage of winter versus springtime ingredients. Chef Barber and his team don't fight the seasons, they embrace the availability as nature provides.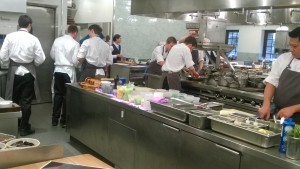 We lost count of how many courses our 3.5 hour meal consisted of.  The deconstructed salad course, consisted of three different plates.  We didn't get utensils until at least the third or fourth plate in.  Since April's theme was "grazing, pecking, rooting" we were encouraged to eat with our fingers.  One perfect mussel sitting on a bed of mussel shells, a piece of dried moss flaked with dried venison, smoked fish on a piece of wood….the dishes sound simple, but had layers of flavors and ingredients.  The simplicity was found in the presentation, where the food was plated on interesting dishes but without a lot of garnish.  Some of our favorite dishes were the kohlrabi tacos with all of the accoutrements as well as our special field trip to the kitchen where we sampled bread made from specially designed wheat with homemade ricotta cheese made from the milk of the cows on the farm.  By the dessert courses, the Mrs. was so stuffed that she had tastes of everything but couldn't eat it all!
For wine lovers, the restaurant has an extensive wine list.  There was a nice selection of seasonal cocktails and the bartender even created non-alcoholic cocktails for the Mrs. based on her taste preferences.  Blue Hill offers a wine pairing to go with the menu as well as a non-alcoholic cocktail pairing if you so choose, for an additional fee.
Blue Hill at Stone Barns is not only within the confines of a functional farm, but there is also an educational center on the expansive property. Dan Barber has an ongoing quest to innovate and educate and that is evident during service. We were given lessons by our captain about the ingredients, cooking and preserving processes and historical context for several of our courses. Although we are both eager to learn, it was challenging sometimes to pay attention while anticipating the next course, knowing it will be more than fantastic.
And we can't not mention the impeccable service.  While we were on our "field trip" to the kitchen our table was set with a new tablecloth and napkins.  Crumbs  were wiped away, dishes were taken away and water was refilled as unobtrusively as possible. On our way out, our car was waiting for us with the engine running and the lights on.
When you dine at Blue Hill you are not having dinner, you are having a dining experience.  And if you are like us, after you have dined once, you will be counting down the days until you are able to go back and experience it all again!