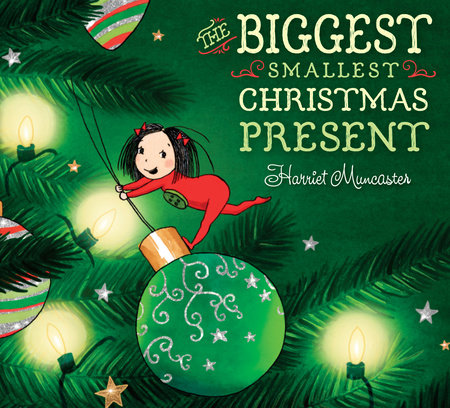 The Biggest Smallest Christmas Present by Harriet Muncaster
Illustrated by: Harriet Muncaster
Published by: G.P. Putnam's Sons (an imprint of Penguin RandomHouse), October 18, 2016
Genre:  Children's Picture Books, Christmas
Pages: 32
Price: $16.99
Source:  borrowed from the library
From Penguin RandomHouse:
The Night Before Christmas meets Thumbelina in a toy-filled tale that celebrates the excitement and magic of the holiday season.
Clementine is a teeny-tiny girl who lives with her average-sized family. It's mostly fun being the smallest, but Christmas can be tricky. Santa brings beautiful toys, but they are too big for this little girl.
Every year, Clementine tries to tell Santa she's small. But the cookies she ices with a message to Santa are eaten, and the words she stamps out on the roof are covered by fresh snow. It'll take a whole lot of Christmas spirit for Clementine to find the right way to reach Santa—and when she does, she just might get the toy of her dreams!
Harriet Muncaster's whimsical illustrations shine in this celebration of creativity, gratitude, and the magic of Christmas.
Review: Clementine is the smallest girl in the world.  She enjoys being tiny, but not at Christmas when Santa delivers toys that are way too big for her to enjoy.  Each Christmas, she tries to leave a message for Santa to  let him know about her size.  However, her attempts are unintentionally sabotaged and Santa never receives her notes.  This year, her family helps come up with a plan to get the message to Santa.  Will they be successful?
This book cover has glitter lettering and the story is accompanied with colorful illustrations that will appeal to readers.  Overall, this was a cute story.  Clementine doesn't seem  to be concerned about being different, except that she can't enjoy the presents, as intended, that Santa gives to her.  (She is pretty creative in having fun with them!) As an adult, the one question I have is how does Santa not know about Clementine's size?!!  He "sees you when you're sleeping…"  and he "knows if you've been good or bad…."  I read this to my eight year-old-son who didn't pick up on this.  Besides that concern, this was an enjoyable holiday read.
Overall Rating: Optional Read