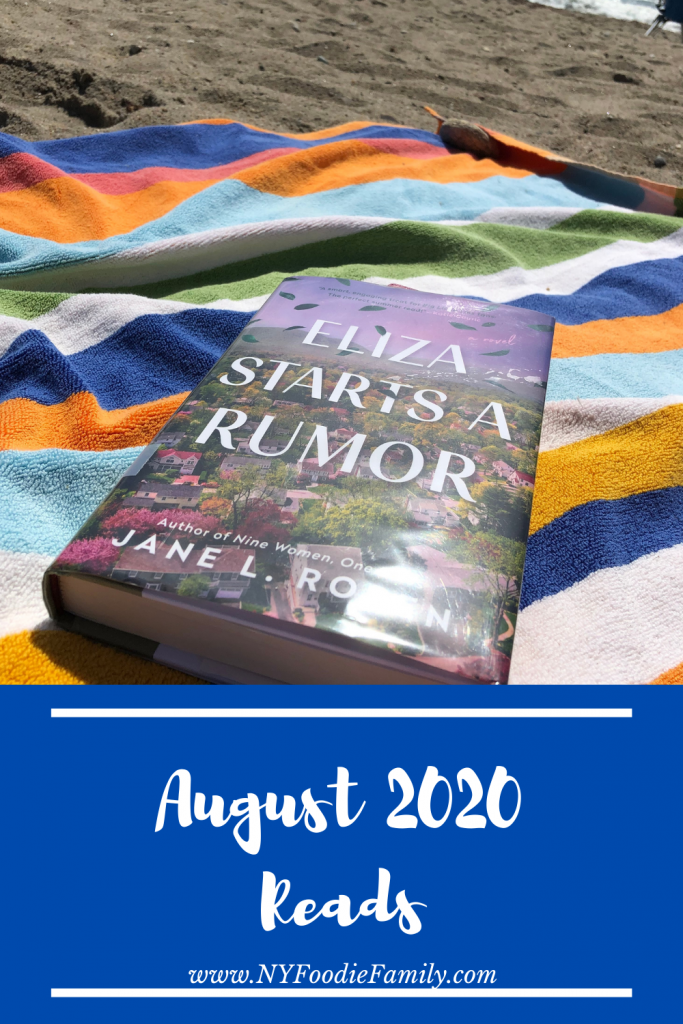 Summer is officially over and today is the first day of school for the kiddos. It's also Steph and Jana's monthly Show Us Your Books linkup. August was another great reading month for me. Out of the 10 books I read, they were all 4 star reads except for one! I'm not sure if I'm being more selective about which books I read, but I'm not going to complain. Here are my August 2020 Reads:

3 stars:

Good Girls Lie by J. T. Ellison – (suspense, December 2019) A student at an elite, all-girls boarding school in Virginia is found dead. Was it suicide or murder? I found this book so unbelievable, yet had to finish it to see what happened.
4 stars:

Always the Last to Know by Kristan Higgins – (Contemporary Fiction, June 2020) A couple are married for almost fifty years. The husband is bike riding when he gets hit by a car and ends up having a stroke. During this time the wife discovers a secret he's been keeping from her. Meanwhile their two adult daughters are facing struggles of their own. This book shows all the messiness and complications of family dynamics. This is only the second book that I've read by this author, but I have to read more of her stuff.


Eliza Starts a Rumor by Jane Rosen – (Contemporary Fiction, June 2020) An online moderator for a women's parenting forum starts a rumor after she learns of a rival online parenting group. Unfortunately, this rumor has major consequences for some women. I was interested in this book since it takes place in the Hudson Valley and I actually live in the Hudson Valley. I wasn't sure what to expect before reading this. But it was really enjoyable. The characters were all likable and there was a lot more depth and emotion to the book than I thought there would be.
A Good Marriage by Kimberly McCreight – (suspense, May 2020) Described as Big Little Lies meets Presumed Innocent. A lawyer gets a call from a college friend who is accused of murdering his wife. While she tries to help him, her own marriage is slowly falling apart. This was a fast paced thriller that had me guessing until the end.

The Guest List by Lucy Foley – (suspense/thriller, June 2020) The most perfectly planned wedding is taking place on a remote island off the coast of Ireland. Except nothing is turning out as the bride expected and then someone ends up dead. Although I didn't really like any of the characters the story itself kept me reading.
Pachinko by Min Jin Lee – (historical fiction, February 2017) In early 1900's Korea a young woman is impregnated by a wealthy man she falls in love with. But he's married with kids. A sick minister staying at her mother's boarding house offers to wed her and the two move to Japan. The story covers a span of over 50 years. I learned so much about Koreans living in Japan during this time period.


Pretty Things by Janelle Brown – (suspense, April 2020) Two young women get involved in a game of deceit. One a petty swindler has her eye on conning the other, a heiress and Instagram influencer. But of course, things don't go as planned. This was a good, suspense book and I read it's being turned into an Amazon series adaptation starring Nicole Kidman.

Spin the Dawn by Elizabeth Lim – (YA Fantasy, July 2019) This YA fantasy book is described as Project Runway meets Mulan. A teen girl who is an excellent tailor pretends to be a boy so she can compete to try to become a Royal Tailor to the Imperial Majesty. This is the first book in a series. My teen daughter read and enjoyed this so I gave it a try and liked it as well.


The Summer Cottage by Viola Shipman -(Contemporary Fiction, April 2019) A woman inherits her family's cottage. She leaves her cheating husband, quits her job and attempts to renovate the cottage into a bed and breakfast. This was a touching, light summer read. I've enjoyed all of Shipman's books that I've read.


The Young Elites by Marie Lu – (YA Fantasy, October 2014) Ten years ago a deadly blood fever left some teens with special powers. These "young elites" are targeted by the king to be destroyed before they destroy the country. One new elite just discovered her power but it may be too dark for even the Young Elites. This was a YA fantasy book that we've had sitting unread on our bookshelf for ages. I was surprised that I enjoyed it as much as I did. This is also the first book in a series.
You may also enjoy these posts: