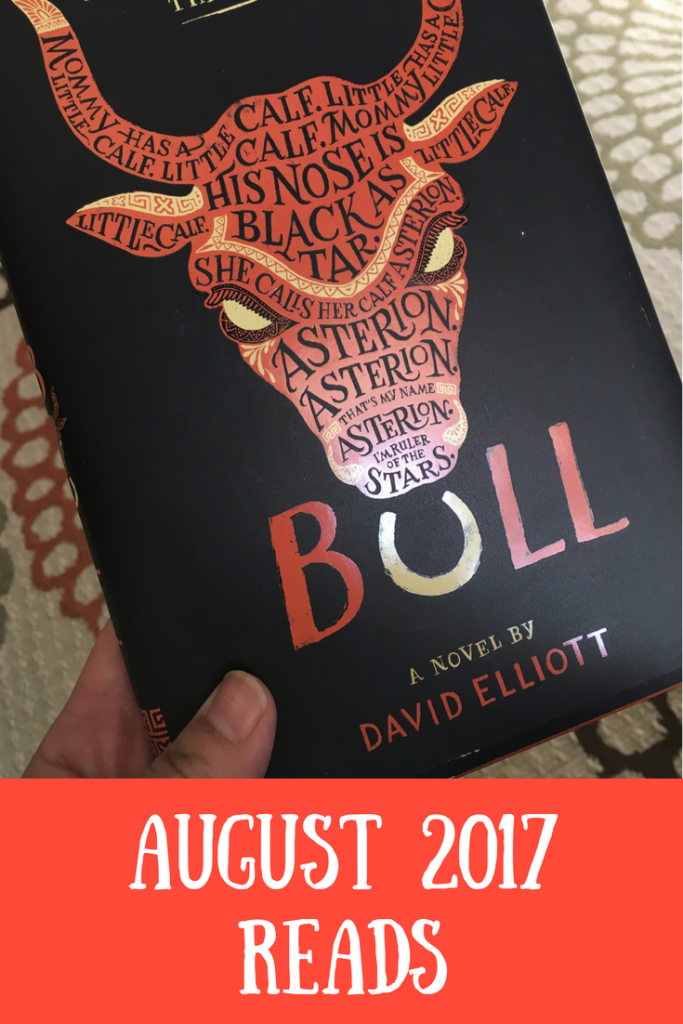 It's the second Tuesday of the month and I'm sharing my August 2017 reads in Steph and Jana's monthly Show Us Your Books linkup. I was traveling with the kids a lot in August and did not get in a lot of reading time.  I'm hoping next month turns out better in terms of both quantity and quality of books read.  There was only one book this month that I loved and the rest were all so-so reads.
3 Stars
Bull by David Elliott – This is a YA book told in poetic form.  It's a retelling of the Greek myth Theseus and the Minotaur.  I was unfamiliar with the original version and had to do a quick Wikapedia search to catch me up.  I found the language in this book to be a bit much for a YA book but enjoyed the writing style.  The author even used a different poetic form for each character.  So, if you're into Greek mythology or books in poetic form are your thing than give it a go. I read and reviewed this book for Kiss the Book where you can find my full review.
The Crush by Sandra Brown – As jury forewoman, after delivering a not guilty verdict during contract killer Ricky Lozada's trial, Dr. Rennie Newton becomes the object of his affection.  Soon after Dr. Newton's co-worker is brutally murdered and Lozada is a suspect……along with Dr. Newton.  As Detective Oren Wesley works the case, he calls in his friend and ex-partner Wick Threadgill, who has personal reasons for Lozada's capture. I've owned this book forever and it was on my summer reading list. It's been awhile since I've read Sandra Brown.  Her books have been either hit or miss with me.  This one was a so-so romantic suspense read.
Emma In the Night by Wendy Walker – (c/o Netgalley) – Three years ago, fifteen-year-old Cass and seventeen-year-old Emma disappear.  But Cass has returned without her sister and tells a crazy kidnapping tale.  Normally I like a good suspense book.  However, I found this to be a pretty unrealistic story with manipulative, psychotic characters. I read Walker's previous book All is Not Forgotten and enjoyed that one a lot more.
One Summer by David Baldacci – Jack is terminally ill and does not have much time left to live.  One night when his wife, Lizzie goes out to get him his medicine she ends up dying in car accident.  Their three kids are separated and sent to live with family members in different parts of the country.  Living out his last days alone in a hospice facility, a miracle happens and Jack somehow makes a full recovery.  He reunites his family at Lizzie's childhood home in South Carolina, hoping to rebuild his family.  This book was off my own bookshelf and also part of my summer reading list.  Baldacci is an author known for his mystery thrillers, none of which I have read.  While the book reminded me of Nicholas Sparks and the romance/love stories by James Patterson, I didn't enjoy it as much as I thought I would.
Something Like Family by Heather Burch – (c/o Netgalley)  Tuck hires a private investigator to find his grandson, Rave. When he's found in a small town working as a waiter, Rave agrees to meet Tuck, the grandfather he didn't know he had.  Abandoned by his drug addict mother, Rave has never really known what it's like to have family.  He ends up creating a life with Tuck and learns a lot from his grandfather.  This is the first Netgalley book that I've read for review. While I enjoy a good family drama, it felt at times like I was reading a Christian fiction book.  This was another so-so read for me.
The View From Penthouse B by Elinor Lipman – Sisters Margot and Gwen are living in Penthouse B at the Batavia. Gwen is a widow of two years and Margot's husband is in prison.  After Margot lost all her money in Madoff's Ponzi scheme, the two sisters decide to have gay, 20-something-year-old Anthony move in to help with the rent.  The three roommates become good friends as they try to help each other improve their lives.  This was my first Lipman novel and will probably be my last.  While Lipman is considered to be an author of "humorous novels" I didn't think this book was that funny.
5 Stars
Harry Potter and the Half-Blood Prince by J.K. Rowling – During our summer travel around New York state we finally finished listening to Harry Potter and the Half-Blood Prince on CD.  I had previously only ever read up to the Order of the Phoenix, so this was new to me.  Wow, did so much happen in this book!  Once we got home, we had to immediately get the last book on CD and start it.
What are you currently reading?