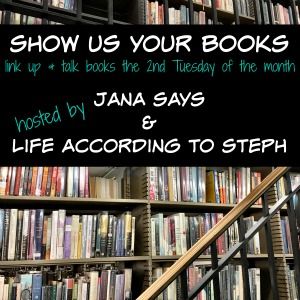 It's the second Tuesday of the month, which means that it's time for Steph and Jana's Show Us Your Books link up!  I love being able to showcase the books that I read this past month as well as get lots of book recommendations  to add to my already too long to read list!  April was a slow month of reading for me.   Like, only five books read slow.  Fortunately, they were almost all great reads!  I realize now that most of them dealt with death and grieving, which did not make for light reading.  In order from least to most liked, here are my April 2017 reads:
3 Stars:
The Crooked Sixpence (The Uncommoners #1) by Jennifer Bell – Imagine an underground world where ordinary objects have special powers.  This is where siblings Ivy and Seb find themselves after they escape from intruders who are looking for something in their grandmother's house.  Down in Lundinor the two must try to save their parents who have been kidnapped by producing the Great Uncommon Good.  This is a fantasy, middle-grade fiction read that is being dubbed "part Tim Burton, part J.K. Rowling."  While I wasn't a huge fan of this one myself, I think it may appeal to middle school readers who enjoy fantasy, adventure books.
4 Stars:
Behind Her Eyes by Sarah Pinborough –  Louise meets David at a bar one night and they kiss.  A couple of days later she discovers he's her new boss.  Soon after that Louise meets Adele and the two become quick friends.  But Adele is David's wife.  There's a twisted triangle of secrets that kept me interested in reading.  This was a quick, suspenseful read.  I debated between a 3 1/2 and 4 star rating but don't want to give spoilers as to my reasoning.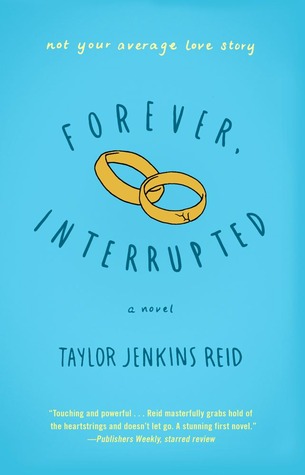 Forever, Interrupted by Taylor Jenkins Reid – Elsie is married to Ben less than 10 days, when he is killed in an accident.  Throughout their whirlwind romance of less than six months, she never met Ben's mother, Susan.  Susan actually never knew that Ben was married or that there was an Elsie.  Susan and Elsie get off to a rocky start as they come to terms with Ben's death.  The book is told in alternating chapters between the past and present.  Out of all the books about death that I read this month, this was the hardest for me to read.  I think Ben's young age and the unexpectedness of his death had me freaking myself out imagining myself in this situation.  I am now caught up on reading all of TJR's books and am looking forward to her new one coming out this summer!
I Liked My Life by Abby Fabiaschi – Maddy is a stay-at-home mom to 16 year-old Eve and wife to workaholic, Brady.  As the book begins we learn that Maddy committed suicide and is looking for a replacement for herself.  With no note or reasons why, Eve and Brady grieve and try to come to terms with Maddy's death.  I enjoyed that each chapter is told through Maddy (narrating from the beyond), Eve and Brady's perspectives, so you get to see all the characters' perspectives.
5 Stars: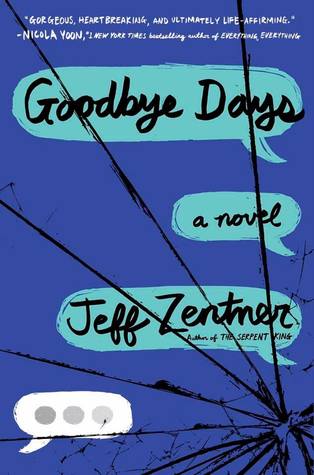 Goodbye Days by Jeff Zentner – Carver Brigg sends a text to his three best friends that might have been the cause of the texting and driving accident that kills them.  Filled with guilt, he then discovers that he may be facing criminal charges.  Feeling alone, he and his friend Eli's girlfriend Jesmyn become close as they grieve.  This was an emotional, YA read.  I think it sends an important message about the dangers of texting and driving.  I also love the concept of Goodbye Days.