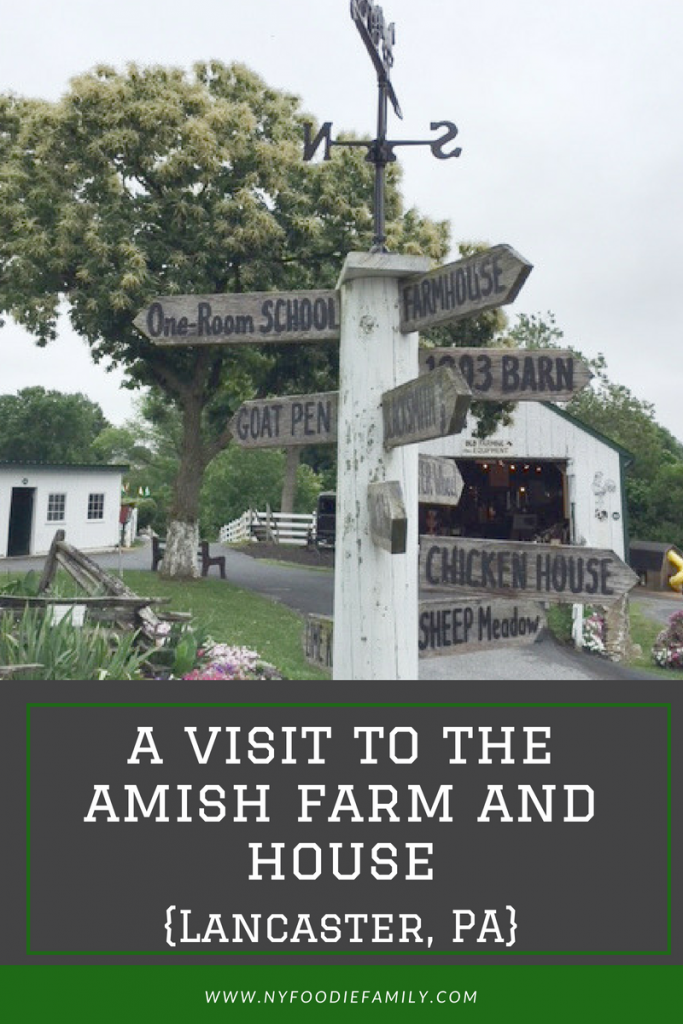 (Thank you to the Amish Farm and House for hosting NY Foodie Family.  As always, all opinions are our own.)
Lancaster County in Pennsylvania  is hard not to associate with the Amish.  And rightly so.  The Amish have had a presence in Lancaster since the 1720's.  The Amish Farm and House offers great ways to give kids an up close look at Amish culture in a relaxed and fun setting. In fact, this unique attraction was the first to offer an inside look at Amish life and essentially created the Lancaster tour industry in 1955.
Unfortunately, commercialization has infringed on the farm since that time, which now sits feet away from a Target store.  You enter the Amish Farm through the main entrance at the House.  Tours of the house are given every hour.  Although the tour guides are not Amish, many are Lancaster natives and are very knowledgeable on Amish culture. Our tour guide Susan was fantastic. She was so informative and I learned so much in the 40-minute tour.  The Amish live a very simple life, focused on family and community.  These values are reflected in the sights on the house tour as you visit the kitchen, bedrooms and a room set up to show what an Amish funeral might look like.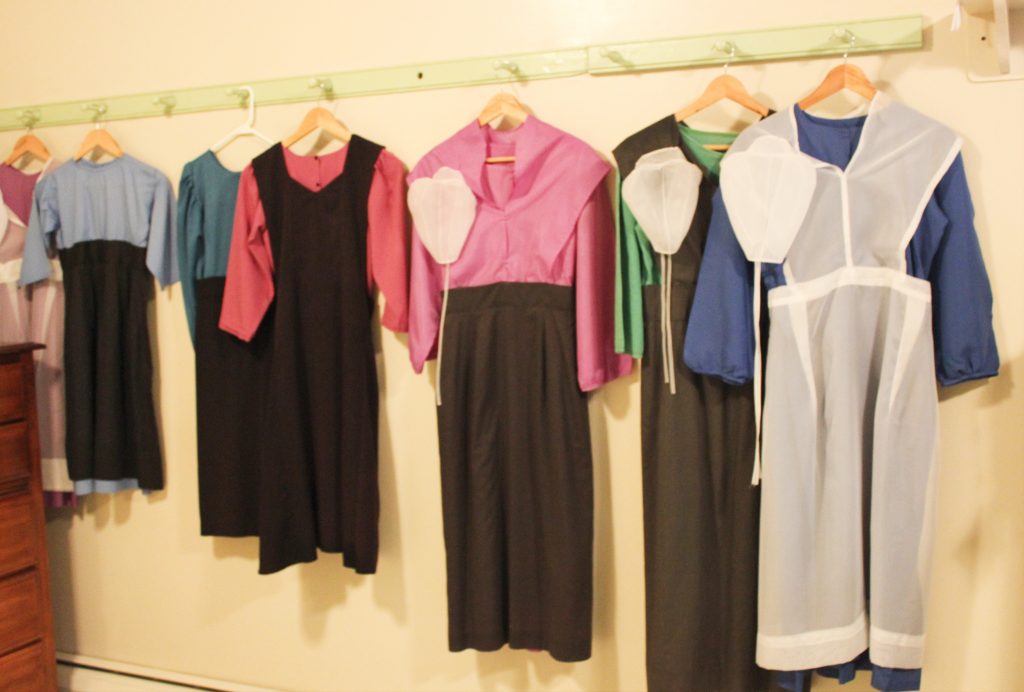 Both men and women wear solid-colored simple garments. Typically, the older you get, the less vibrant your clothes are.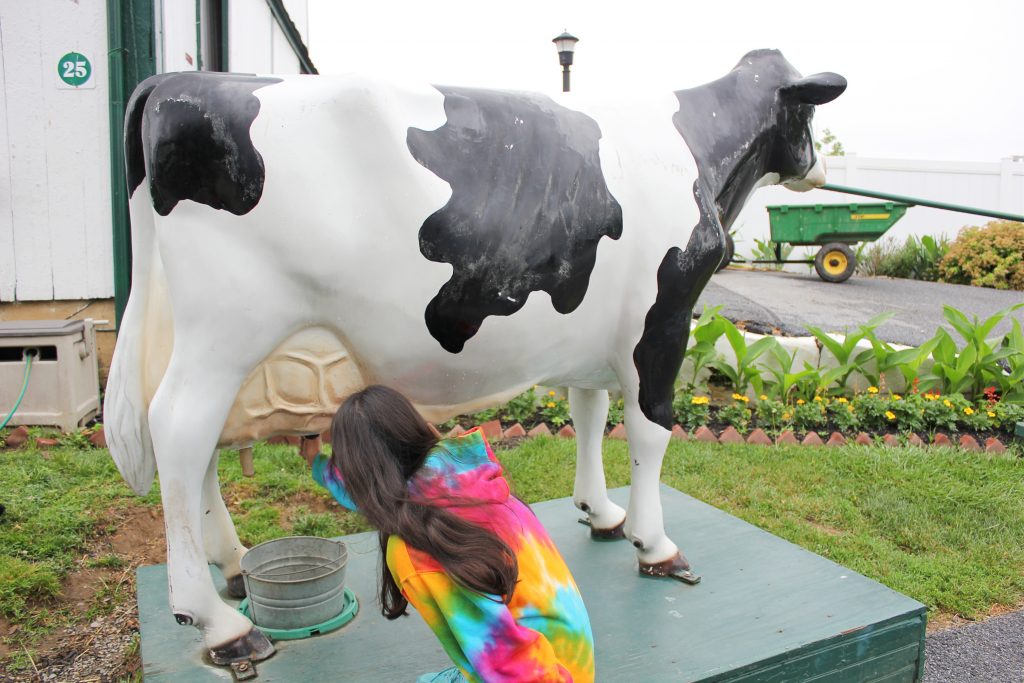 When we finished the House tour, we exited onto the farm. The farm is 15-acres and tours are self-guided.  A numbered map identifies all of the attractions on the farm.  There is so much to see and do, including milking a "cow" (see photo).  I have to be honest, the kids were not as interested in the House tour as me and my husband.  However, they loved the farm!  During the summer months, there are several resident artists including a blacksmith, woodcarver and farrier onsite who practice their craft and answer any questions visitors may have.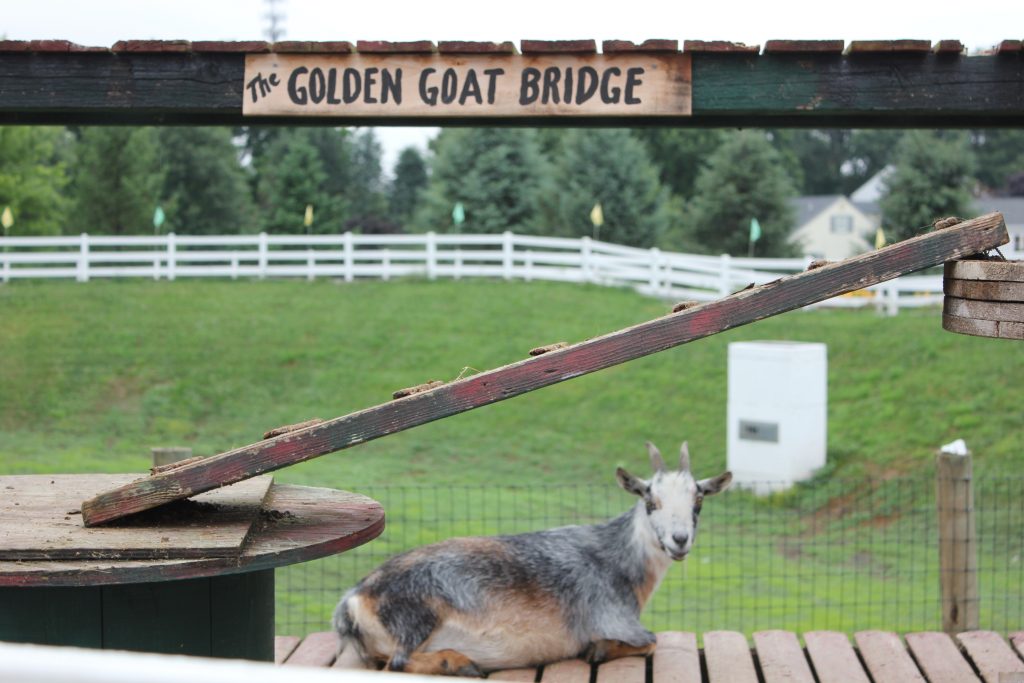 There are several goats, two of which are pregnant as of this writing. The farm recently welcomed two sets of goat triplets (somewhat unusual) and one set of quadruplets (very unusual). And, yes, goat kids are adorable. I'm still trying to figure out how to keep pet goats inside our house! You can buy a handful of goat food from the dispenser for 25 cents. However Chris, the resident wood carver, shared that the goats really like the dried leaves on the ground. We spent a good amount of time feeding the goats dried leaves galore.
The kids loved Scooter Run where they got to ride scooters similar to the ones that the Amish ride.  Since Amish cannot own or drive cars, they use a horse and buggy, scooters, or even roller blades to get around. Surprisingly, they are allowed to hire cars to drive them around!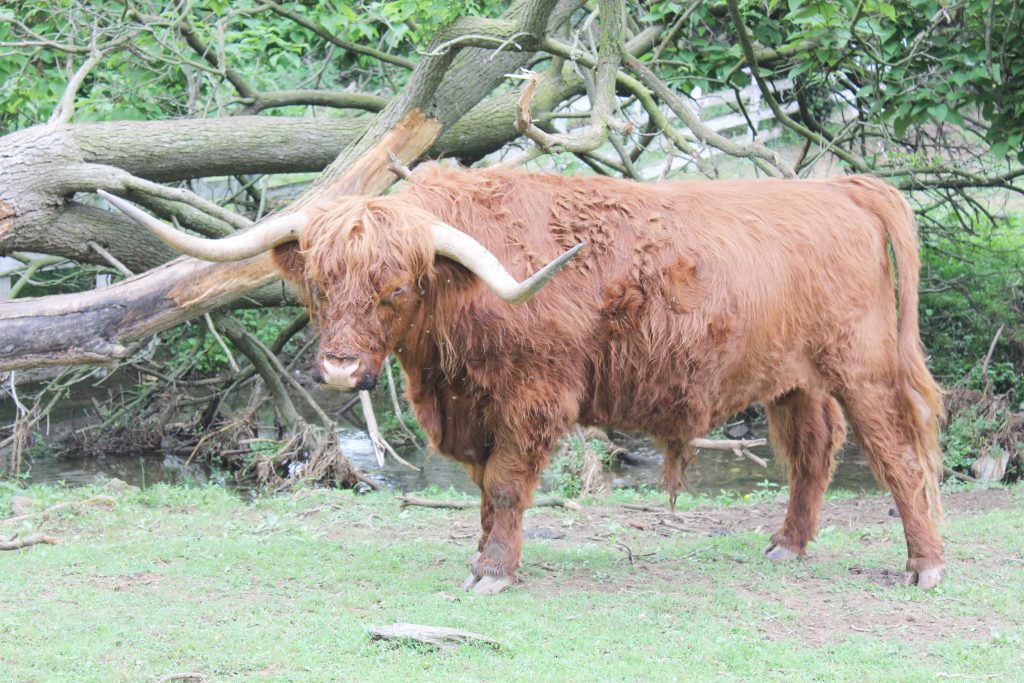 The farm has many different animals located throughout the farm including goats, chickens, horses, pigs, donkeys, mules, a steer and peafowl (peacocks and peahens). Unfortunately, we didn't see the sheep or alpacas, which also live on the farm.  This steer was one of our favorites to watch.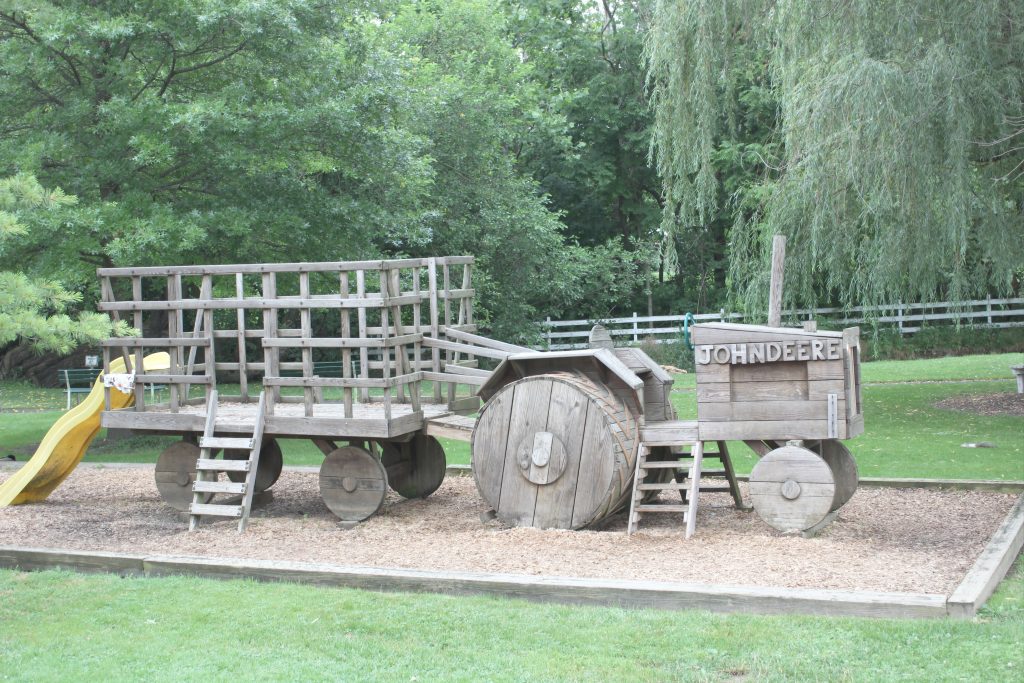 There are a couple of play areas for younger kids to climb and slide with benches for adults to sit and supervise.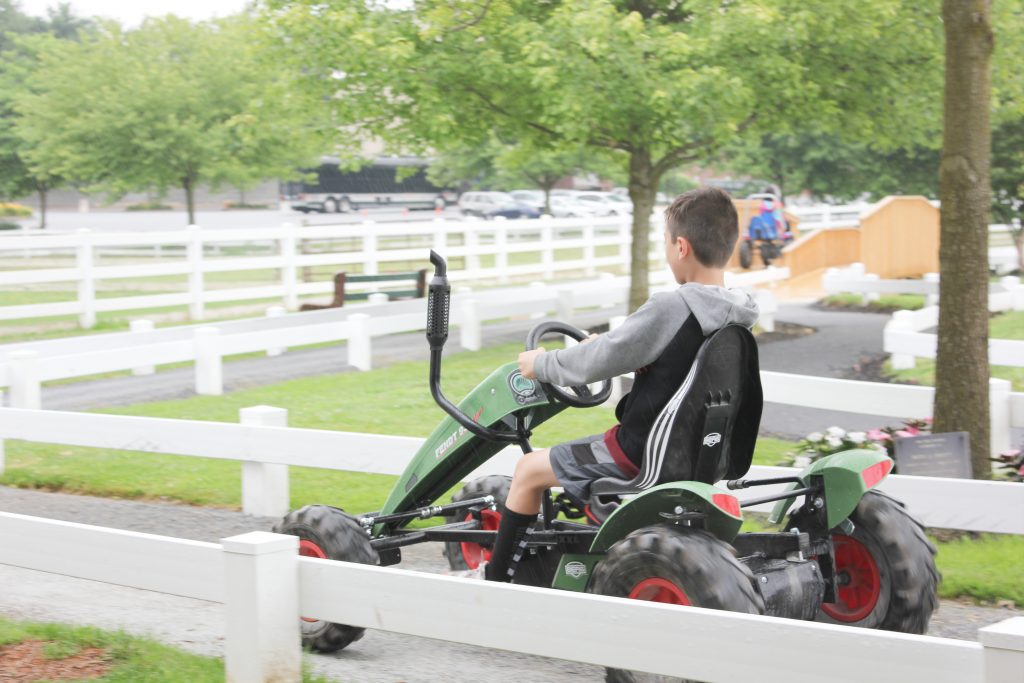 It started to rain quite a bit toward the end of our visit.  This didn't stop my kids from riding the Farm's newest attraction, Tractor Trails.  They pedaled around the track so many times I lost count. There are two tracks, one for children ages 2-7 and the other for children ages 8+, with appropriately sized pedal tractors.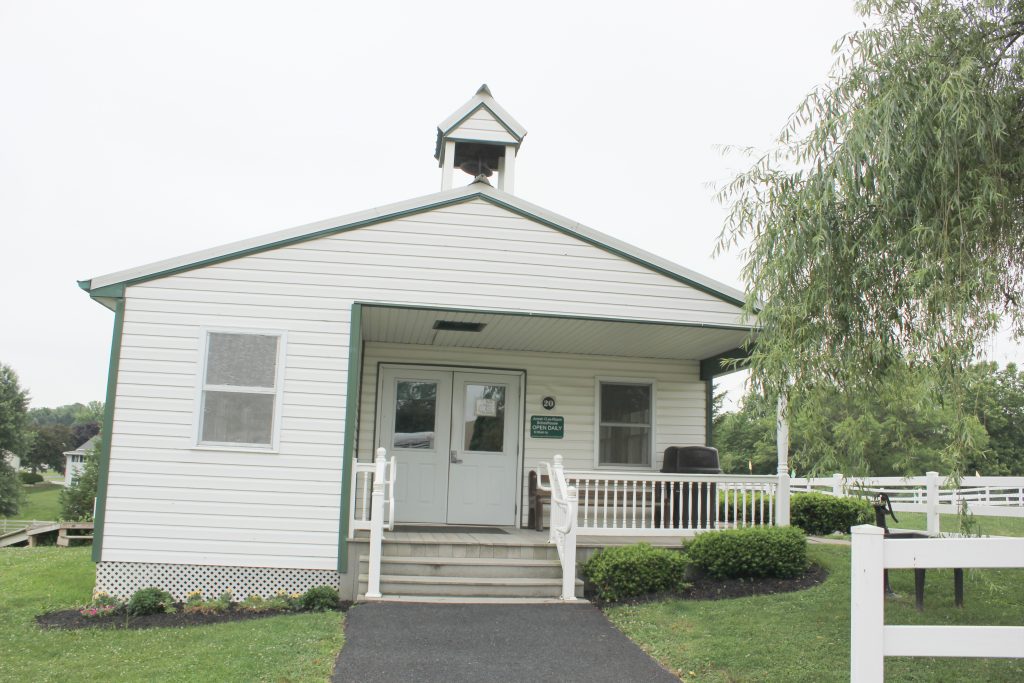 We visited the Willow Lane One-Room School House, Lancaster's only school house designed for public viewing.  Most Amish one-room school houses have 25+ students in grades 1 through 8. It was interesting to see the inside of the school and discover that it looks very similar to my own kids' classrooms, minus all the technology.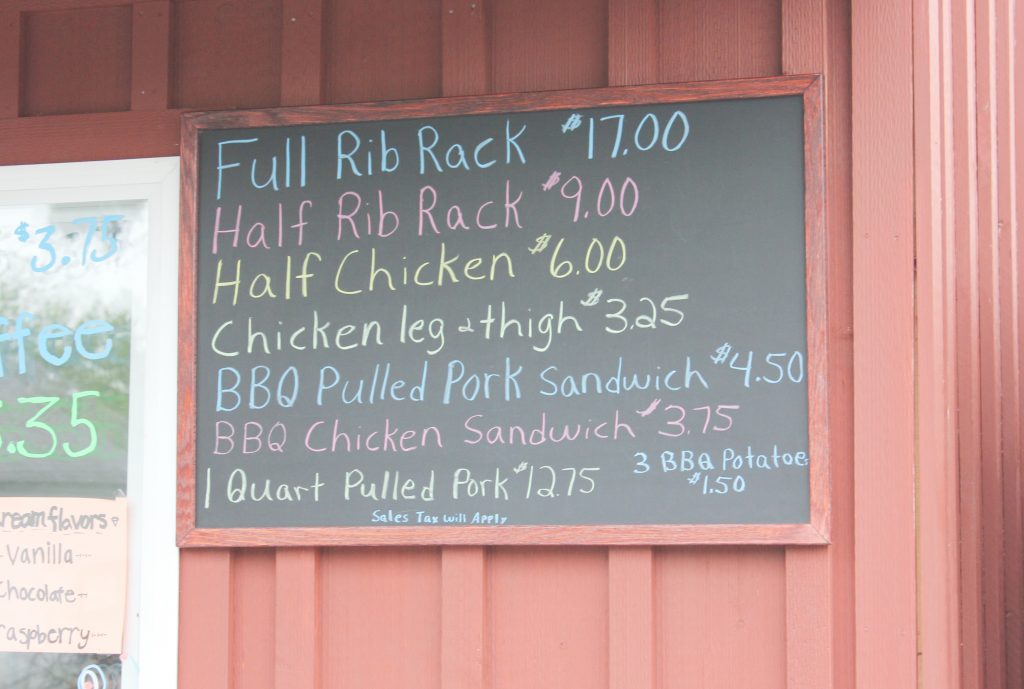 We already had lunch plans elsewhere the day of our visit, but Thursday, Friday and Saturday, the Farm has a chicken BBQ. They also have a food stand that sells ribs, chicken, pulled pork sandwiches and more during normal operating hours.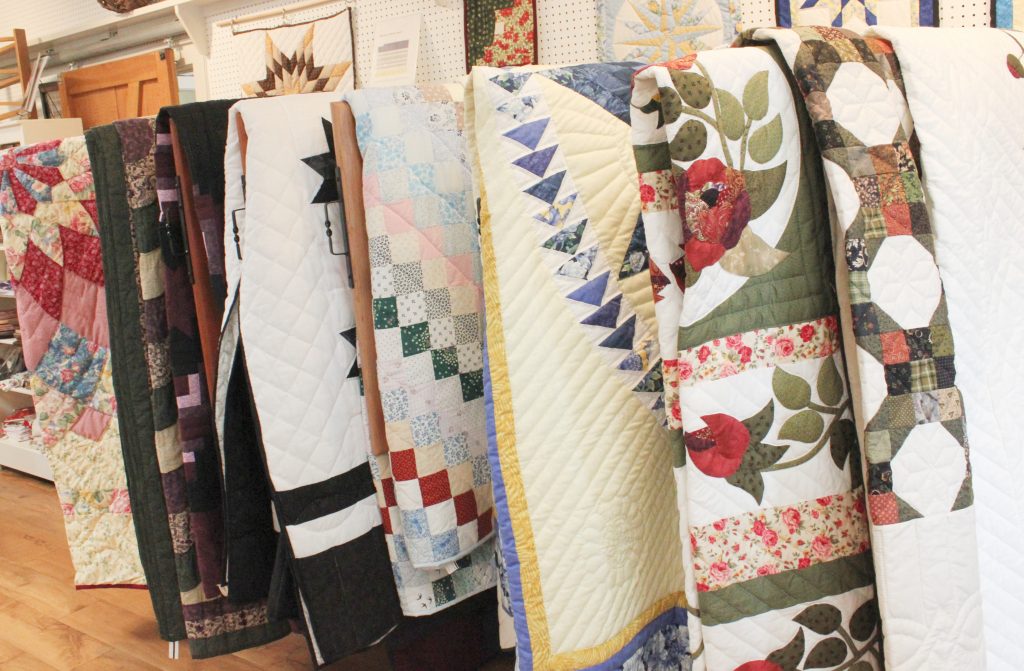 Before you leave, you'll want to stop by the gift shop.  They have a large selection of Amish-made items for sale including soaps, baskets, wooden toys and more.  My kids purchases almost every flavor of stick candy that was avaialble!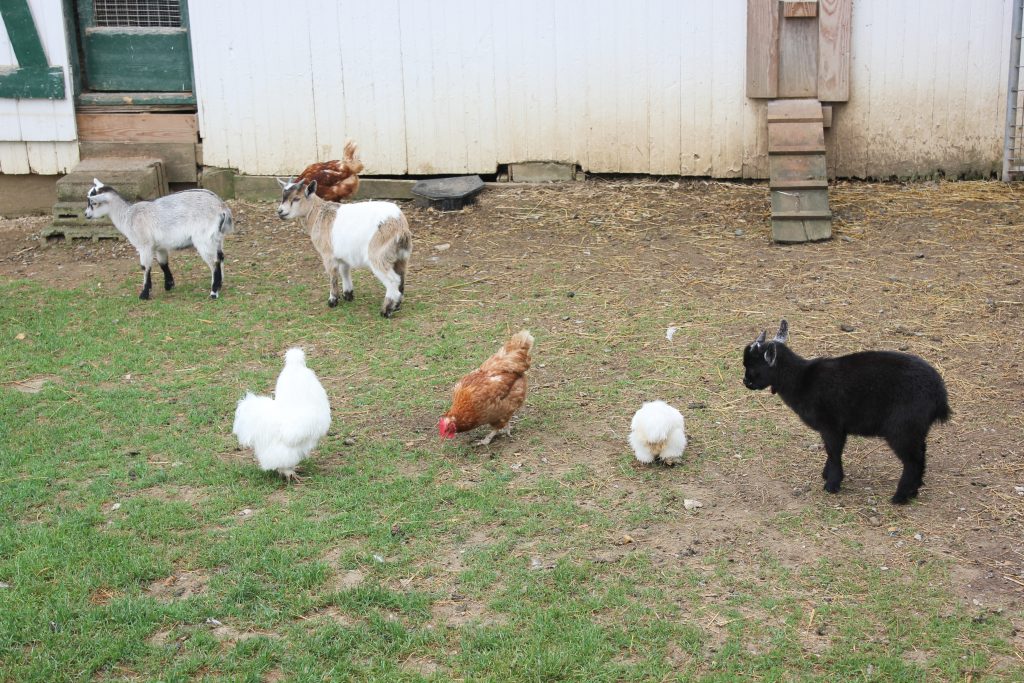 Goat Yoga is the newest addition to the farm.  I wish that I lived closer because I would be at every session!  Imagine doing yoga with baby goats running and jumping around:  cuteness overload!
We spent three hours at the farm, but we would have stayed longer if we had more time.  There's lots to see and do and you really do get an idea of what Amish life is like.  If you have the time, The Amish Farm and House also offers bus tours into the neighboring areas.
The Details:
The Amish Farm and House
2395 Covered Bridge Drive
Lancaster, PA 17602
(717) 394-6185
Hours:  Open seven days a week 9 AM – 6 PM
Tips:
*The Amish Farm and House offers many different tour options. Check out the different tour packages that they offer.
*The house tour is approximately 40 minutes.
*Many attractions in Lancaster are closed on Sundays.  The Amish Farm and House is open seven days a week and  makes a great attraction to visit on a Sunday.
*Make sure your kids wear sneakers or close-toed shoes, especially if you think they will want to scooter or pedal on the tractor bikes.