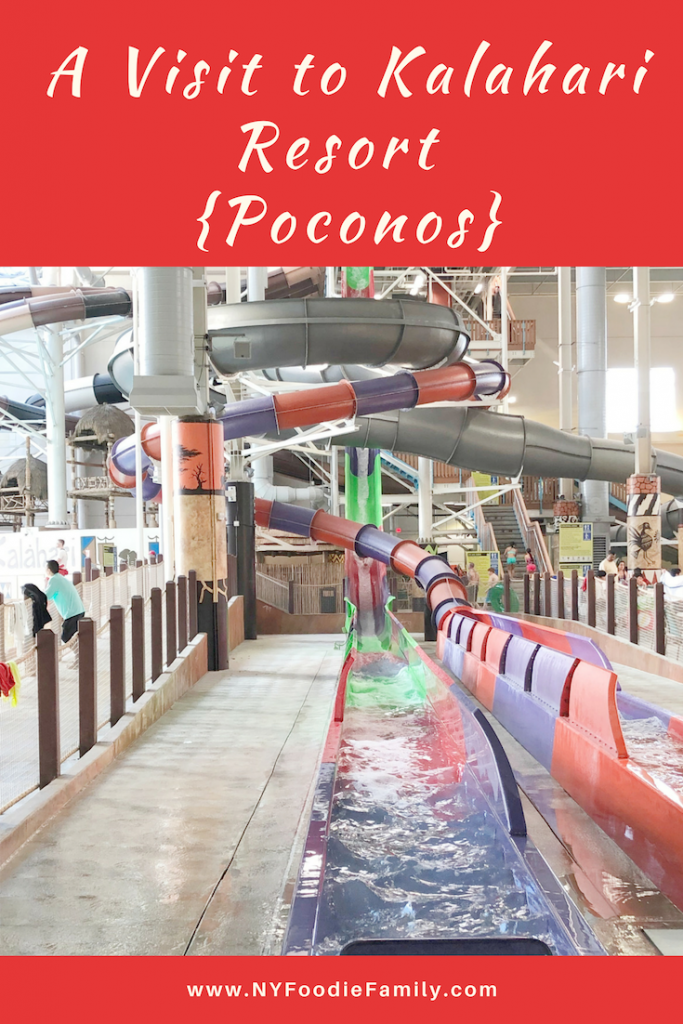 I'm not a huge fan of water parks. I have flashbacks of growing up visiting Water Country USA with my family. Not wearing contacts at the time, I just remember not being able to see anything and water constantly splashing in my face. Fast forward to today, where I am a parent of two kids, ages 10 and 13, who really like water parks. Our winter trip to Pine Ridge Dude Resort wasn't as much of a hit as I had anticipated. So, during the kids February break we decided to take them to Kalahari Resort.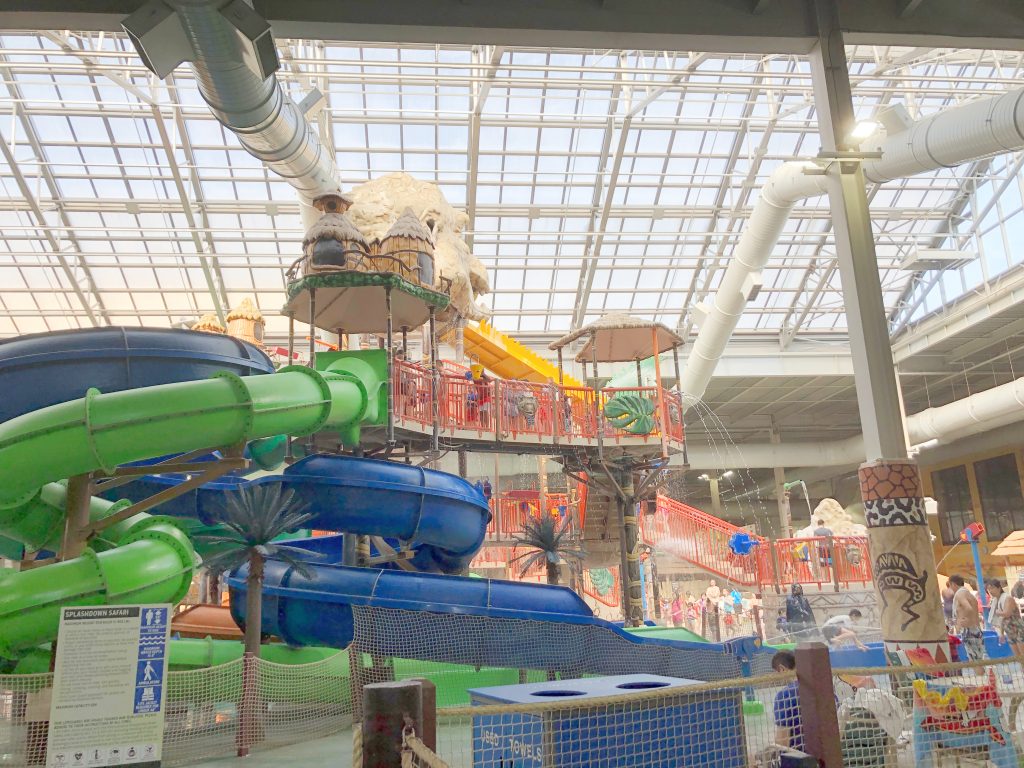 Kalahari Resort is located in the Pocono Mountains of Pennsylvania. In the area is also Great Wolf Lodge and Camelback Resort, both of which we have never visited. My sister has visited both Great Wolf Lodge and Kalahari with her two children and recommended Kalahari over Great Wolf Lodge, given the age of my kids.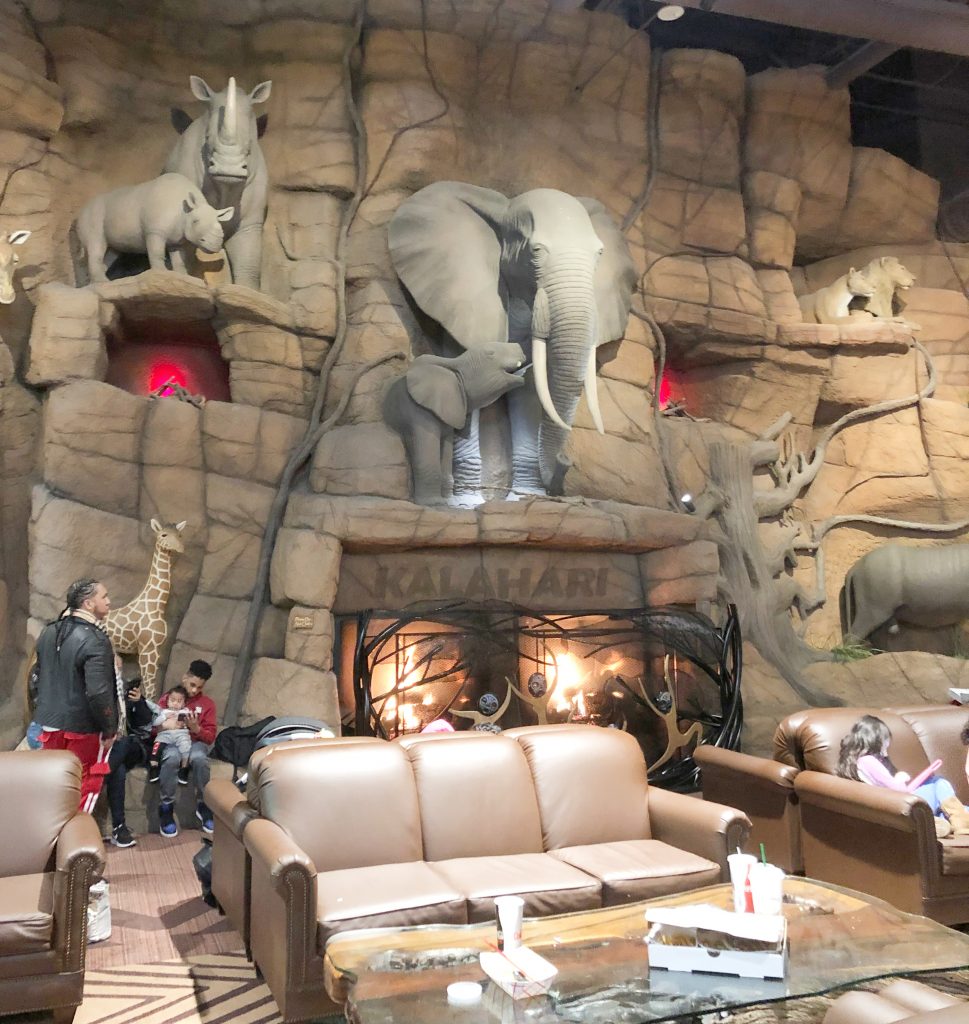 As the name implies, the Kalahari is an African themed resort. This theme is carried out throughout the whole resort, from the names of the attractions to the decor.
We booked a one night stay at Kalahari, arriving on a Monday and leaving Tuesday. We surprised the kids and didn't tell them where we were going until we arrived. While room check-in isn't until 4 PM, you can arrive at Kalahari as early as 9:30 AM, when the water park opens, and enjoy a full day at the waterpark. The resort is approximately a two hour drive from our home in northern Westchester County. I didn't think it was necessary for us to get up at the crack of dawn, but we aimed to leave our house by 10 AM. We stopped on the road for lunch before we arrived at Kalahari. But when we pulled up to the resort around 1 PM and saw the line of cars……we wished we had left super early.
I thought arriving on the Monday of February break wouldn't be too bad. However, I stood in line for thirty minutes, waiting to check in. At check in we all received wristbands that were both our admission into the water park as well as our room keys. You can opt to have the ability to link a credit card to the wristband so you don't have to carry around cash or a credit card, but we chose not do this. Our room wasn't ready but I was told that I would receive a text when it was. In the meantime, we were free to enjoy the water park.
We had packed a bag with our swimsuits knowing that we could enjoy the water park before getting to our room. But first we had to drop our luggage off in the storage room. That also had a line and a bit of a wait. When we finally got the luggage dropped off and changed into our suits there were no large lockers available to store our bag and my pocketbook. I volunteered to stay and sit with the bags while my husband and kids went off to enjoy the water park. Unfortunately, we had to walk around the park for several minutes before finding an available chair!
The water park itself is humongous! It occupies over 220,000 square feet with more than twenty attractions. There's a large play area for little kids, a basketball pool, and lots of water slides!

My husband and kids had a great time enjoying all the thrill slides. I think they rode ALL the slides, even the Tanzanian Twister, (the second to last photo on the right), that they dubbed "The Toilet Bowl." Some of the extreme tube rides, like the Barrelling Baboon, required two or four riders, so I had to go. And just to note, these slides are a bit scarier at night in the dark!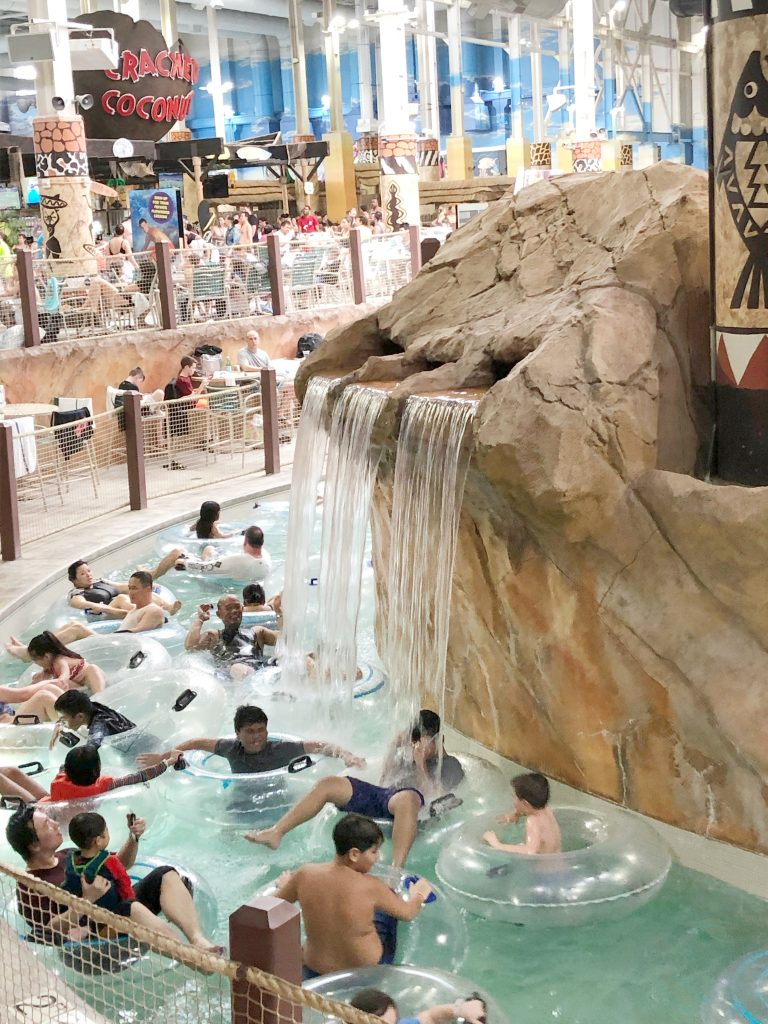 The lazy river wasn't quite so "lazy" when you're packed in and pushed by kids trying to race by. When I finally was able to enjoy the water park my own kids enjoyed pushing me under the waterfalls!
There's a large wave pool, an indoor-outdoor heated spa, a Flowrider wave simulator and more. If you're hungry while at the waterpark, you don't have to leave, as there are six different dining venues where you can purchase food or drinks. This includes two swim-up bars for adults 21 and over.
During the afternoon I kept checking my phone waiting for the text that our room was ready. After spending several hours at the water park we decided to ask if the rooms were ready. The check in line was just as long as it was when we arrived, if not longer. Luckily, there was a staff member standing in the lobby who told us that if we didn't get the text, our room wasn't ready. She gave the kids complimentary arcade cards to help keep them entertained.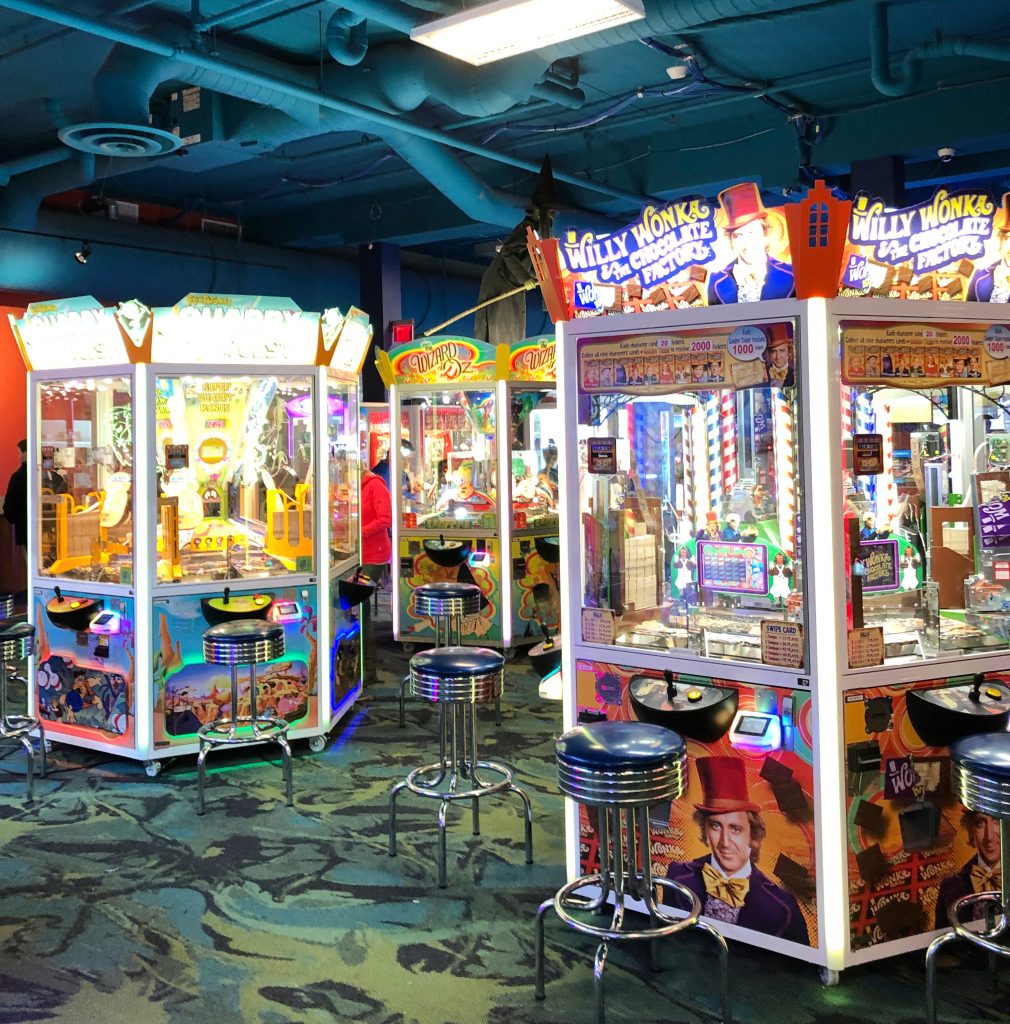 The arcade at Kalahari Resorts is also huge. And it's conveniently situated, so that you can't get to the water park without walking through it. The kids enjoyed playing in the arcade on several different occasions, as there is almost any game there that you can think of!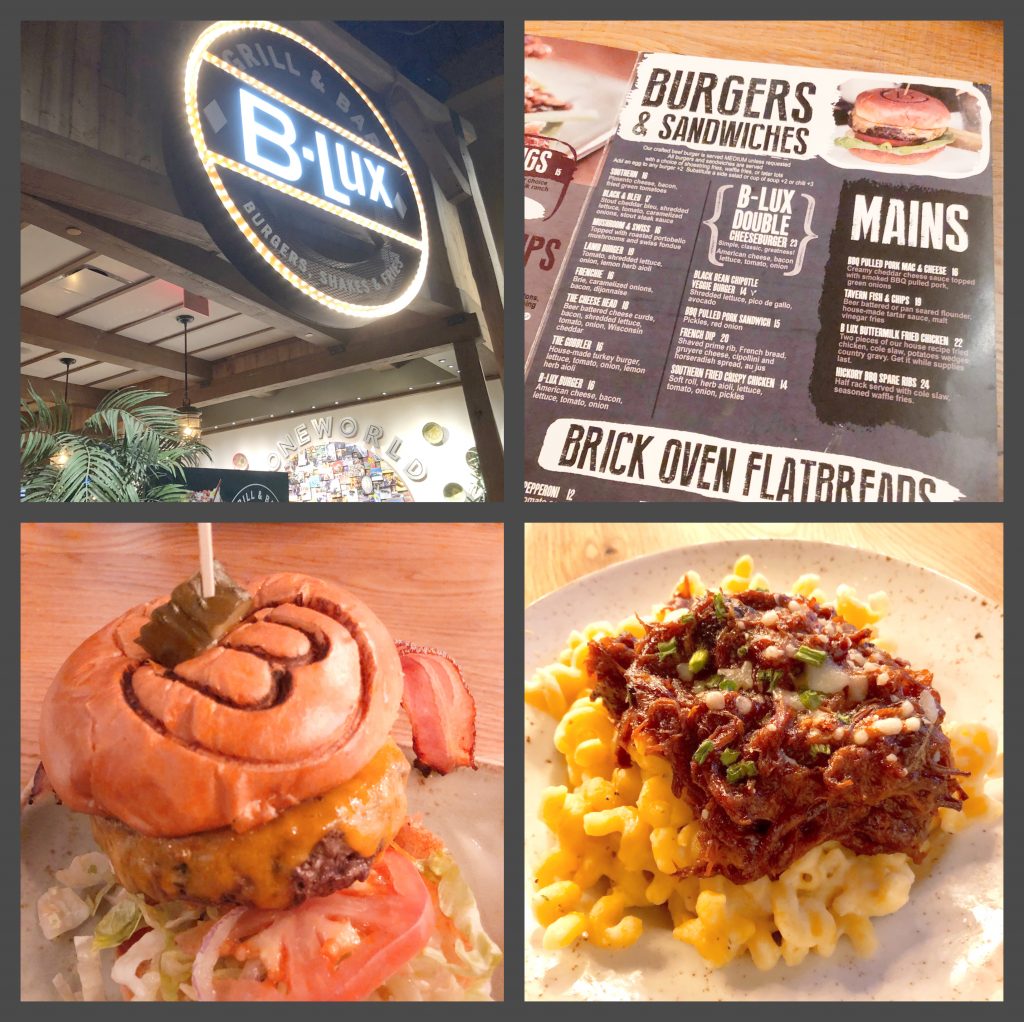 By 6 PM we were getting hungry. Kalahari has several restaurant choices onsite. We opted to go to B-Lux, their most recent addition, which specializes in burgers, shakes and fries. I ordered the Mushroom Swiss Burger, my husband had The Cheese Head Burger (beer battered cheese curds, bacon, lettuce, tomato, onion and Wisconsin cheddar), my daughter the BBQ Pulled Pork Mac & Cheese and my son had the pepperoni pizza from the children's menu. We all agreed that the mac & cheese was the best dish of the night. Service was good and the food was actually decent. We just wish that our room had been ready so we could have showered and changed before dinner.
After we ate dinner we got our bags from the luggage storage room. We made our way to our room to discover that our bands hadn't been keyed properly and we couldn't get into our room! My husband made the trek back down to the lobby and got his band fixed so we could get into our room. We stayed in a Desert room. The room was large with two queen beds and a sleeper sofa. It has a microwave and mini refrigerator in the room. We didn't spend very much time in the room.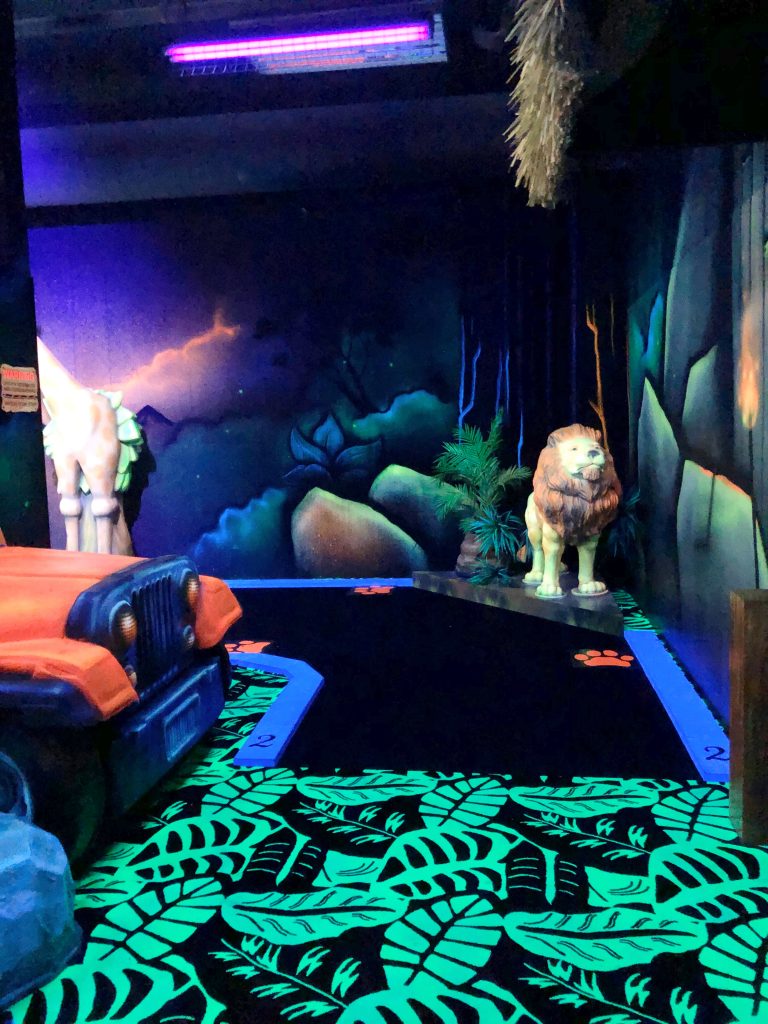 Besides the water park and arcade, there is a lot to do at Kalahari. There is an Escape Room, mini-bowling, Virtual Reality and 7-D Motion Theater and more. Before we left the next day we played a round of Black Light Mini Golf. There's also a spa and salon and fitness center, which we didn't try during this visit.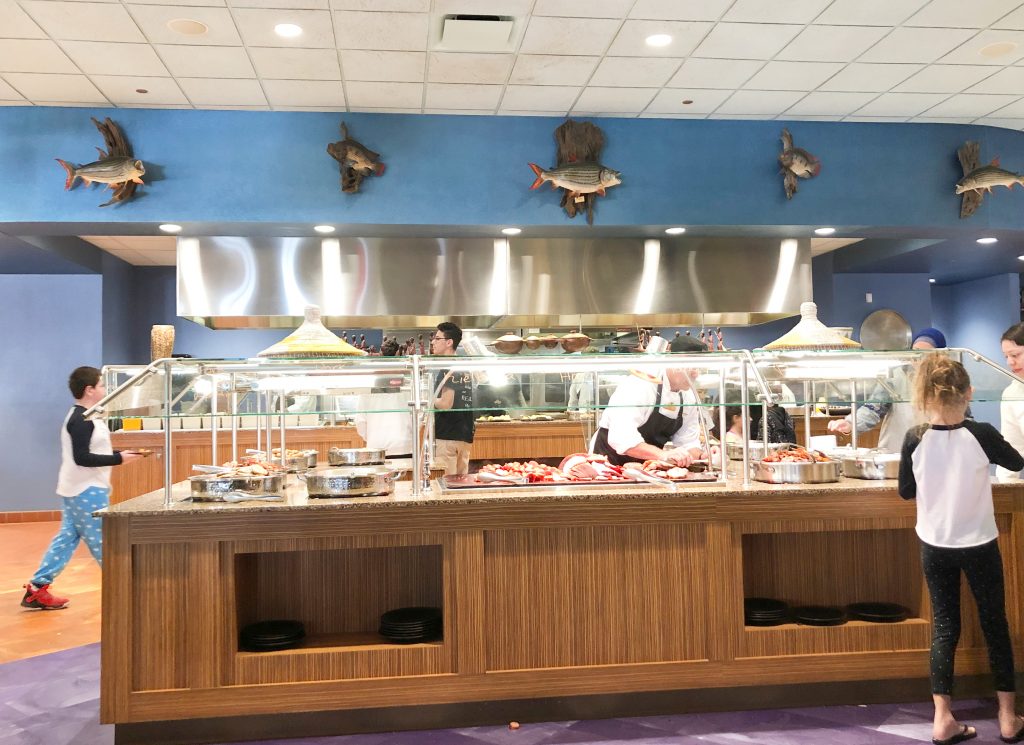 We visited the Great Karoo Marketplace Buffet for breakfast. There was a bit of a wait to get a table. Our server though, again, was super friendly and attentive, even with the crowds. The food at the breakfast buffet wasn't impressive but they have something for everyone.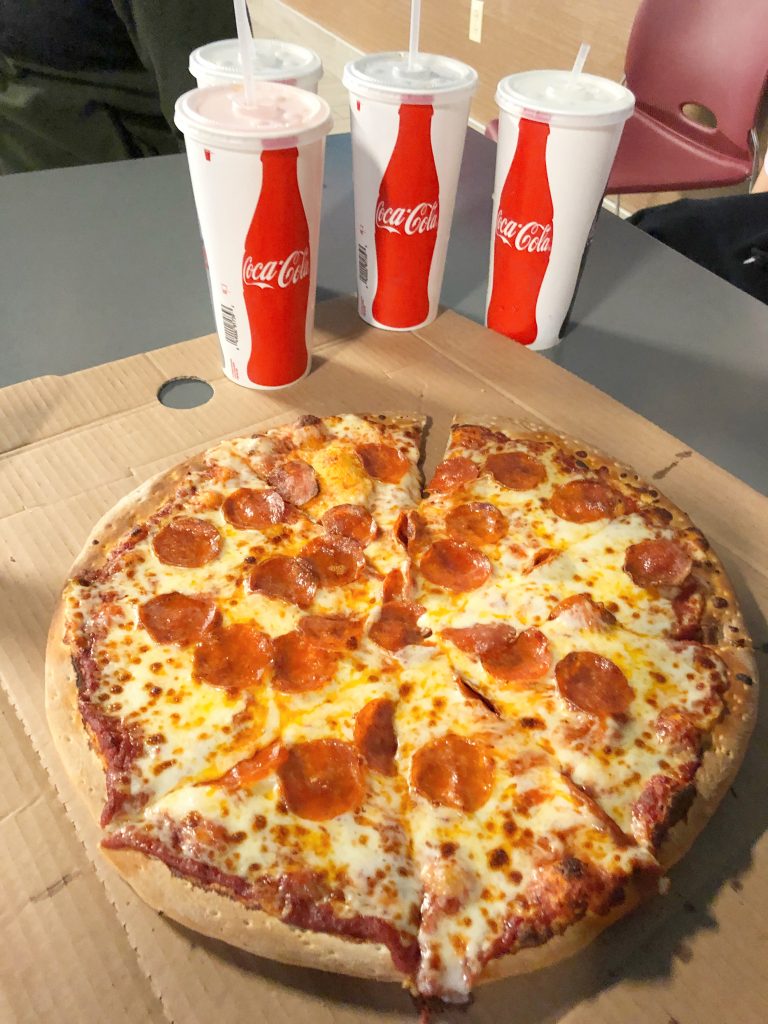 For lunch we shared a pepperoni pizza from Cafe Mirage. Again, not super impressed, but we reminded ourselves that we were at a waterpark. Double Cut, a steak house, and Sortino's Italian Kitchen looked promising though. Hopefully, we will get to try those on a possible future visit.
We visited Kalahari in the winter. When the weather is nicer, there is a smaller outdoor waterpark and Gorilla Grove Treetop Adventures which includes a ropes course, zipline, 36-hole miniature golf course and a Gorilla Express mini train ride.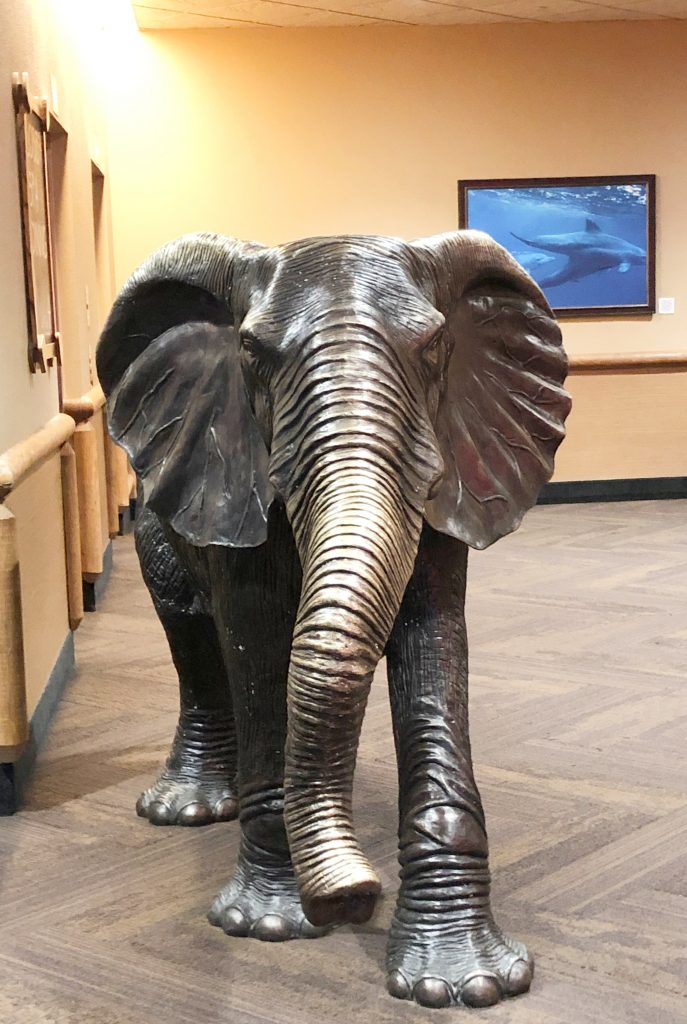 As I mentioned, my kids really enjoyed our visit. There is a lot to do for their tween/teen age group. We are thinking of giving Kalahari another try, possibly in the spring or fall…..and NOT during a holiday weekend! We'd like to visit Gorilla Grove Treetop Adventures and enjoy the waterpark when it's still not outdoor pool weather.
I hope my review of Kalahari Resorts in the Poconos wasn't too negative. My kids had a great time and loved our visit. As parents, after investing our time and money, we expected to have a good experience. Almost all of the online reviews that I had read about Kalahari prior to our visit were reviews by bloggers who had hosted stays. Our stay was not hosted and I hope I gave you a realistic review of the resort, especially during a holiday break.
The Details:
Kalahari Resorts & Conventions
250 Kalahari Blvd.
Pocono Manor, PA 18349
Rates:
Room rates vary by date. They include waterpark admission as well as complimentary access to the fitness center.

Tips:
*Try to avoid going during school and holiday vacations.

*Check the website for deals and specials.
*Bring your own beverages (water bottles, juice boxes, etc.) and snacks to save money.
*Free towels can be picked up at a kiosk. However, they are small. We saw many people in the park who brought their own beach towels.
*Remember a waterproof phone case if you want to keep your phone with you.
*There are a limited number of cabanas and bungalows for rent, if you'd like a reserved area for your family to be able to relax in.
*When budgeting for your trip, keep in mind that all food and drinks and activities (minus the waterpark) have additional costs. The price of your trip can add up quickly!
*There are several shops where you can purchase souvenirs as well as water shoes and waterproof phone cases. Of course, these are priced much higher than if you purchased your own outside the resort.