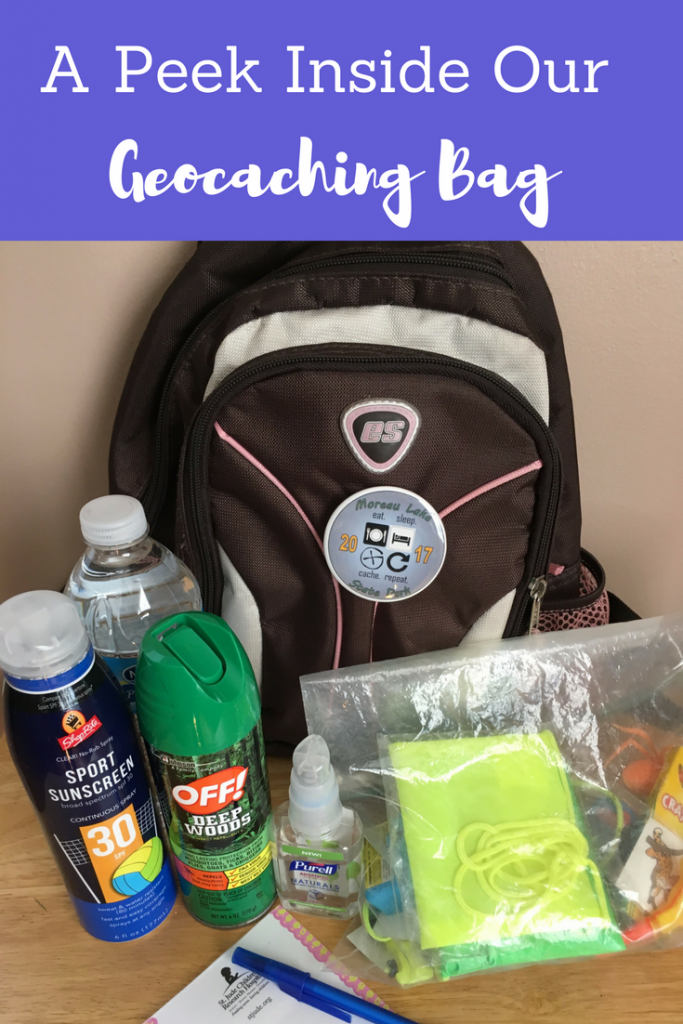 Our family has been enjoying geocaching for over a year now.  It's easy to use the geocaching app on my phone and there are caches hidden everywhere from local parks to hiking trails deep in the woods.  It's a lot of fun to go on an outdoor scavenger hunt and we never know when or where we might be in the mood to find some caches!  That is why we keep a bag packed in my car with our geocaching necessities.  With the bag easily accessible, we are always ready to geocache whenever the mood strikes. Today I'm giving you guys a peek inside our geocaching bag. Hopefully, this can help you pack your own bag so you are always ready to geocache!  We store all of our supplies in a small book bag.  Any bag or tote will do, but we like having the zippers so things do not fall out.  Here are the items we keep in our geocaching bag: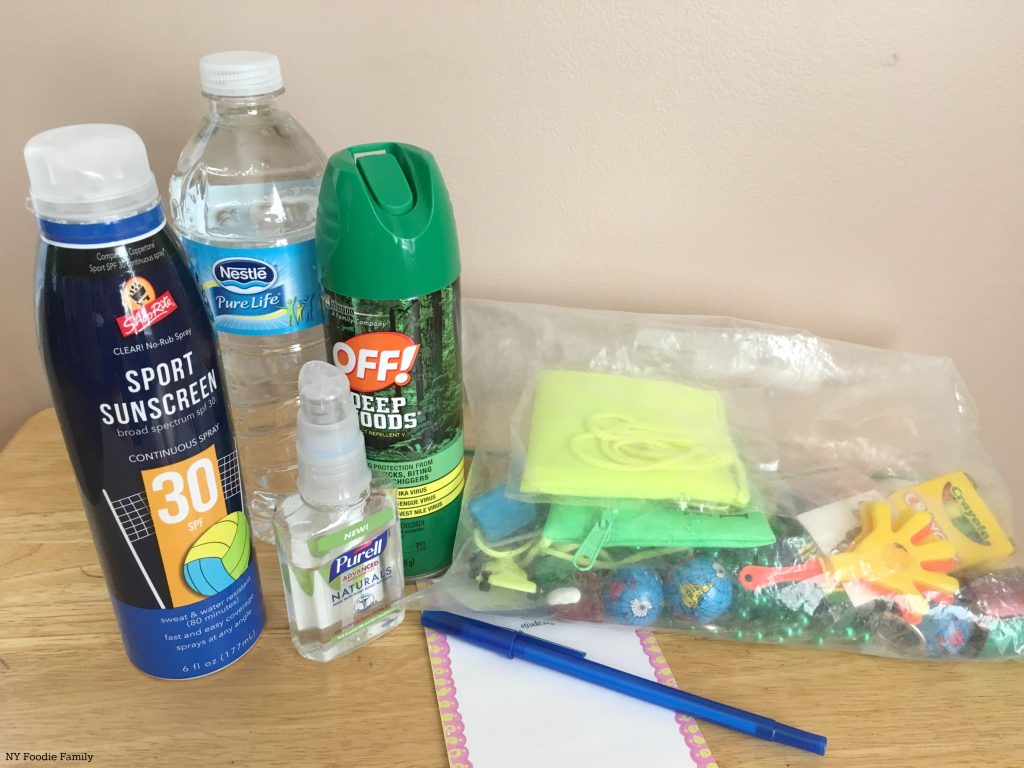 Bag of trinkets – When you find a geocache, many times there are trinkets in the cache.  We always follow the rule of take one, leave one.  So, what kinds of things do you leave?  We have a large Ziploc bag that we keep in our geocaching bag filled with lots of goody bag favors including bouncy balls and small toys, stickers and temporary tattoos.  Some of the kids' favorite treasures to find in a cache include pretty rocks or shells.
Pen and paper – Not all caches include a writing instrument, so we keep a pen in the bag to sign logs.  We also keep paper in the bag in case a log has run out, or we want to jot down notes.
Hand Sanitizer – I'm not going to lie.  Sometimes, caches are hidden under piles of wet leaves or wedged into a crevice in a tree trunk.  I like to have hand sanitizer at the ready, especially when the kids get hungry and want to have a snack.
Bug spray –  Most of our geocaching has been done in parks and wooded areas.  Some of these caches take us off a marked trail and into wooded areas.  Our kids are mosquito magnets and the bugs are out in full force come spring and summer.  It's always good to have some bug spray on hand.
Suntan lotion –  Especially in the warmer months, we don't do any outdoor activities without putting suntan lotion on.  It's also good to have on hand in the bag in case you are out longer than expected and need to reapply.
Water and Snacks – Prior to going out geocaching we also pack some snacks and water bottles.  There is nothing like hungry or thirsty kids to ruin a good hike!
Are there any other items that you find helpful when geocaching?