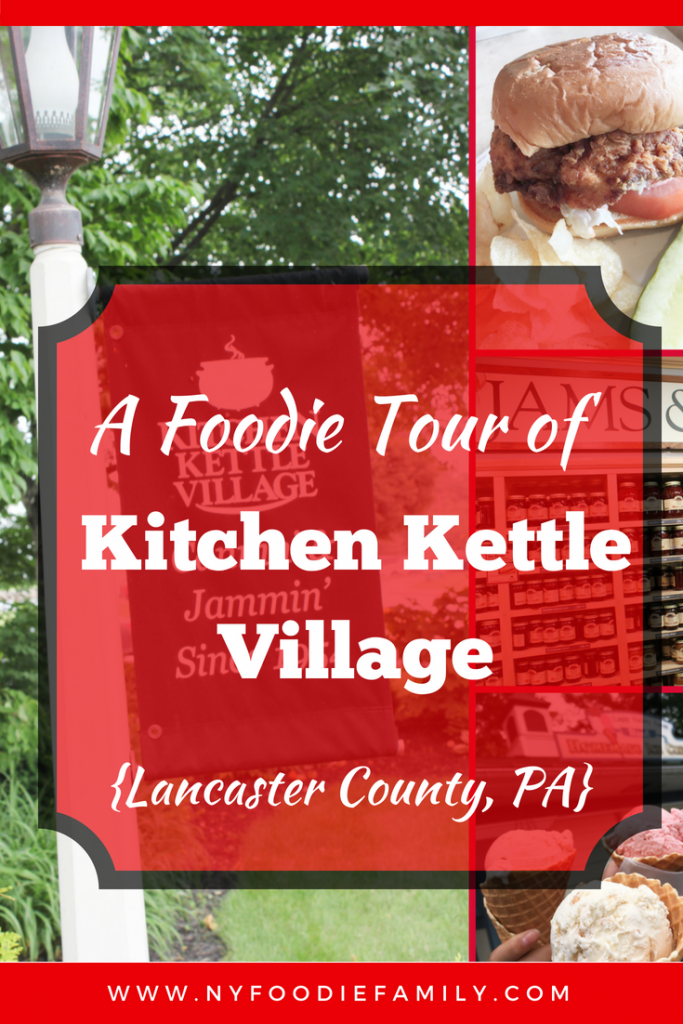 (Thank you to Kitchen Kettle Village for hosting NY Foodie Family.  As usual, all opinions are our own.)
Kitchen Kettle Village in Lancaster, PA started as a backyard jelly business over 60 years ago. Today, it's a bustling village with over 40 different shops.  It's also a haven of deliciousness for food lovers!  NY Foodie Family experienced quite the foodie tour of Kitchen Kettle Village. There's a reason why nearly a million people visit each year!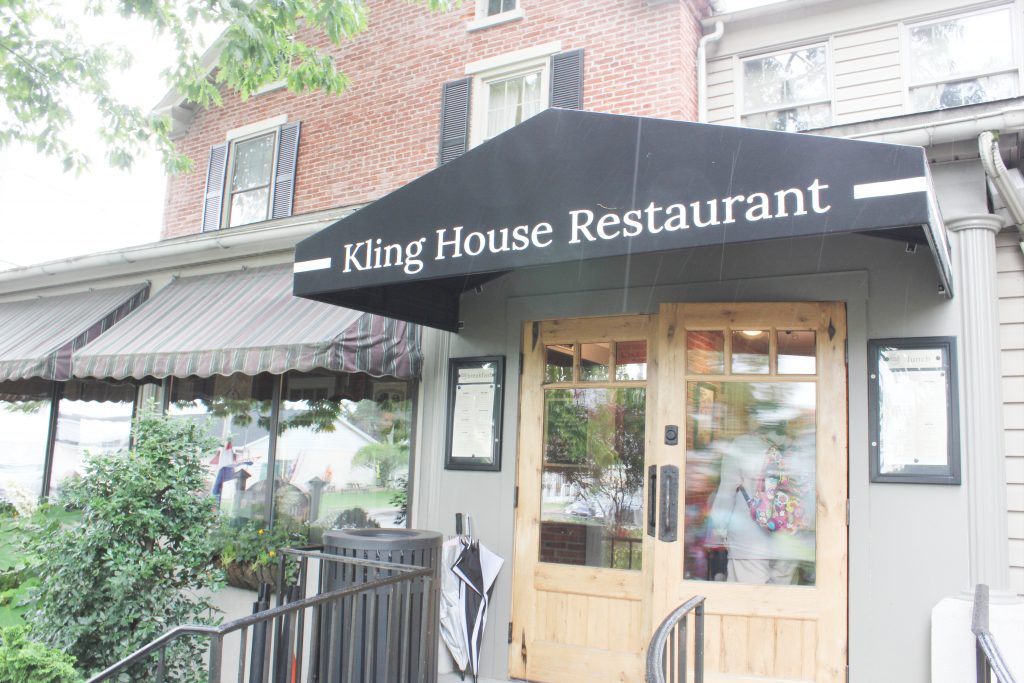 Our tour started with lunch at Kling House Restaurant.   Before being turned into a restaurant, this was the house of several generations of Klings and Burnleys, co-founders of Kitchen Kettle Village.  The restaurant consists of many small rooms and has a very homey feel. Breakfast and lunch is served here and, in nice weather, you can enjoy your meal outside on the Terrace.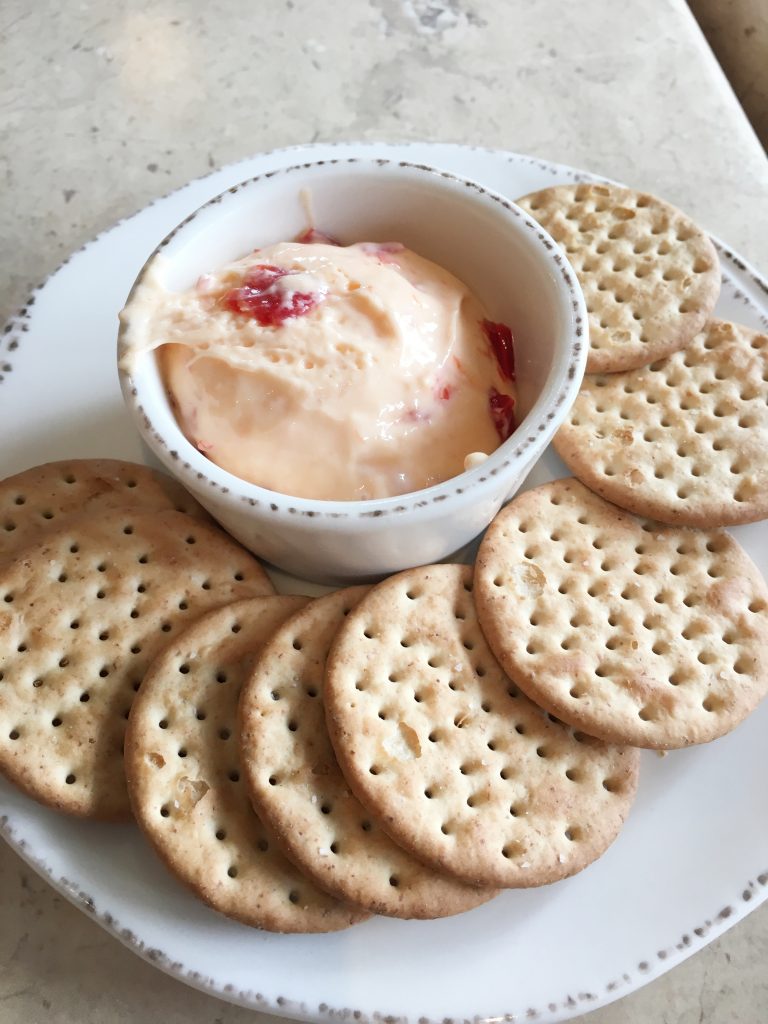 Once seated, guests are served a dish of Pepper Jam and cream cheese spread with crackers (I had to find out what that bowl of deliciousness was!).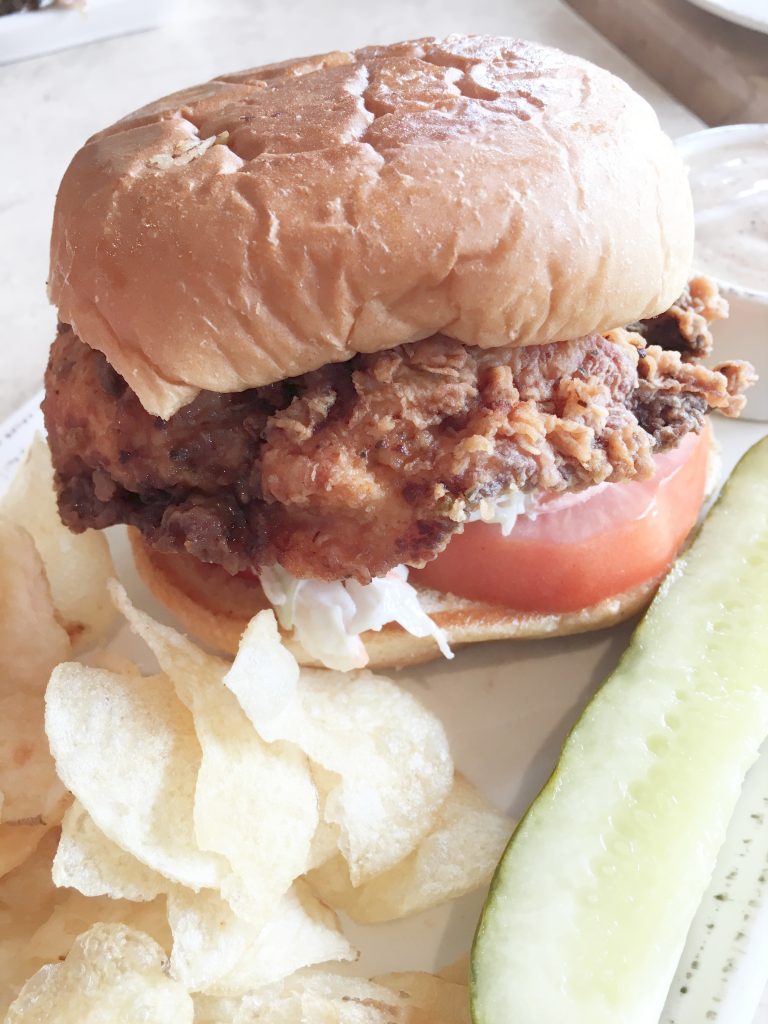 During our lunch, my daughter and I shared the soup of the day (a salmon and corn chowder) and the Buttermilk Chicken Sandwich.  I cannot gush enough about the cajun ranch dressing that came with this sandwich.  We were even dipping the kettle chips in it!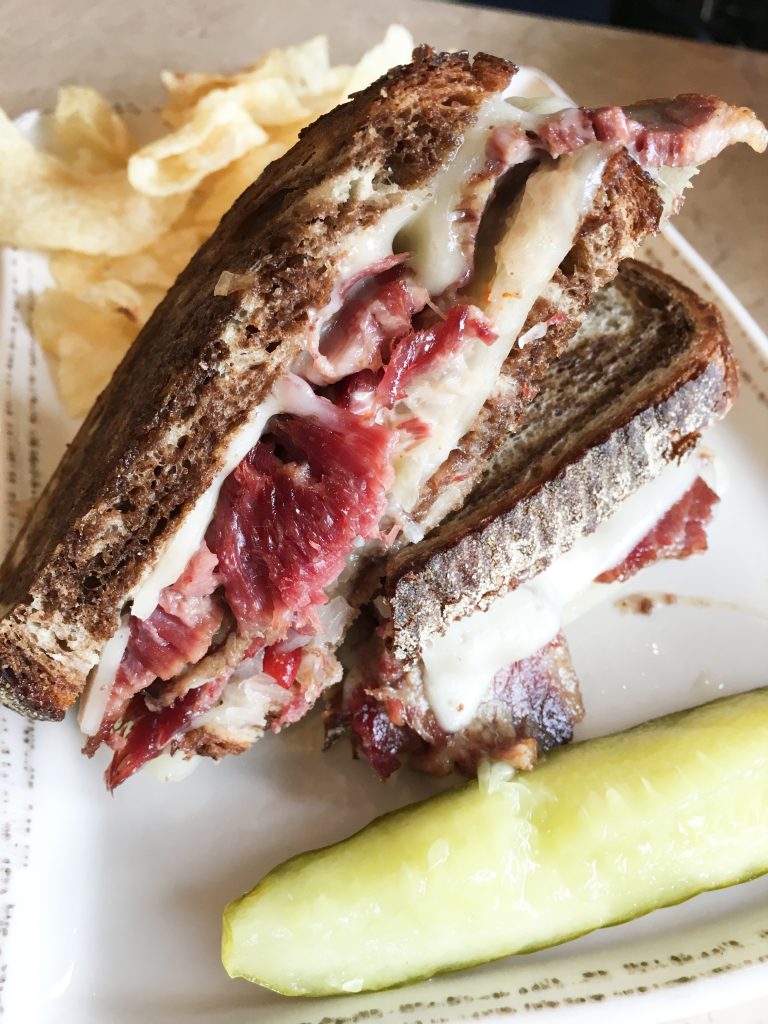 My son opted for the Nuts and Berry Salad and my husband had this Lancaster County Reuben.  Everything was delicious and I highly recommend dining here if you are looking for a sit-down restaurant for lunch.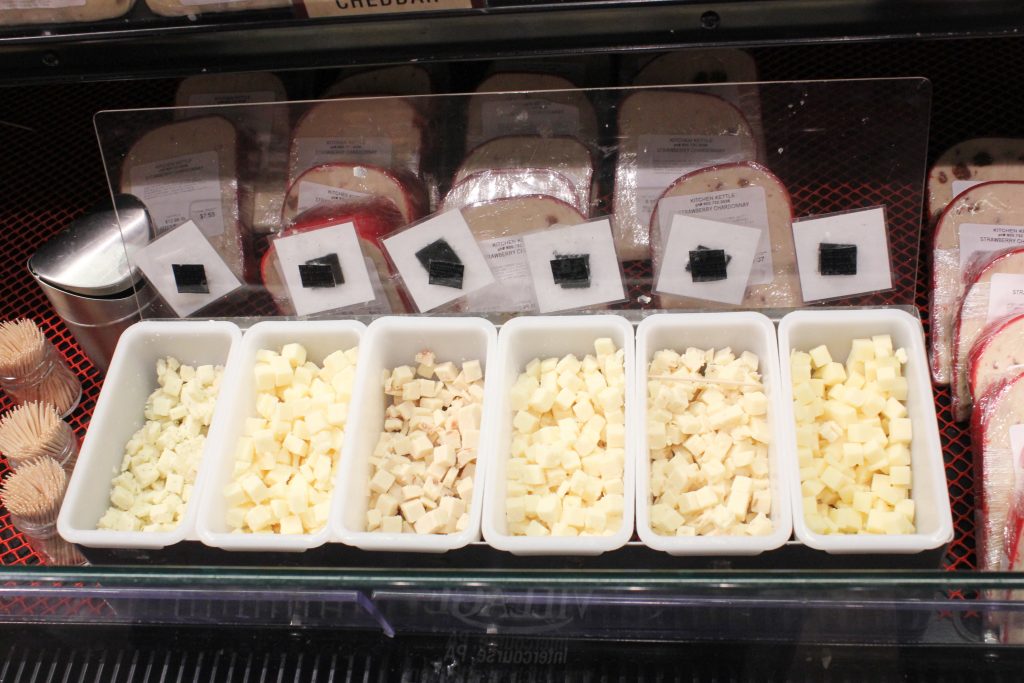 After our delicious meal, we continued our foodie tour with a stop at Aged and Cured.  This shop sells locally smoked meats and cheese.  The store sells over 50 different types of cheese.  And these aren't your run-of-the-mill cheeses; Aged and Cured sells cheeses like Smoked Swiss, Strawberry Chardonnay and Steakhouse Onion cheese, the majority of which are made locally.  Even better, you can sample almost every cheese they sell!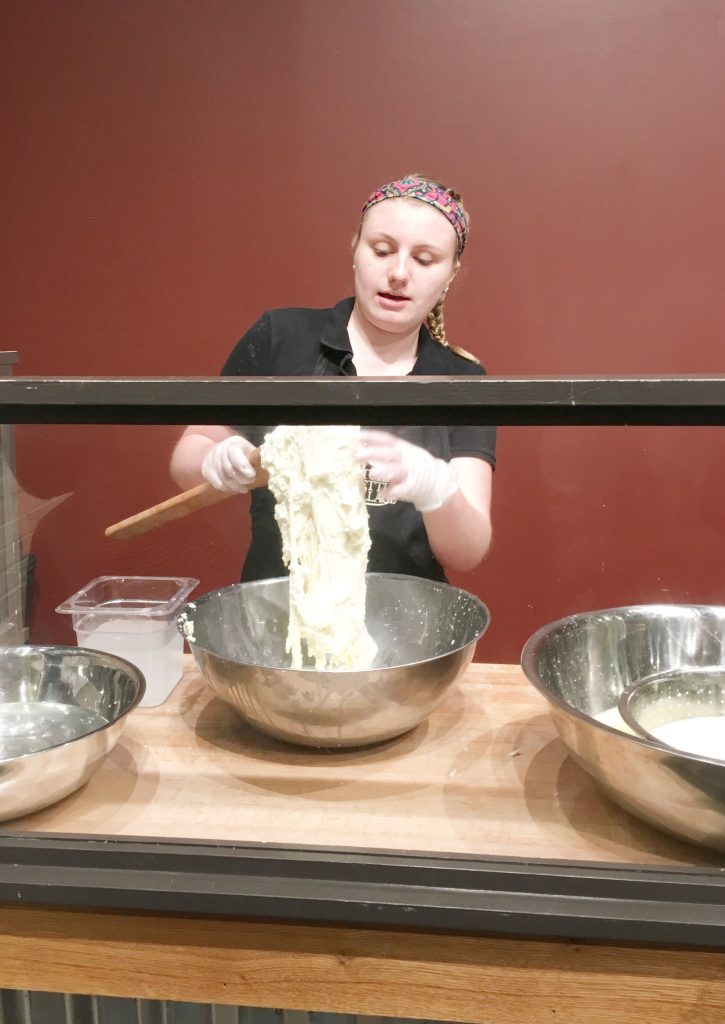 The only cheese made on-site is the fresh mozzarella, which is made every Friday and Saturday.  You can see the cheese stretching demonstration both days at 11 AM and 2 PM.  It was fun watching a bowl of cheese curds transform into a delicious ball of mozzarella!  I didn't realize so many variables like the pH of the water used, the humidity and even the temperature of the room all affect how the mozzarella will turn out.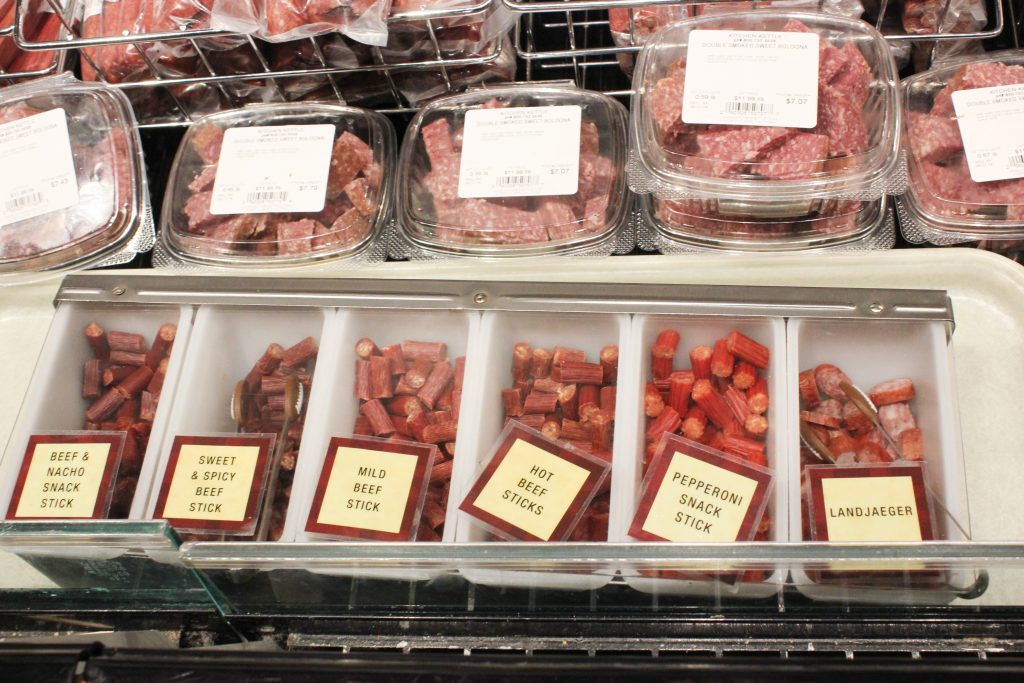 If cheese isn't your thing, Aged and Cured sells plenty of cured meats.  There is a selection of jerky, beef sticks and more.  Once again, there are plenty of samples of each to try.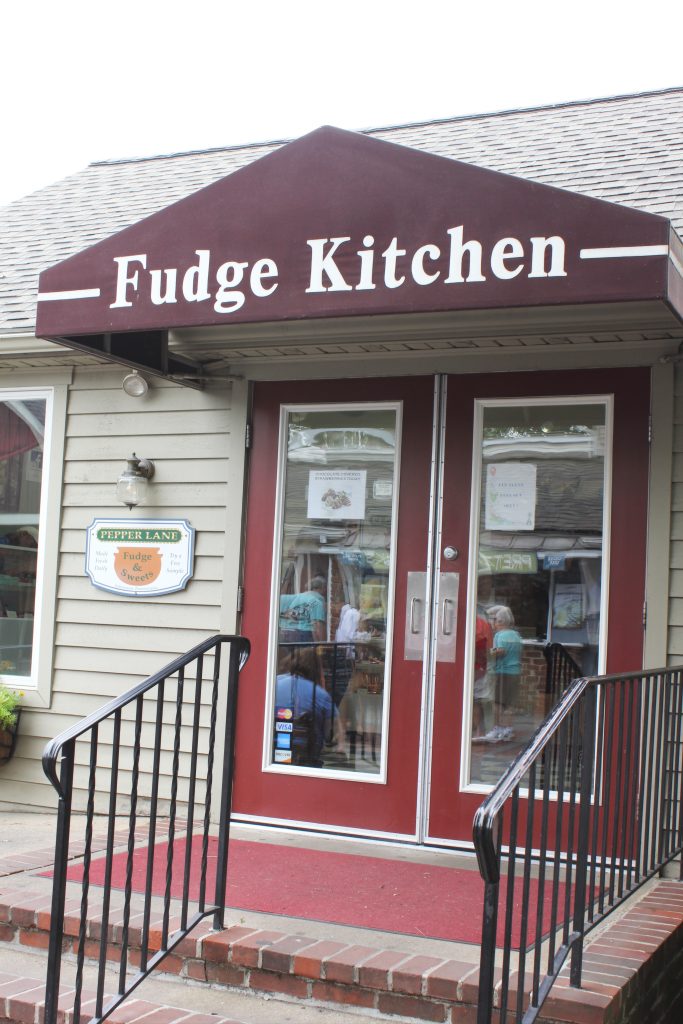 Our next stop on our food tour was Pepper Lane Fudge and Sweets.  This shop sells all different kinds of fudge, including chocolate, cookies and cream, chocolate marshmallow and peanut butter.  All of the fudge is made on site at the shop and sold in slices that weigh just under 1/2 pound each.  On our visit, we were able to sample the regular chocolate fudge.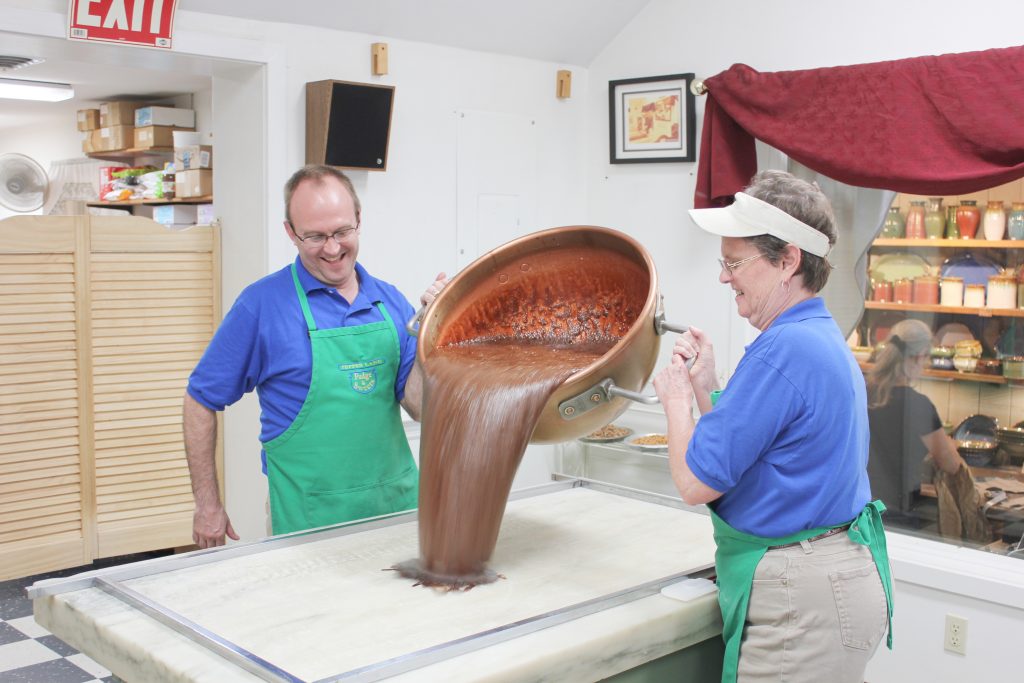 We watched the beginning stages of a batch of fudge being made.  The chocolate first has to be heated to 234 degrees F.  Once the chocolate reaches temp, it is poured on a chilled marble slab to cool. Eventually, the fudge will be paddled to aerate it, which gives it its creamy texture. It's then rolled into a five foot loaf, which they slice and sell.  Fudge tip:  Do not refrigerate your fudge!  It will keep in an airtight container for two to three weeks.
Next we enjoyed ice cream cones from Lapp Valley Farms Ice Cream. The ice cream is made at the Lapp Valley Farms dairy, located only a couple of miles down the street from Kitchen Kettle Village.  Jersey cows produce the milk that is used to make the sixteen flavors of ice cream served here.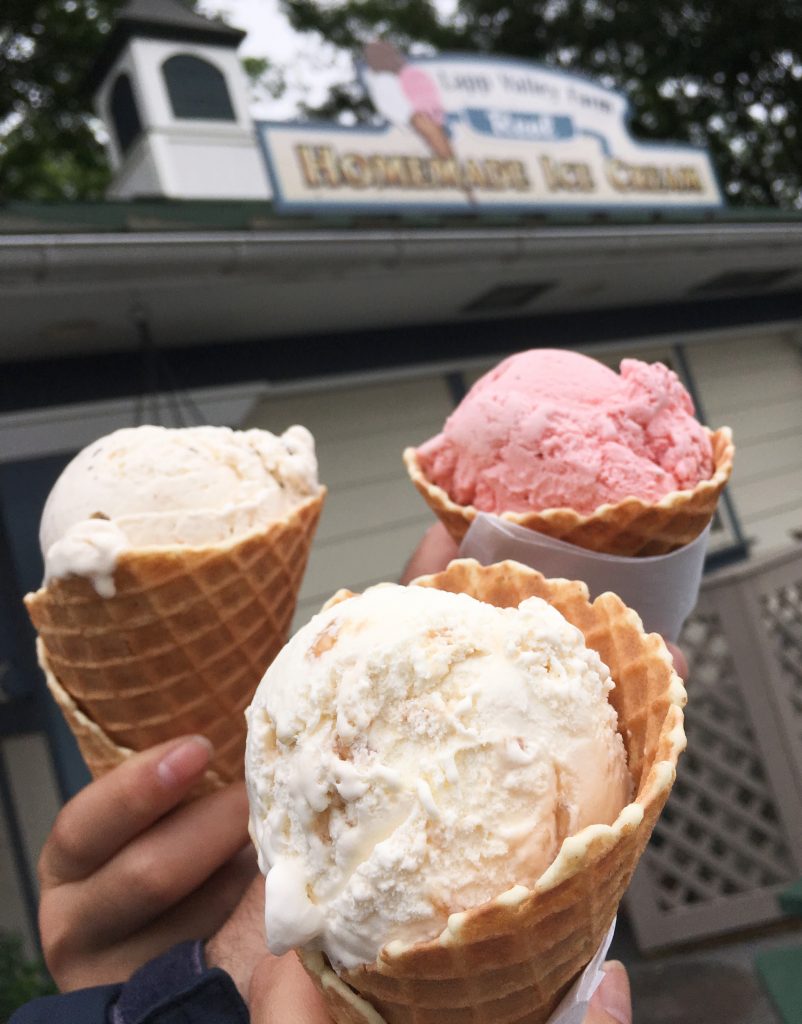 We enjoyed the strawberry, butter brickle, chocolate chip cookie dough, and (not pictured) mint chocolate chip.  The ice cream was super creamy and delicious!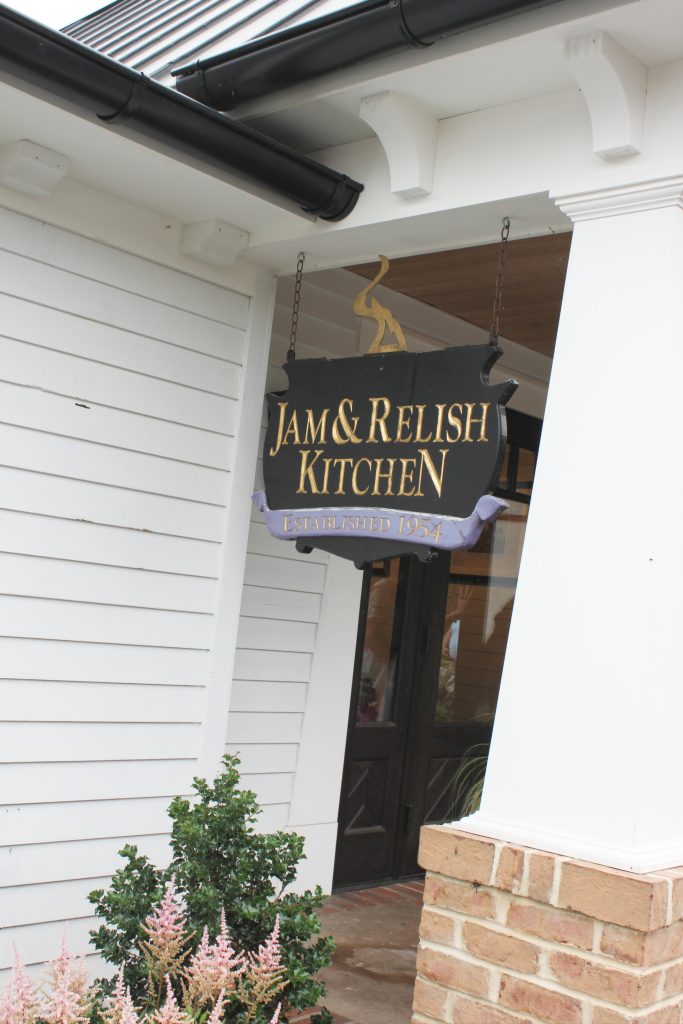 A visit to Kitchen Kettle Village is not complete without a stop at the Jam & Relish Kitchen.  This is how Kitchen Kettle originated and is the "heart" of the Village.  Over 90 different products are made onsite here and Monday through Saturday visitors can watch some of them being made in the open kitchen.  Unfortunately, we missed seeing the vidalia onion relish being made the day of our visit.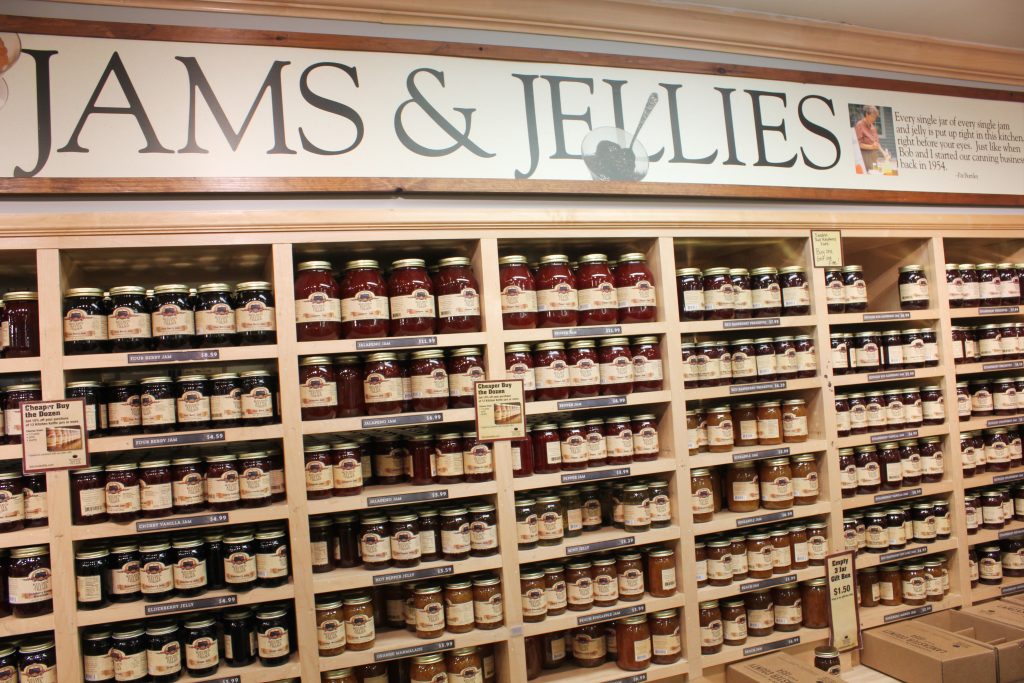 The Kitchen sells everything from jams and relishes to salsa, pasta sauce, dips and more.  The number of jams and jellies they make is astounding, taking up a whole wall of the store. And, of course, there are samples of all to try.  The only question is, what items won't you want to take home with you?!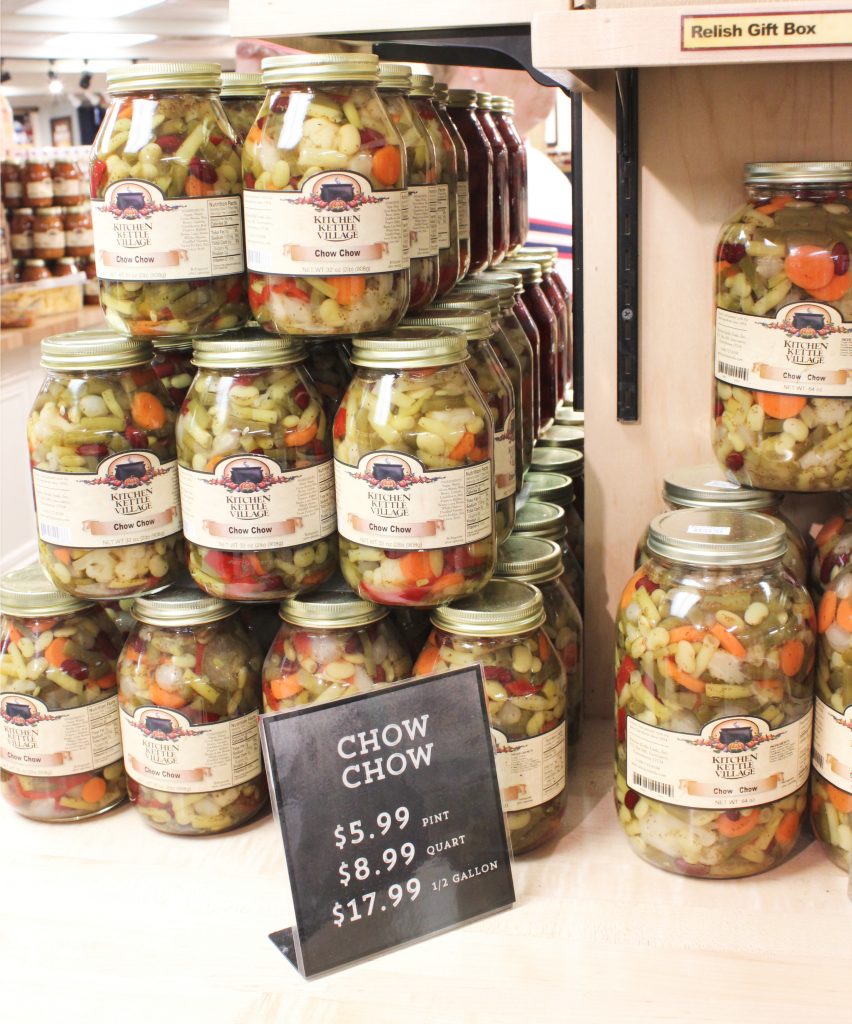 You must try some of the classic Chow Chow.  Consisting of sweet and sour garden vegetables, this is one of Kitchen Kettle's top selling relishes.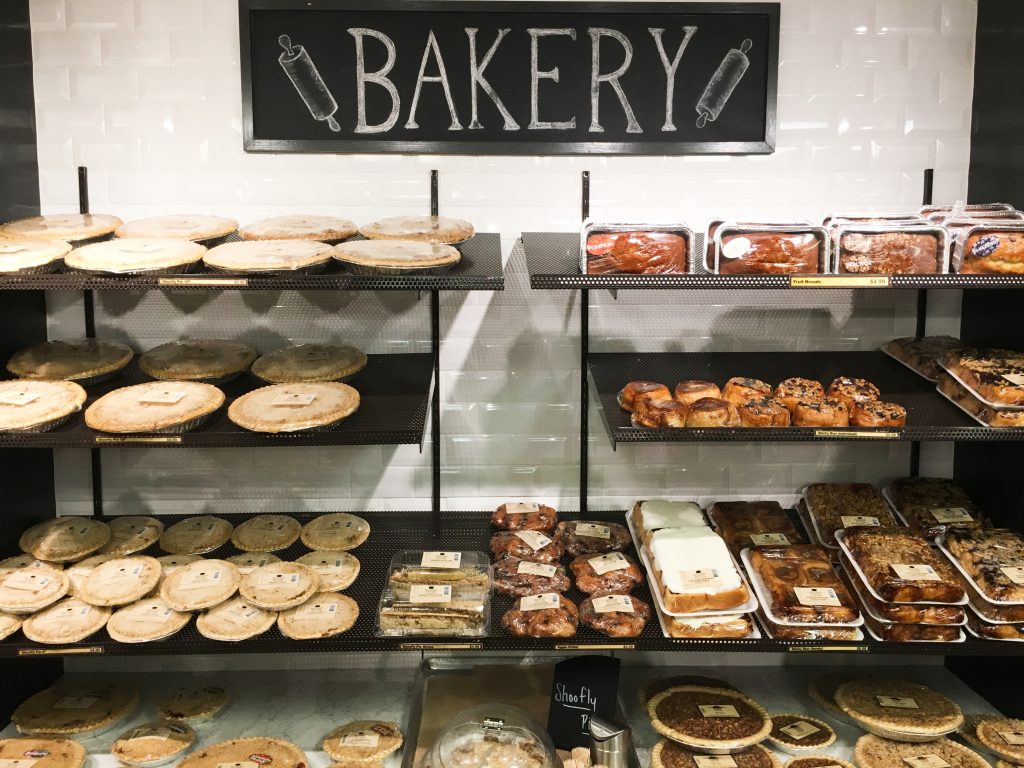 The Bake Shop is connected to the Jam & Relish Kitchen and sells many different pies, cookies and other delicious baked goods.  You can even purchase a gingerbread cookie for 99 cents and then use the icings they have set out to decorate it.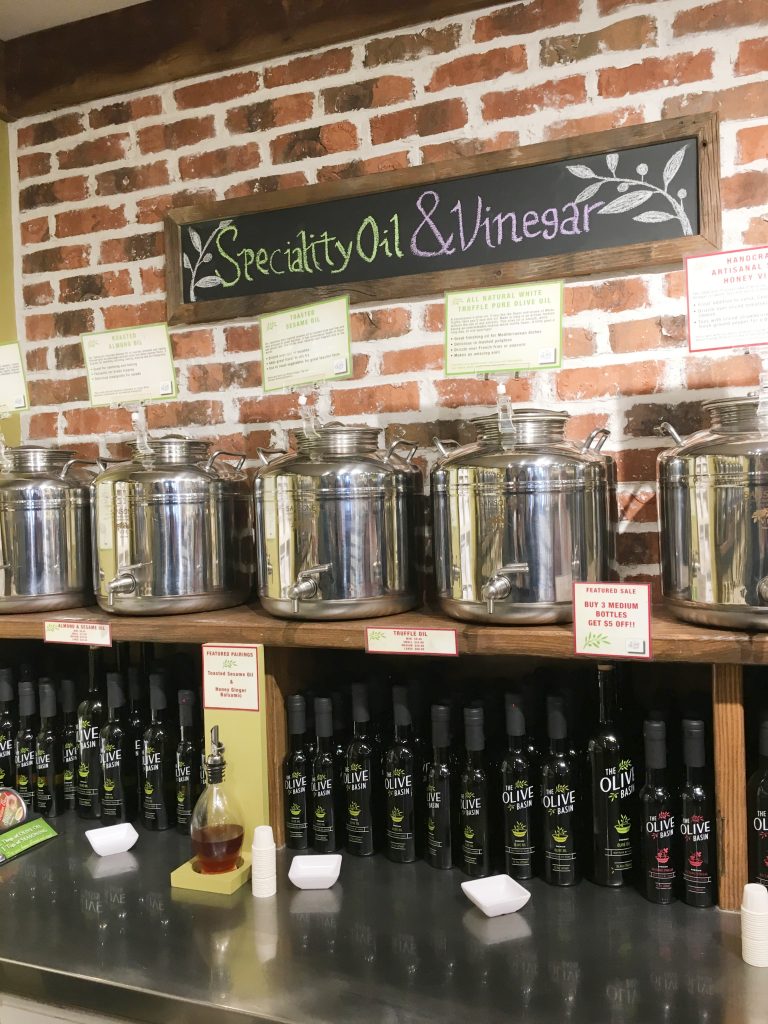 We made a stop at The Olive Basin, to do some olive oil and balsamic vinegar sampling as well.  This is one of the newest shops to Kitchen Kettle Village.  The taproom  has over 40 different olive oils and balsamic vinegars that are bottled on-site.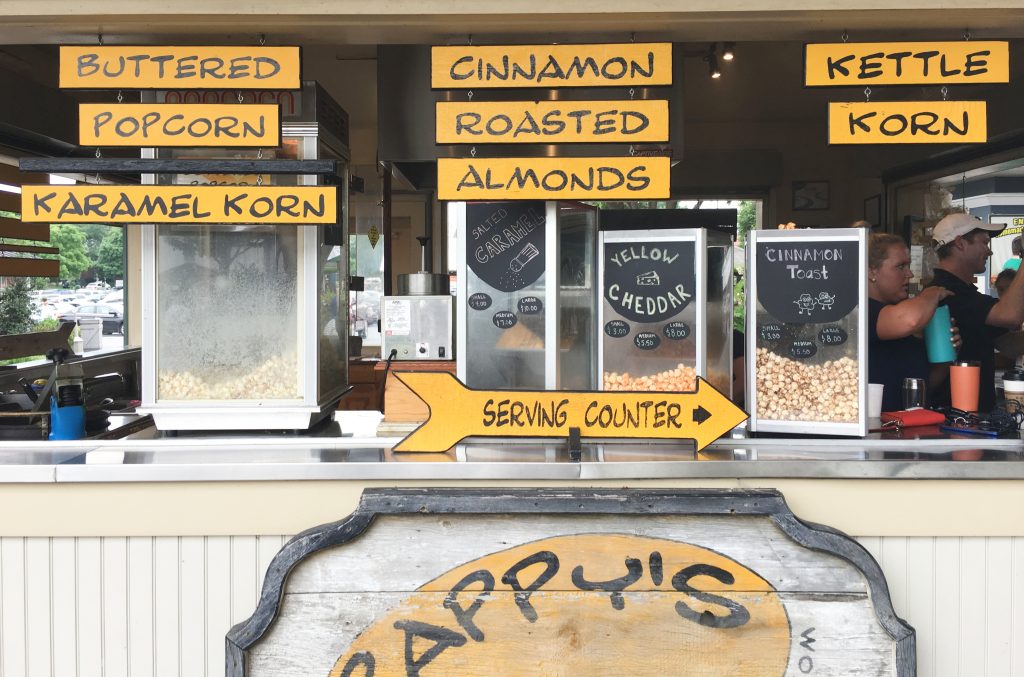 While I highly recommend the Kling House Restaurant for lunch, if you are looking for a quick-service meal, the Harvest Cafe menu includes burgers, wraps, soups and salads.  Still hungry for more?! You can get all kinds of different popcorn from Pappy's Kettle Korn.  If you need a caffeine boost, The Roasted Rooster sells a variety of coffee roasted in Lancaster County.  They also sell smoothies, iced coffees and other beverages.  If we weren't already stuffed I would have tried a pretzel from The Pretzel Haus.  I can only imagine how good their hand-crafted soft pretzel rods but taste!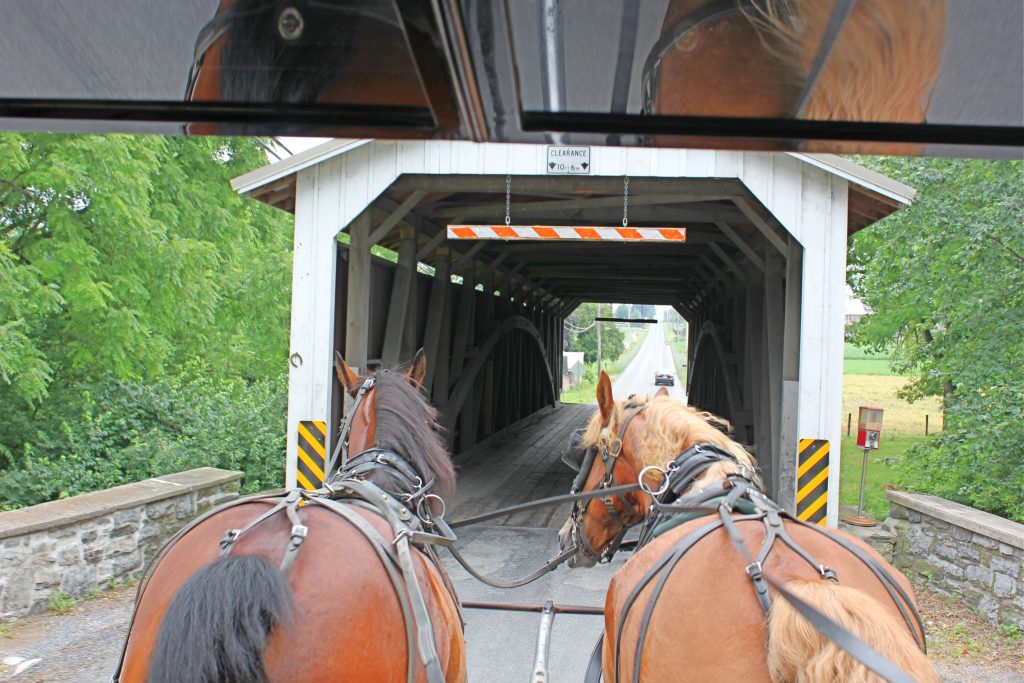 After our foodie tour we were stuffed!  We stopped by AAA Buggy Rides for a horse and buggy tour before we left.  We enjoyed a 55-minute ride through the Amish Country and even passed through a covered bridge.  Our driver Susanna was a great tour guide.  She was very informative and even let the kids, who were sitting up front with her, each take a turn driving the horses!
If you need a place to stay, The Inn at Kitchen Kettle Village has 17 lodging rooms available including deluxe guestrooms and suites.  We didn't stay overnight at the Village, but the Inn has received great reviews on both TripAdvisor and Yelp.
As you can see, Kitchen Kettle Village offers lots of tasty options for foodies.  It's a very family-friendly attraction for kids of all ages.