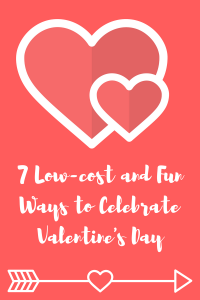 Valentine's Day is quickly approaching.  I'm not one that gets very excited about Valentine's Day as a romantic holiday.  However, I enjoy celebrating the holiday with the kids.  They still get excited over the little things, so I have to take advantage of it while I can!  And that's what really makes parenting and celebrating most holidays special. I'm not one though to spend lots of money on candy-filled hearts and stuffed animals for the kids.  Like I said, for me it's all about the little things.  Here are seven low-cost but fun ways to celebrate Valentine's Day!
1. Decorate the house – Hand up red, pink and white streamers and/or balloons.  Or keep it simple and cut out construction paper hearts.   We have an outdoor heart flag that we hang up outside as well as some Valentine heart kitchen towels.  Remember, little things.
2. Wear red or pink!  –  I'm sure most of us have at least one piece of red or pink clothing.  This is the time when I pull out the red sweater, that I might have also worn at Christmas time!   I stopped buying those cute, holiday-themed shirts for the kids years ago, when I realized that they only got worn a handful of times.   So, on Valentine's Day, they wear the red graphic shirts that they already own.
3.  Have a heart shaped breakfast  – Break out the heart shaped cookie cutters and make heart-shaped pancakes.  Or shape them free-hand if you're really good! You can serve them with sliced strawberries and strawberry yogurt for a festive breakfast.   To continue the heart-shaped food theme, you can use the cookie cutters to make heart-shaped sandwiches to pack for school lunch.
4.  Make (or buy) a Valentine's treat – This year Valentine's Day is on a Tuesday….a school day.  So I'm a bit hesitant with this one myself.  I know that there will be parties at school and lots of candy attached to those Valentines that they give and receive.  However, it's a special occasion.  So heart shaped cookies or brownies will most likely be making an appearance after dinner.
5. Have a scavenger hunt – The kids loved this the year we did it.  I took Hershey Kisses and hid them around the house, giving little clues as to where the next set was hidden.   The Valentine's Day bags of Hershey Kisses have red, pink and silver wrappings.  You can assign each child a different color and match hiding spots and clues accordingly.
6. List reasons why you love your kids – Or better yet, you can make it a family activity.  Each family member writes down reasons that they love the other members of the family.  You can do this before dinner and then read them aloud while you're eating.
7.  Give the kids coupon books – We did this one year as a Valentine present for the kids.  We made coupons that entitled them to things like extra screen time, or a free pass on one of their chores.
Bonus:  To help you prepare for next year, hit the stores the days after Valentine's Day and stock up on decorations and items for next year!!
How do you celebrate Valentine's Day with your kids?