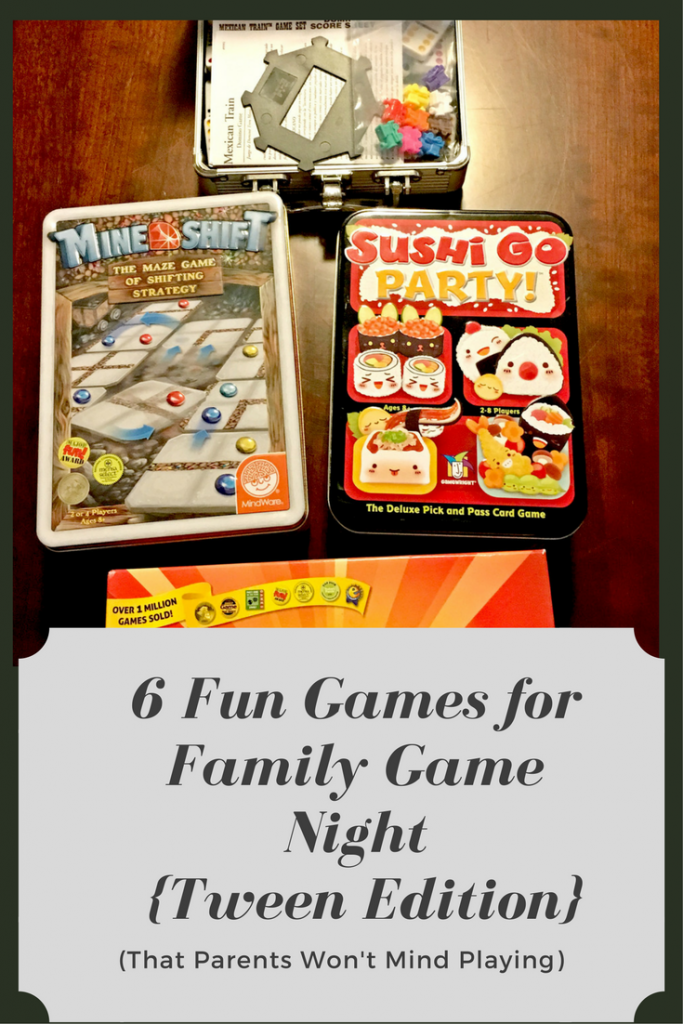 (This post contains affiliate links.  Please read our Disclosure Policy for additional information.)
We are a big gaming family.  Although my husband and son enjoy video games, I'm not talking the electronic kind.  I'm talking about board games.  If my daughter had her way, we'd play board games every night.  Finding a board game that is fun for EVERYONE, including the adults, can be challenging.  It has to be easy enough that the kids can win, but also have a high interest factor for the parents, so we don't get bored to tears.  Here are some of our newest game additions and a couple of family favorites.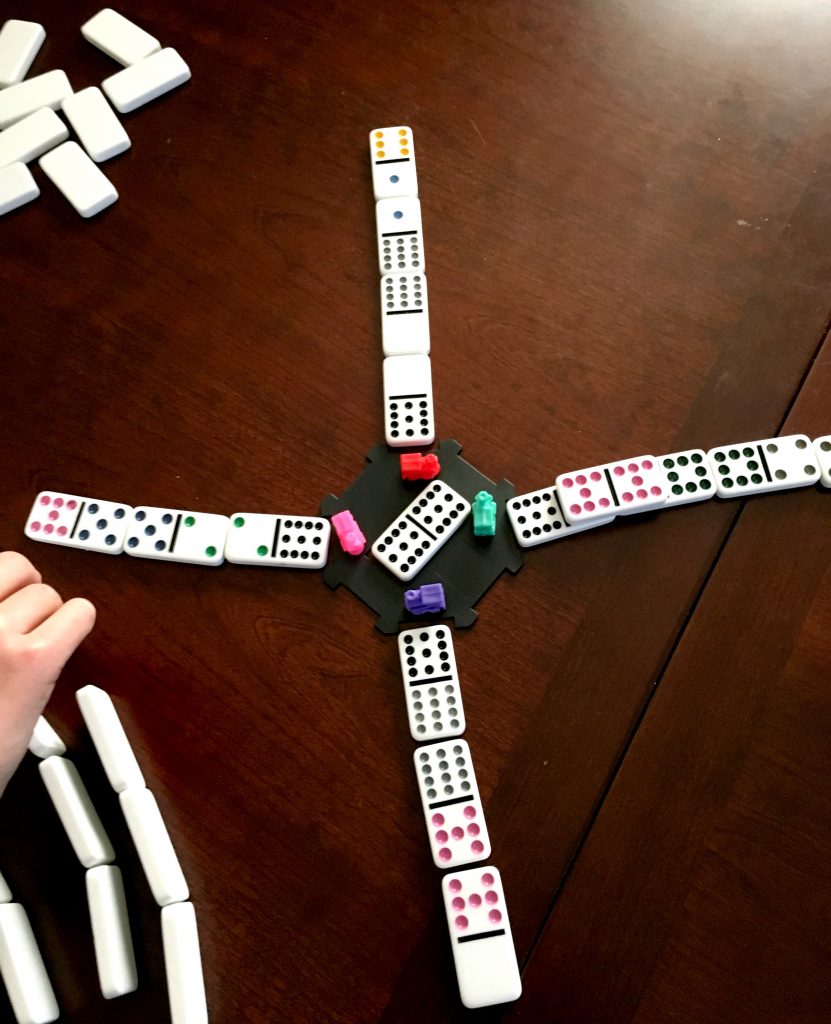 Mexican Train – This is a domino game where the object of the game is to get rid of all of your dominoes.   Our set came in an aluminum case that stores the dominoes.  You can play a quicker game and just do a round or two.  Or, you can play 13 rounds, in which the game can last hours!  This game is recommended for ages 8+.  We first learned about this game from my parents and we often play on family vacations to their Rhode Island beach house.  This is a great multi-generation family game.  I recommend that you purchase domino holders, if your set doesn't come with them.  They are super helpful in keeping your dominoes organized when playing.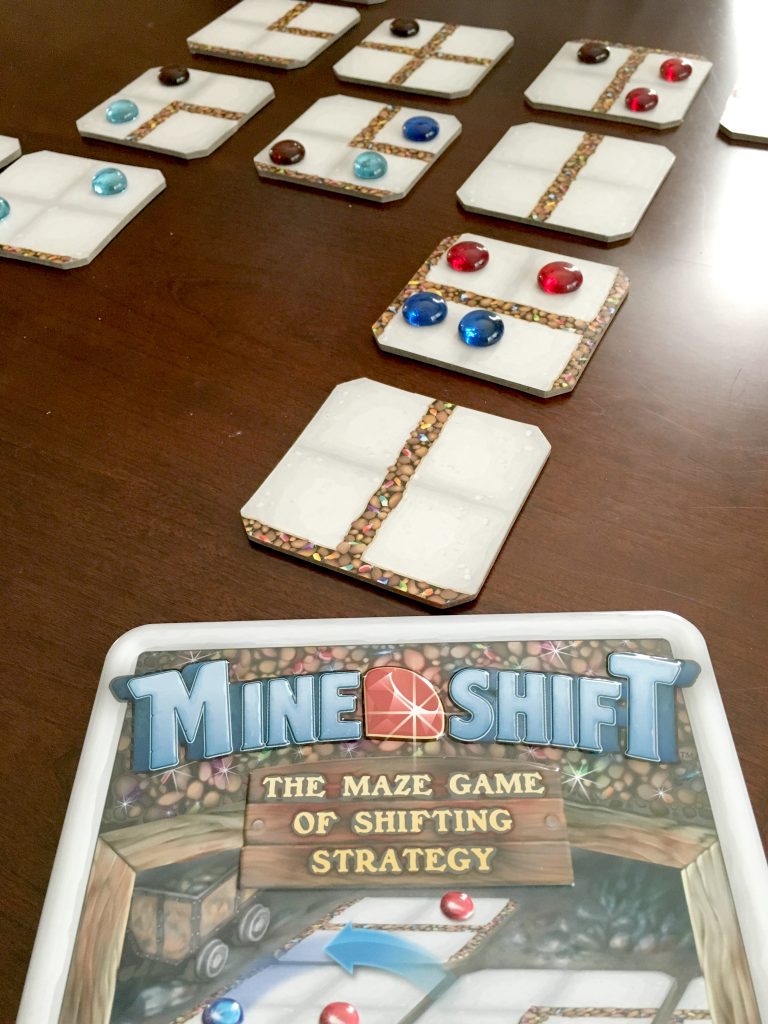 Mine Shift – This is a maze strategy game for 2-4 players.  It is recommended for ages 8+.  The object of the game is to be the first player to move all four of your jewels from one side of the board to the opposite side. This is a Mensa Select game winner and a 2018 Toy of the Year Finalist.  Our first time playing took about 25 minutes.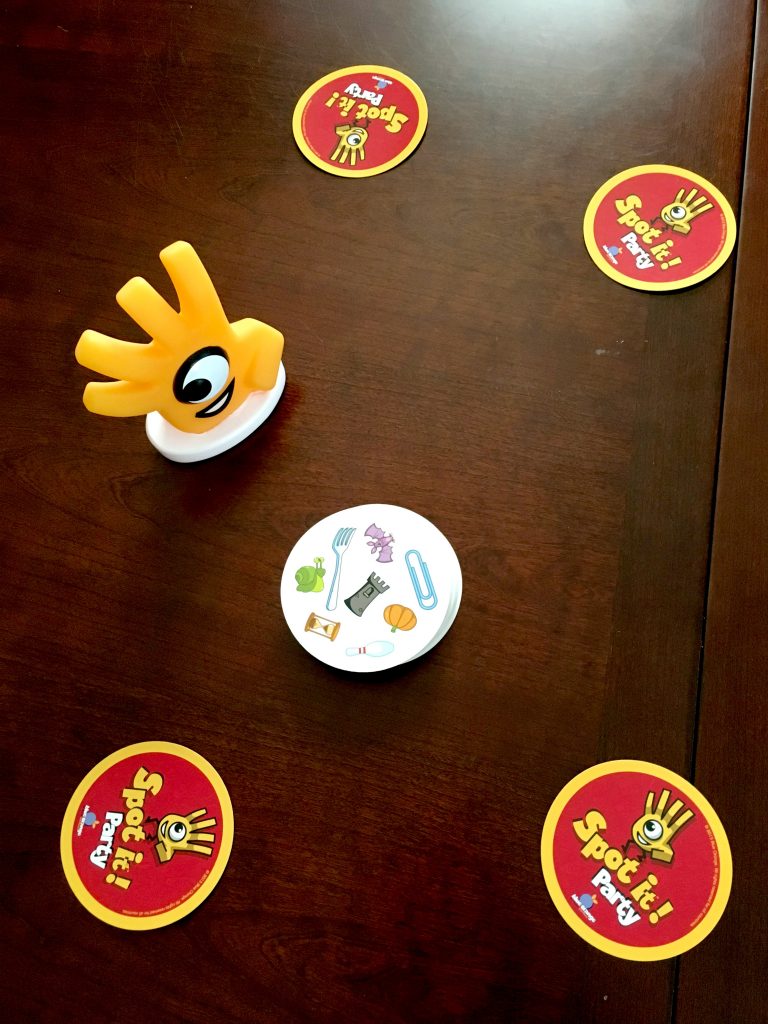 Spot It – This is a fast-paced matching game for 2-8 players.  It is recommended for ages 8+.  Each card has only one matching symbol to another card.  You need to "spot" the matching symbols and call it out.  Believe me, it is not as easy as it sounds.  When you're competing with others and under stress, it can be difficult to spot the match.  The instructions come with eight different game variations that can be played.  We usually play each game one time and all games can be played in about 20 minutes.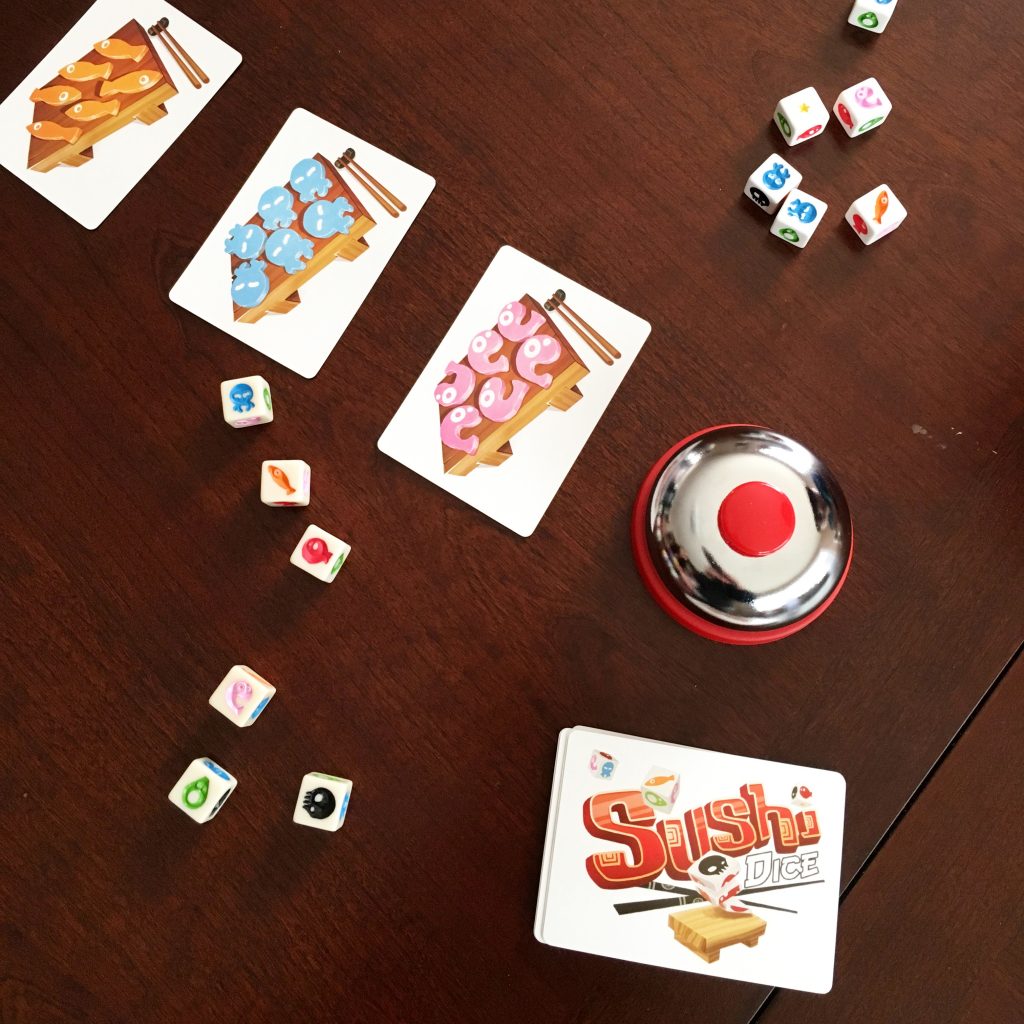 Sushi Dice –  This is a fast-paced dice game for 2 – 6 players.  It is recommended for ages 6+.  Two players go head-to-head, rolling their set of six dice, to try to complete one of the sushi platter cards.  When they have all the matching items they ring the bell and the next round begins.  However, you mus beware of the black skulls.  If you roll one and your opponent sees, you have to re-roll all of your dice.  If the players not actively rolling the dice spot both players with black skulls, the game ends.   The first player to win five sushi platter cards wins the game.  This is a quick game and can be played in about 15-20 minutes, depending on the number of players.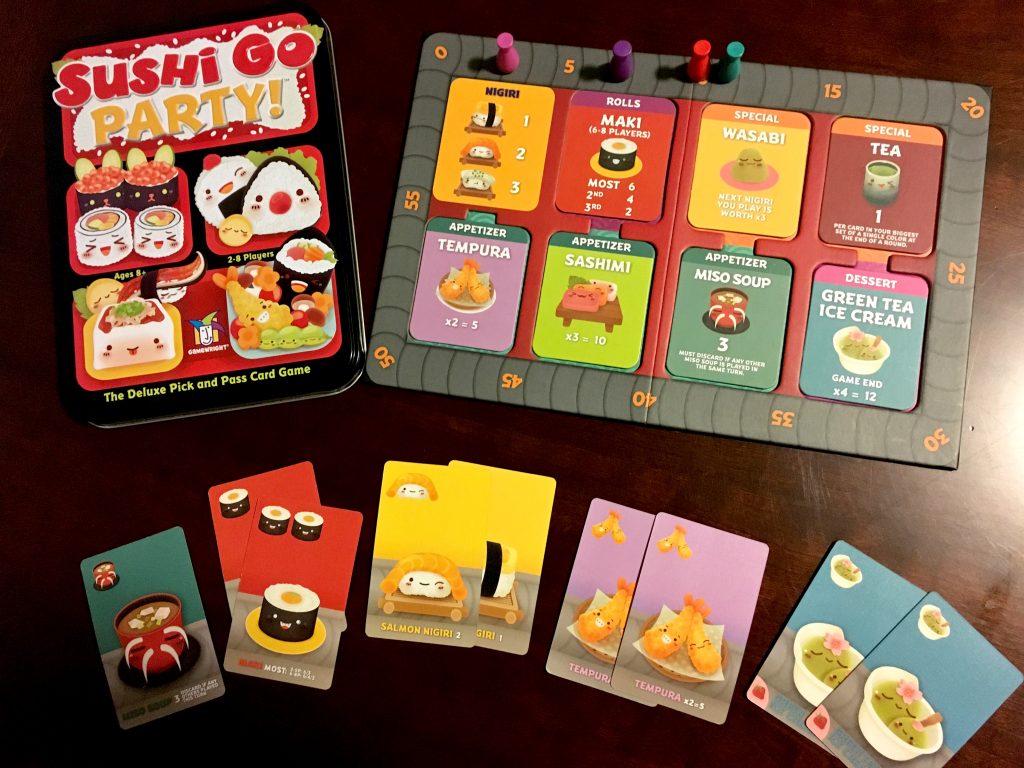 Sushi Go Party! – We first played this game at a school-sponsored family game night.  My son enjoyed it so much he requested it for Christmas.  This pass-the-card game is for 2-8 players and recommended for ages 8+.   In this game, you win points by selecting different sushi combos.  However, since you pass cards, you never know what you will end up with.  There is a card-only version available.  However, the Sushi Go Party! game comes with a board and pawns for help to keep score as well as a menu board that allows you to customize games and play different variations.  The game consist of three rounds and can be played in about 30 minutes.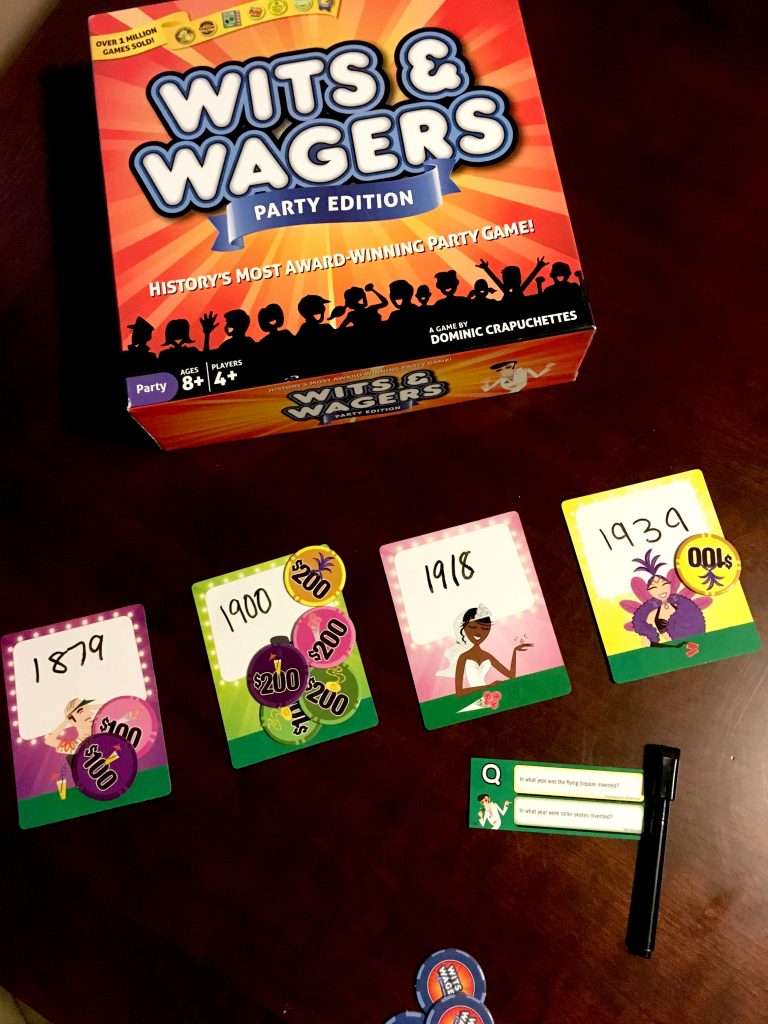 Wits & Wagers – This is a trivia game, where you don't actually need to know answers.  You just have to be able to guess well!  It's for 4+ players and is recommended for ages 8+.  Someone reads a question that everyone answers on their mini dry-erase board.  Then everyone bets on which answer is closest to the actual answer.
What is your favorite board game for family game night?